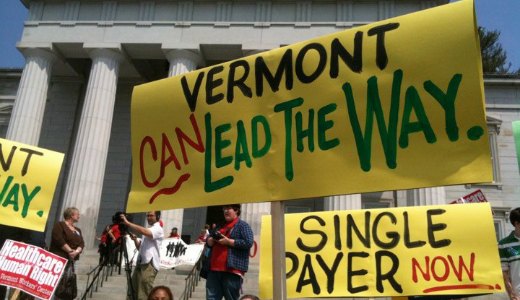 BURLINGTON, Vt. – Vermont has taken the first step towards creating a statewide single-payer government-run health care system; one of the nation's top nurses unions will lobby in early June for a national single-payer law.
The Vermont law, signed in late May by Democratic Gov. Peter Shumlin – who openly ran for office last November on a single-payer platform – would not take effect until 2017 at the earliest, unless Congress passes legislation giving the state a waiver to let it start the law three years earlier – and that's unlikely.
Sens. Bernard Sanders, Ind.-Vt., Patrick Leahy, D-Vt., and Sens. Daniel Inouye and Daniel Akaka, both Democrats representing Hawaii, have introduced legislation for the 2014 waiver. Sanders also introduced a national single-payer health care bill again. It would be financed by a small payroll tax and an income tax surcharge on the rich.
Single payer is a prime cause for 21 unions, and has been even before the then-Democratic-run Congress approved President Obama's health insurance revision law on party-line votes in 2010.
But during that fight, lawmakers dumped single payer and then ousted its weaker cousin, the public option, both designed to bring competition to the insurers. The health "insurers" are responsible for more than 80,000 deaths a year through denial of care, medical journals report, even after insurers impose high premiums and co-pays.
One of the 21 unions, National Nurses United, is mobilizing its members, in town June 6-7 for their political conference, which includes a protest denouncing the Chamber of Commerce's opposition to single-payer health care. They'll then rally and lobby on Capitol Hill. They're also circulating a petition for lawmakers demanding single payer.
In a telephone press conference hosted on June 1 by Vermont health care groups, Anna Ryder Wallach, Shumlin's top health care aide, said the governor not only views government-run single-payer health care as a moral issue, but a financial one, too.
Health care experts that the state consulted testified Vermont businesses could save $600 million yearly, $1,000 per Vermonter, in health care costs if single payer takes effect.
But while the law is a first step, Shumlin and the overwhelmingly Democratic state legislature must, in the next few years, work out the remaining details of single-payer health care, notably how to pay for it on a state level. Wallach admitted that the new law "sets up a process for getting there" (to single payer) "but there's a lot we have yet to do."
"But it was the right thing to do, economically," she added. Shumlin "sees health care cost control as an imperative" not just in Vermont, but nationwide. "If we can't control costs, we won't be able to maintain and create jobs. We don't want to spend more and more of our money on less and less coverage."
Principal provisions of the new Vermont law include establishing a Green Mountain Care Board – festooned with the state's nickname – to control everything from health care equipment purchases to insurers' premium increases to construction of new facilities. The object of the board is also to redo health care spending away from the present pay-per-procedure model to one that focuses on overall quality of patient care and cooperative efforts by providers.
Another provision is creation of a health benefits exchange, as mandated by the new federal law, to cover individuals and small businesses. The difference in Vermont is the state "may require the small group market" – businesses with fewer than 50 workers – to join the exchange, Wallach said. The state Medicaid structure would run the exchange.
Finally, another provision is detailed planning for establishing the single-payer system, starting with figuring out the financing. Sanders inserted a provision in the health insurance law giving seed money to states to set up their own systems – types unspecified – as long as those systems covered the same numbers of people or more, cost up to, but not more, than the exchange system and provided the same quality of care.
"This would eventually replace private insurers as much as possible with public financing" of health care, Wallach said. Only three insurers serve Vermont.
Vermont's law drew praise as a solid first step from the National Nurses United and from Universal Health Care Action Now, a union-backed Cleveland-based group.
"We're thrilled," NNU D.C. Communications Director Donna Smith told PAI. "How can you believe in universal health care and not applaud Vermont?" UHCAN Executive Director Rachel Rosen DeGolia told other call participants: "We're delighted the Vermont law passed, but we're worried about less advanced states that might move backwards. We do hear that fear expressed among some of our colleagues."
Wallach said the federal government's criteria for care, via the exchanges or their equivalents, would halt such backsliding – because the feds wouldn't let the states cut back care. Besides, she told another caller from New York, when other states see Vermont's savings from single payer, "they'll be scrambling on how to do that.
"As the governor said," Wallach concluded, "health care costs are killing everybody."
Photo: Jobs with Justice // CC 2.0