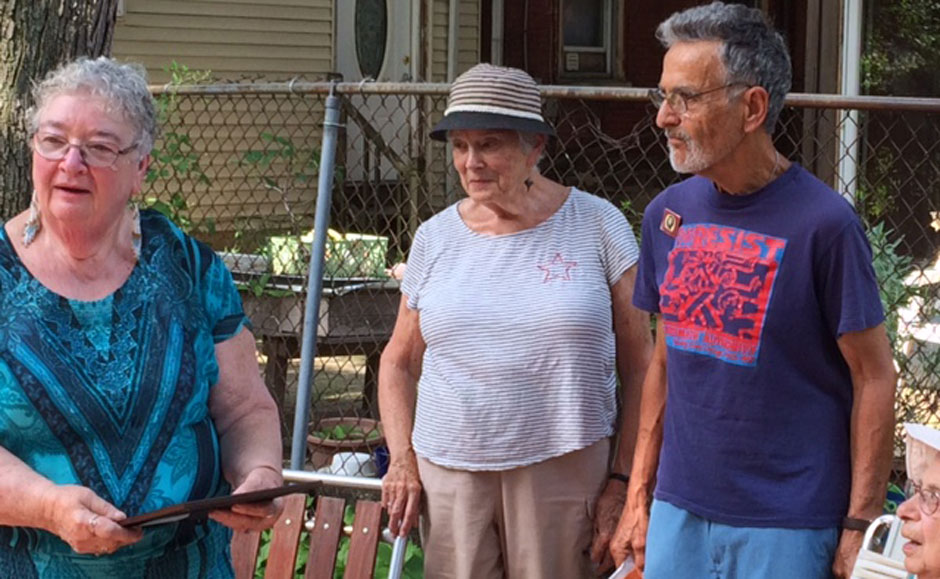 The Mandela Human Rights Award is presented annually to an activist or activists for service to the people's movement struggles over time. Previous recipients have included Native American activist and political prisoner Leonard Peltier, the Cuban Five, and Philadelphia health care activist Sylvia Metzler. This year, the award was presented to longtime Philadelphia activist and Communist leader Rita Perna in recognition of a lifetime of political activism and Party leadership. The presentation by sponsors Bernadette and Lawrence Geller took place at the annual People's World picnic in Philadelphia's Germantown section.
Perna explained to those in attendance how she had been given the nickname "Rookie" by her younger brother: he found it easier to pronounce than her Yiddish name and the name stuck with her.
Perna, a lifelong resident of Philadelphia, grew up in a politically active family with Communist parents. Her mother, a public Communist even during the McCarthy period was active in supporting the defense of the Philadelphia Party leaders who had been arrested and charged under the infamous Smith Act.
Perna recounted early memories of being followed to school by FBI agents and again during after-school hours. She and her friends in their North Philadelphia community would go to nearby Fairmount Park after school. There they would report to the local police that they were being followed by "strange men." The "strange men" would then have to identify themselves as agents of the FBI.
As an active member of the Socialist Youth Union, Rookie participated in the boycott of Woolworth stores, the fight to break the color barrier at Girard College and building a delegation of young people to go to the groundbreaking 1963 March on Washington.
Perna joined the Communist Party at the age of 17, continuing a of three-generation tradition in her family. She has for many years served as the organizational secretary of the Eastern Pennsylvania and Delaware district and was elected to the Party's National Committee in 1991. Her national responsibilities include processing new members who join the CPUSA on line.
Among the memorable experiences Perna shared at the award ceremony was her 1983 visit to the Soviet Union as part of a CPUSA delegation. There she had an opportunity to see the building of socialism at work. Especially moving, she said, was her visit to Ukraine, from where her Jewish grandparents had emigrated during Czarist times. By the time of Perna's visit, it had survived World War II and seen the coming of socialism. Her grandparents had lived until the 1960s and so knew about the progress and the changes in their native land.