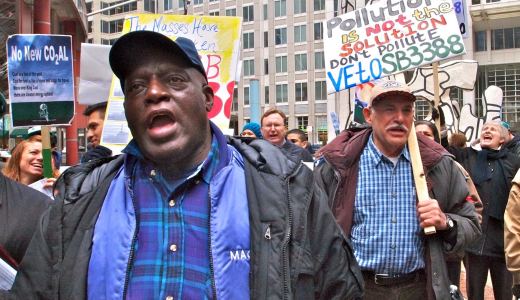 CHICAGO – Over a hundred angry demonstrators from Chicago's southeast side rallied at the Illinois state building March 9 to protest plans for construction of a coal gasification plant in their neighborhood. The marched around the state office building, chanting. (See video below)
The coalition of neighborhood activists, church members, environmentalists, retirees and union members is demanding that Democratic Gov. Pat Quinn veto SB 3388, legislation that would require Illinois natural gas companies to purchase 100 percent of the plant's output. There have been two rallies in the neighborhood of over 200 residents against the construction of the plant.
Experts testified that while the plant will produce toxic pollution, coal gasification is a very expensive process. It is estimated that natural gas prices will rise from 4 percent to 12 percent for Illinois residents depending on which gas company services their area. Furthermore the experts explained that there is no natural gas shortage and the plant is not needed to meet demand.
The Leucadia Company plans to build the plant on the site of the old Republic Steel coke plant. Residents, many of them former steelworkers, are up in arms because they know very well from past experience the health and safety danger of this type of operation. Neighbors have fought long and hard to clean up the damage left by the coke oven pollution and don't want to see the dust and toxic waste return.
Watching events unfold in Wisconsin and many other states, southeast siders see their struggle against corporate and government collusion in the project, as part of the same struggle. As a demonstrator put it, "The same corporate greed that wants to bust unions also wants unregulated pollution. And the Republicans are their bought and paid for servants."
Photo: Scott Marshall/PW