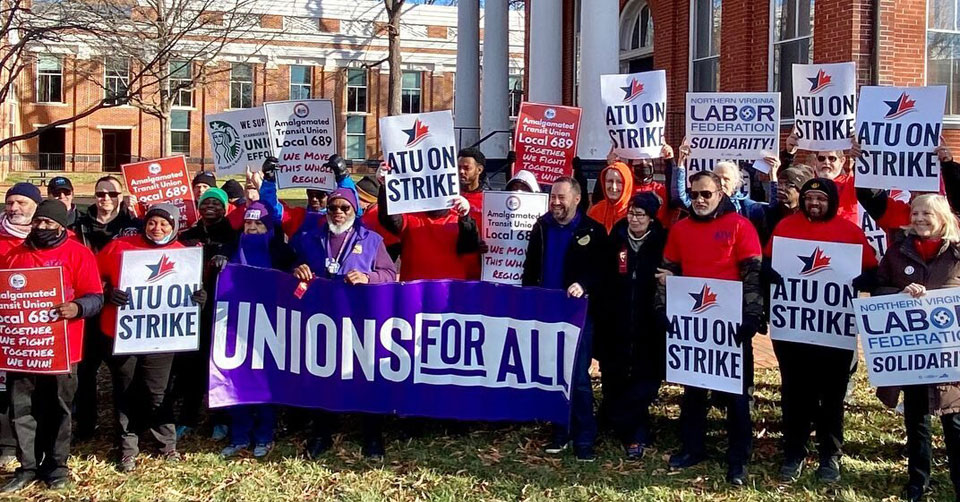 The following article was written by a worker correspondent who drives for a living himself:
I drive for a living myself, and I made the trip from my home in Fredericksburg, Virginia to the transit strike now underway in Loudoun County, in the far Western suburbs of Washington, DC. It was my time to put in some picket duty and show support for these workers, members of Local 689, Amalgamated Transit Union, who are on strike against the Keolis company, a subcontractor with Loudoun County.
"Let them freeze!" That was the comment by a Keolis transportation manager, and it serves as a succinct summarization of the attitude adopted by the higher-ups at the company in the wake of Amalgamated Transit Union Local 689 members taking strike action on January 11th . The strike of the Loudoun County, Virginia, transit workers followed the rejection of what Keolis described as their "last, best, and final offer."
That offer consisted of a one-time bonus. That's it. This insulting offer was made despite the company being made aware throughout months of union bargaining that this does not address the core, underlying issue that has united these workers in taking this drastic action: Equality.
Keolis has insisted upon a two-tiered wage system that sees local drivers making $12 an hour less than their long-distance transport counterpart. This, despite both sets of drivers having Commercial Drivers Licenses and being trained and capable in equal capacity. Compounded by the $13 dollar an hour discrepancy in wage rates between Loudoun and other similar bus operators, the region also contracted to Keolis.
The company tactic of placing a bid too low to be realistic – and the fact that the County accepted it – have caused the blow-up. This is especially heinous when considering Loudoun County has a cost of living 141.9% that of the average across Virginia, and a median home cost of $641,500, forcing the transit workers to commute from well over an hour away. Some even have to come from out of state, on their own dime, to and from work every day.
When seeking the company response to the strike I got "no comment" from every attempt to reach out. This, of course, came as no surprise to me as even the most basic due diligence reveals a long history of controversy surrounding Keolis's 70% owner, SNCF.
Ranging from spending $20.5 Billion dollars of taxpayer money on trains that did not fit more than 1300 stations, to the truly evil task of having transported 76,000 Jews and other "undesirables" across France to Adolf Hitler's labor and extermination camps, of which fewer than 3% survived, it's embarrassing that Keolis was ever given the contract in the first place. It's embarrassing that no elected official in the county feels any guilt or shame that their constituents are standing out in sub-freezing temperatures and in the rain for 12 hours a day. It's embarrassing to see police officers ride down the picket line every 10 minutes in a futile attempt to intimidate the Transit Workers.
Loudoun County cannot plead ignorance. If it was simple ignorance, Keolis would not have been able to drag out their bad faith negotiations through the whole of Spring, Summer, and Fall, waiting until Winter and their ability to declare, "Let Them Freeze!" They would not have been allowed to repeatedly break promises and misappropriate more than $400,000 of a $4.5 million grant awarded to them for their employees, as a remedy for the severe and deliberate underbidding of the contract. The silence of Loudoun County speaks louder than any statement they could have prepared, and we know what side they have taken.
In a brief statement, a representative of Keolis said:
"Keolis is committed to providing safe and reliable service for our passengers who rely on transit. We look forward to finalizing a contract that supports the well-being of our employees and their families with comprehensive benefits and competitive wages."
This is directly contradicted by the company calling off all future negotiation dates following their last, best, and final slap in the face being rightfully rejected, as well as the slashing of time paid off and benefits, and telling employees to transfer from long-distance transport to local, – and accepting a $12 an hour pay cut – or be fired. The wages they are offering these workers are not even competitive with other workers of the same company in the same region. Their goal is not the well-being of the workers, the workers mean no more to Keolis than the equipment. And since they cannot ask the busses to use less gas, they ask the workers to reduce their own wellbeing for Keolis's profits and the wellbeing of their corporate pockets.
Unfortunately for Keolis, they have underestimated the resolve, toughness, and unity of ATU Local 689 members. Every person I spoke with was adamant that they would not give up, and they would not give in until equality is achieved, not only for themselves, but for all that come after them. Even on day 6, seven hours into a rainy Monday morning, there were absolutely no signs of fatigue or demoralization. This is a fight that will be won by the people.
To support these workers, ATU Local 689 has asked for signatures on this petition.
Special thanks to Chris Townshend, David Heller, Troy Barnes, and Mike Schemm.