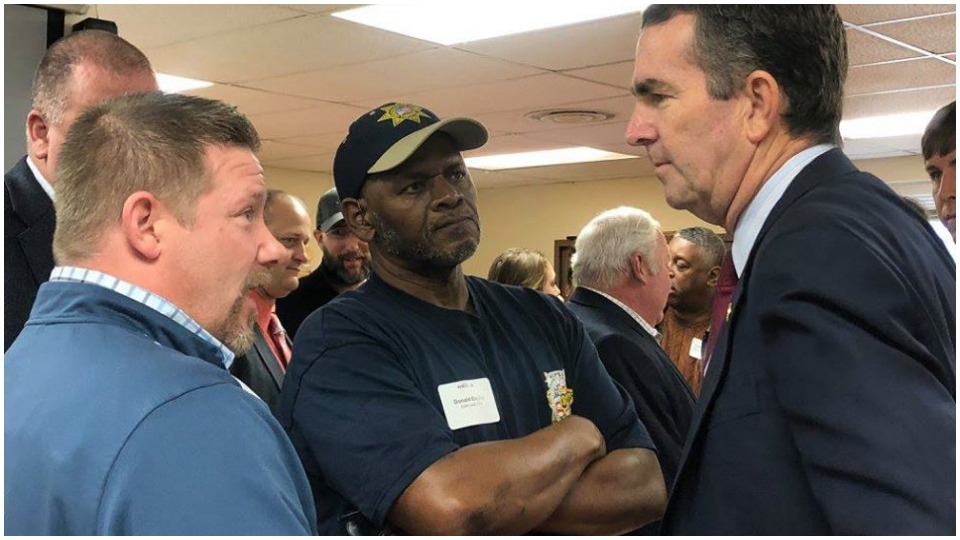 The victory of Democrats in Virginia state legislative elections on Nov. 5 has opened the door to many new legislative struggles. The mood in organized labor and progressive political circles is decidedly upbeat. For unions and their members, labor law reform, and particularly the repeal of the state's "right to work" law is the highest priority for the new legislative session that begins on Jan. 9.
The Democrats now have a majority of 21 seats to 19 for the Republicans in the Virginia Senate and 55 to 45 in the House of Delegates, the lower house of the General Assembly, or state legislature. This erases the former slender Republican majority. No Democrat in either house lost their seats, and many of the newly elected ones come from the progressive and pro-labor wings of the Democratic Party. And that's raising hopes for an advance for labor rights.
Virginia has one of the worst labor records in the country. According to 2018 figures from the U.S. Bureau of Labor Statistics, only 4.3% of wage and salaried workers in the state belong to unions, compared to 11% and 9.9%in its neighbors, Maryland and the District of Columbia respectively. Public sector unions are denied collective bargaining rights, and the state minimum wage is the same as the very low federal one, only $7.25 per hour (with a scandalous $2.13 per hour for "tipped workers").
Other problems stem from the resulting weakness of Virginia labor, such as the inability to get other kinds of progressive legislation passed, and indeed the Republican and right wing grip on power itself in many areas of the state.
Virginia is one of 28 states that have "right to work" laws on their statute books. These deceptively named laws are pushed by big business interests and the political right. They require unions to provide full services to all workers, including those who don't pay union dues, in workplaces they represent, and they restrict the ability of unions to use the dues money of non-members for political purposes. This puts a big extra burden on unions, which is the purpose of these laws.
Less protection for all workers
Weakened unions mean less protection for all workers. Yet the business promoters of right to work never say this. Instead, they phrase the matter in civil liberties terms, i.e. that nobody should be "forced" to be a union member if they don't want to.
Because of the new balance of partisan forces in Richmond, efforts are underway to build coalitions to remove right to work from the statute books in 2020.
The Virginia AFL-CIO and many individual unions have included repeal of right to work as a key goal of their struggles for many years. And the organization of a new labor-community "Virginia End Right to Work Coalition" will be initiated later this week in Arlington.
In the General Assembly, Delegate Lee Carter, an openly declared socialist legislator from Northern Virginia, says that he is again introducing repeal legislation as he did in the 2019 session, while Delegate Jennifer Carroll Foy and other progressive legislators are lining up to support it.
Business interests are feeling seriously threatened and are putting out their usual anti-union propaganda, both in Virginia media and in direct communication with their employees.
The argument made is that Virginia's prosperity is attributable to it being a "right to work" state and relatively "union-free" one. This, the argument goes, attracts business to Virginia. Workers are supposedly the chief beneficiaries of this business-friendly atmosphere because attracting new businesses is what "creates jobs."
The other side argues that Virginia's supposed prosperity is pretty lopsided, with extreme levels of poverty in some counties, mostly in minority communities and economically stressed Appalachia, and that earning $7.25 per hour is hardly an indicator of "prosperity."
The prosperity of Virginia, such as it is, is not caused by the poverty of low-wage workers and their lack of on the job protections, but rather to the large number of credentialed people who work for the federal government and its contractors who work in the Northern part of the state—the Washington, D.C., suburbs and exurbs.
The fight is on
So the fight is on without the 2020 legislative session even having got underway yet. Though the Democrats have a legislative majority, the question now becomes whether that majority will translate into votes in the state Senate and House. And the other big question is what will be the attitude of Gov. Ralph Northam—will he sign legislation ending right to work, or will he block it instead?
Northam is a conservative Democrat with ties to business interests. He defeated former Democratic Congressman Tom Perriello by a substantial margin in the 2017 gubernatorial primary election. Perriello, though hardly a leftist, had been supported by the Bernie Sanders-inspired "Our Revolution" forces, which are particularly strong in Northern Virginia, but jumped into the Democratic Primary too late to defeat Northam. Northam went on to beat right-wing Republican Ed Gillespie in the general election.
Earlier this year, Northam greatly embarrassed himself and his party with his blackface incident. When it was revealed that as a college student he had appeared in blackface at a social event, Northam greatly worsened his own situation by his clumsy handling the scandal.
First indications that Northam would not be supportive of the repeal of right to work occurred before the elections, when he told labor leaders that he would probably veto such legislation. Again on Nov. 25, while flanked by business leaders, he said that he "can't foresee" supporting the elimination of right to work in Virginia. The implication is that even if the General Assembly votes to repeal right to work legislation, Northam might veto the measure to appease big business interests.
Labor and its allies are not giving up, however. They point out that keeping organized labor weak in Virginia is in no way helpful for achieving worker-friendly legislation in Richmond, and it will weaken the Democratic Party in future elections here.
There is movement on the issue at the national level, too. At least two of the candidates running in next year's Democratic primary, Sens. Bernie Sanders and Elizabeth Warren, have committed themselves to end right to work through federal legislation. Sanders would work to repeal the part of the 1947 Taft-Hartley Act which permits states to pass their own right to work laws. Sanders would also push for legislation to allow all public sector employees' unions to engage in collective bargaining, among other things. Warren, like Sanders, specifically referred to Virginia's right to work statute and to Gov. Northam's discouraging comments. Both Sanders and Warren support the PRO Act, S. 1306, in the U.S. Senate and HR 2474 in the House, which if passed would greatly strengthen the labor movement and workers' rights in the United States.