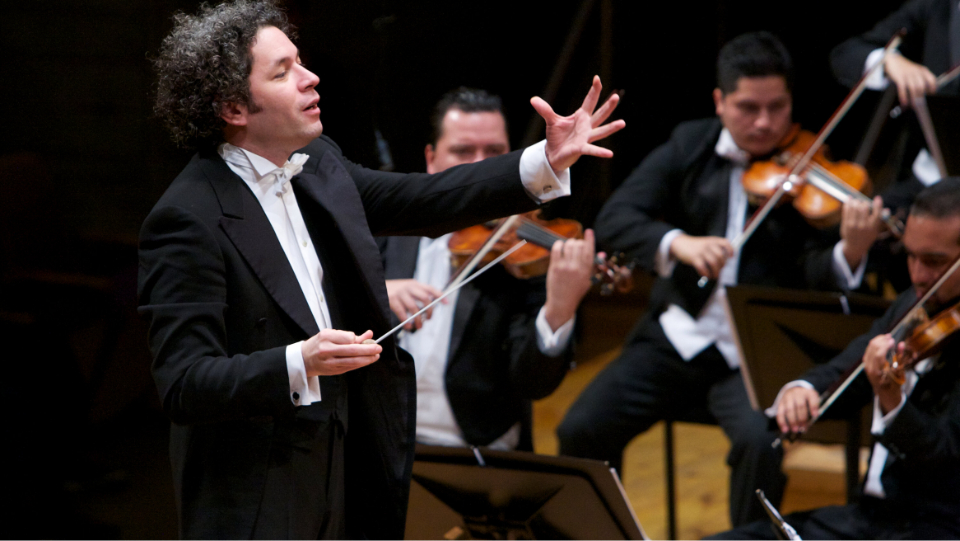 ¡Viva Maestro!, a 99-minute 2022 release now available on various streaming platforms, dubs itself a portrait of the Los Angeles Philharmonic music and artistic director Gustavo Dudamel, but it is far more than that. The "maestro" of its title surely belongs to Dudamel, but the dynamic Venezuelan had been inspired since childhood by his own maestro, José Antonio Abreu, 1975 founder of 'El Sistema,' Venezuela's revolutionary system of music education that brings joy and hope to the lives of hundreds of thousands of impoverished children from the barrios.
El Sistema was never solely about the music, it was also about social transformation, unity of purpose, working together toward a common goal, discipline, commitment, pride and accomplishment. The classes, and even the instruments were provided free. Among Abreu's pupils was the young violin student Gustavo Dudamel, in whom Abreu saw the potential as an inspired conductor. The documentary includes several charming clips of the teenage or maybe young 20s Dudamel conducting youth orchestras in his home country. Abreu also created a national children's theater and a ballet.
Gustavo Dudamel sets the music world afire with his original interpretations of the greatest symphonic works. Named one of Time's "100 Most Influential People," he also introduces to the repertoire fresh new orchestral pieces, especially from the Americas, with welcome frequency. He is one of the world's busiest conductors with an already extensive discography, and he's still only just shy of 43 years old (now noticeably graying).
Among his signature strategies for creating new audiences for music, he has taken the Simón Bolívar Symphony Orchestra on world tours, showing off the excitement of Latin American symphonic music played by energetic young players, as well as bona fide masterpieces of the established repertoire. Listeners come away in astonishment that young people whose social and educational backgrounds might seem to promise so little have come so far, not just in playing the notes but in incorporating into their approach that which gave those notes their initial freshness. Beethoven, Prokofiev, Tchaikovsky sound new again under Dudamel's direction.
In 2013, Dudamel conducted his "Bolívars" during the funeral of Venezuelan President Hugo Chávez. At the same time that his career blossomed internationally, American hostility toward the Bolivarian Revolution, continuing under Pres. Nicolás Maduro, with its open friendship toward Cuba and other anti-imperialist nations, put pressure on Dudamel. Should he renounce his Venezuelan patria, denounce Maduro and the socialist idea, and become a celebrated "pro-democracy" figure and persona non grata in his homeland? Or should he stay firm, support the government which supported El Sistema, and defy the media pundits and right-wing critics who would gladly rouse mass protests against his appearances?
When finally, in 2017, obviously under some pressure that the documentary does not delve into, Dudamel addressed the world in the pages of The New York Times with his critique of Maduro's convening a National Constituent Assembly in order to circumvent the hostile Assembly, the government struck back by canceling the Bolívar Orchestra's world tour. Throughout the successive years of Venezuela's economic and political despair, Dudamel assumed a strictly nonpartisan stance, not wishing to inflict any further pain on his beloved young musicians in the country who were still so dedicated and hopeful. He witnessed during that crisis the gradual hemorrhaging of musicians, along with millions of his other countrymen, who no longer believed they had a viable future in Venezuela. Yet others stayed, not wanting to abandon the kids. As his own star kept rising, his apolitical posture was the safest space for him to stand if he cared to protect both his own career and the future of El Sistema.
He could not return to Venezuela, and his own parents and grandmother had in the meantime moved to Spain, where Gustavo himself also obtained citizenship. "Comfort is not good," he advises his student performers about playing complacently. "Tension is good," he says, it's where  possibilities reside.
But Dudamel was not inactive on the student educational front. Following his notion to "make music a right," he managed to sponsor several of his highest-achieving Bolívars to attend an inter-American musical workshop in Mexico City that culminated in a shattering performance at the famous Palacio de Bellas Artes there. The doc captures some of these reunions, there and again in Berlin and Santiago, Chile, where other such events featured some of his now more mature players. Dudamel waxes philosophical when his own maestro Abreu died, quoting Pablo Neruda, "They can cut the flowers but they can never stop the spring." I have to admit, there was more than one moment in the film when I had tears of joy in my eyes putting myself in the places of these young kids, dressed in tuxedos and black gowns for their European outings, thrilling with them at how far they had been allowed to reach in life. When German audiences, in Beethoven's homeland, gave them a standing ovation for the Ninth Symphony, it was spine-tingling. We've not just performed this music, Dudamel tells them, "we've summoned their attention," like athletes representing their country at the Olympic Games.
Film editor Kate Amend did such a fine job in this film. The section where Dudamel sees footage of his countrymen at each either's throats in the streets of Caracas is followed by scenes of his rehearsing Prokofiev's vigorous Romeo and Juliet suite, where he reminds the young players that this is music about two warring families, so they need to feel the conflict and struggle in the music itself. And one can hear how the students respond with such alacrity to this advice.
Near the end of the film, Dudamel expresses his hope to some of his "Bolívars" that he'll be able to visit them "soon" at home, but his hope seems aspirational at best. During the Q&A following a showing Dec. 5 at USC, which included documentary filmmaker Mark Harris as moderator with director Theodore (Ted) Braun and editor Kate Amend, Braun disclosed that Dudamel did indeed return to Venezuela this past October 2022, for the first time since 2017, visiting his home town of Barquisimeto, and spending precious time with the children's and youth orchestras there. This visit must have taken place under conditions of utmost physical security, but can possibly be seen in the context of Biden's lessening of sanctions on Venezuela, the rapprochement of political parties within Venezuela (with a concomitant sidelining of the posturing and preposterous Juan Guaidó as the country's presumptive president), a slightly improving economy, and the opportunity provided by the Russia-Ukraine conflict for Venezuela to sell more of its oil on the world market, including to the U.S. under contract with Chevron. For whatever reasons, this reopening is good news not only for Dudamel personally but for the children of Venezuela and for future successes of their musical organizations on the world stage.
The trailer can be viewed here. The film has a 100% rating on Rotten Tomatoes. El Sistema is a moving short showing how a symphony orchestra can be a model for a better future; it can be seen here.
My own rating is ¡Bravísimo!