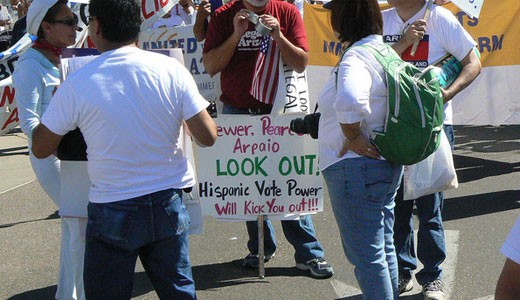 TUCSON, Ariz. – Like their fellow citizens across the country, Arizonans went to the polls and voted on Nov. 6. Unlike other Americans, Arizonans were not able to wake up the next morning to news of the state's election results. Two days after the polls closed, state election officials admitted that at least one-third of the vote had yet to be counted, and now, a full week after Election Day, 20 percent of ballots remain uncounted. Voters say it's a scandal.
About two-thirds of uncounted ballots are mail-in ballots. Most of these have finally been counted and they generally boosted the Democratic candidates, like congressional candidates Ann Kirkpatrick and Kyrsten Sinema, each leading their right-wing opponents by three points. If elected, Kirkpatrick regains a seat in Congress she lost in 2010, and Sinema wins in Arizona's newest congressional district. In addition, Sinema would make history as the first bisexual elected to Congress.
Democratic Senate candidate Rich Carmona who was tailing Republican Rep. Jeff Flake by six points on Nov. 7 is now less than four points behind, and is said to be reconsidering his concession.
This week they will be counting the remaining 20 percent of the ballots consisting mostly of provisional ballots. These are ballots from people who showed up at the polling places, but were not on the list of eligible voters. These votes may lean even more heavily towards the Democrats.
In the Phoenix area, community, labor, and Chicano organizations, which have been working hard to defeat Maricopa County Sheriff Joe Arpaio, are crying foul. They accuse election officials in Maricopa County of causing this scandal with efforts at voter suppression. The movement registered over 34,000 new Latino voters in Phoenix. They claim that it's these voters and other poor and working people who were forced to vote provisionally, or denied a vote altogether.
One Arizona, a coalition of Latino voting organizations, is asking for a federal investigation into reports of widespread irregularities. Protesters are gathering every day at the Maricopa County Recorder's office demanding that all votes be counted.
Arizona law requires counting to be completed within 10 days following the elections. It looks like they won't make it.
Meanwhile, the race for Arizona's 2nd CD, previously represented by Rep. Gabby Giffords, is tied and awaiting some 20,000 provisional ballots to be counted. It's so close that it will probably require a mandatory recount.
Photo: "Look Out! Hispanic Vote Power Will Kick You Out!" Flickr