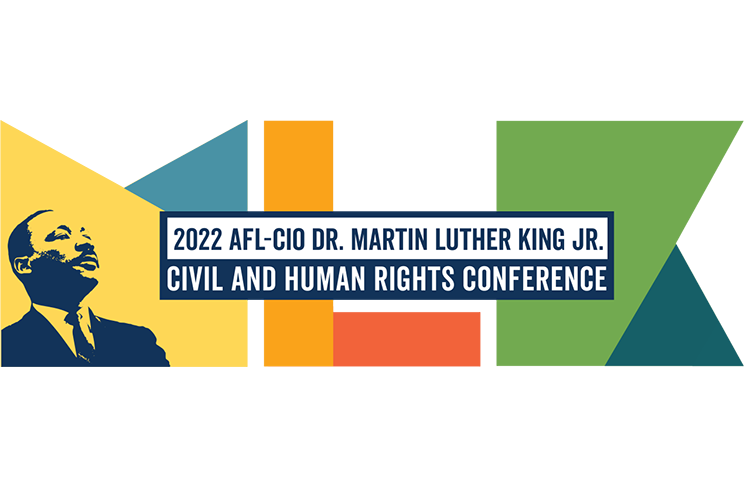 WASHINGTON—Talk about having a lot on your plate: The AFL-CIO's annual Martin Luther King conference will have big-ticket issues to discuss, namely criminal justice reform, an economy that works for all workers—including Blacks—and most of all, voting rights.
That issue looms over this year's session, scheduled for January 16-17 via Zoom due to the coronavirus pandemic, just as the U.S. Senate faces a partisan showdown over the right to vote.
Because the conference is remote, it's also still open to all. You can register at https://events.zoom.us/h/2022aflciovirtualmlk.
The Senate is battling over whether and how to enact the two key voting rights bills on its agenda, in the face of a planned Republican filibuster, and how to junk the filibuster if it blocks the legislation.
One, the Freedom To Vote Act, is a stripped-down version of the original wide-ranging pro-voting rights For The People Act, which the filibuster has already halted. That was the first of four such halts the evenly split Senate's 50 Republicans, led by Mitch McConnell, R-Ky., and catering to Trump-led white nationalists and segregationists, have imposed.
The Freedom To Vote Act would roll back many of the anti-voting abuses GOP-dominated state legislatures have enacted since the 2020 election, all designed to deprive people of color of their power at the ballot box. But it would leave some key roadblocks in place, especially in post-election periods, where legislators have allotted to themselves the decision of whose votes should be counted, and how.
"Throughout our history, the labor movement has stood up for the disenfranchised and those on the margins of our democracy," says AFL-CIO President Liz Shuler, who will keynote the conference, along with Executive Vice President Tefere Gebre and Secretary-Treasurer Fred Redmond.
"That work continues today as we push for passage of the John R. Lewis Voting Rights Advancement Act, which will protect the right to vote for all eligible Americans" as well as the Freedom To Vote Act, she adds.
"Anti-worker politicians continue to use every tool at their disposal to rig our democracy to their benefit. Their actions pose a real threat to America's representative government. In response, union members are doing everything we can to promote democracy—both in our workplaces and at the ballot box," Shuler declared on January 7.
The Lewis Act, named for the late longtime civil rights icon and U.S. representative from Atlanta, is more straightforward. It would undo the wrecking ball the U.S. Supreme Court's Republican-named majority took to the 1965 Civil Rights Act, by re-establishing a system of federal "preclearance" of voting changes in states, cities, and other governments with histories of discrimination.
To do that, there would be new standards for which governments had such racist history, rather than confining it to the former Confederacy, and selected others which discriminated against groups other than Blacks.
But both bills face yet another GOP filibuster, and the conference will brainstorm about how to force senators to overcome it. They're hampered because on January 13, the second resisting Senate Democrat, Arizona's Kyrsten Sinema, forcefully restated her support for that racist minority-rule device.
Without the votes of Sinema and Sen. Joe Manchin, D-W. Va., not only do both bills fail in the 50-50 Senate, but the effort to overturn the filibuster dies, too. The other 46 Democrats and both independents back both bills and support ending the filibuster on civil rights issues. A filibuster needs just a 41-vote minority to succeed.
In the wake of his forceful pro-voting rights and anti-filibuster speech earlier in the week in Dr. King's hometown, Atlanta, Democratic President Joe Biden spent January 13 lobbying the 48 Democrats and both independents to all vote for them and to vote to kill the GOP's threats. Sinema and Manchin continue to say they will not budge on the elimination of the filibuster even if only to pass the critical voting rights legislation.
The MLK delegates weren't the only progressives marshaling forces in the runup to the votes and to the commemoration of King's birth. The Rev. Jesse Jackson's Operation Push hosted its own 32nd Annual Rev. Dr. Martin Luther King, Jr. Celebration—also virtual—on January 17, starting at 10 a.m. Central Time. While free, people must register at https://bit.ly/PEMLK2022.
"This is the make-or-break week for democracy reform," Indivisible.org e-mailed its members early in the week. "We have under a week to ensure that Democrats in the Senate are prepared to fix the filibuster and pass the Freedom to Vote Act, with or without Republican help."
The organization asked its members to sign up for local events coast to coast backing the legislation and to bombard senators with supportive calls. It also told them Dr. King's children and grandchildren would lead marches in Arizona, targeting Sinema, and in D.C., as a pro-peace event.
"History will remember Senator Sinema unkindly. While Sen. Sinema remains stubborn in her 'optimism,' Black and Brown Americans are losing their right to vote," said Martin Luther King III, who, with Arndrea Waters King, leads the Drum Majors Institute, named for a phrase Dr. King used: "I am a drum major for justice." They'll lead the march in Arizona, too.
"She's siding with the legacy of Bull Connor and George Wallace instead of the legacy of my father and all those who fought to make real our democracy," King III said.
"When the 1891 civil rights bill was filibustered, it ushered in 100 years of Jim Crow," Arndrea King added. "If Senator Sinema's position remains, she'll extend that century of white supremacy's chokehold on our democracy.
Indivisible also warned readers not to be hoodwinked by a GOP "trap," a bill to fix the 1887 Electoral Count Vote Act. That measure contains the holes which let the overwhelming majority of congressional Republicans try to re-install Donald Trump in the Oval Office last January 6, by throwing out states' electoral votes. They failed, even after being interrupted by the Trumpite insurrection in the Capitol.
Replacing that 1887 law "is a last-minute attempt on the part of Republicans to divert attention away from the momentum behind the democracy reform bills that are actually moving"—the two Biden, the Dems and unions back—"because they know those bills actually address the root cause of what's ailing our democracy: Gerrymandering, voter suppression, dark money, and more," said Indivisible.
"It makes no sense to pass reforms to the Electoral Count Act on their own. A valid count of election results is meaningless if the election itself was rigged."
Biden reminded the public yesterday history shows major voting rights and civil rights legislation did not pass and become law the first time around. It often took a second if not more tries and he vowed if the bills don't pass this time, to fight for passage of them for as long as there is any breath left in him.