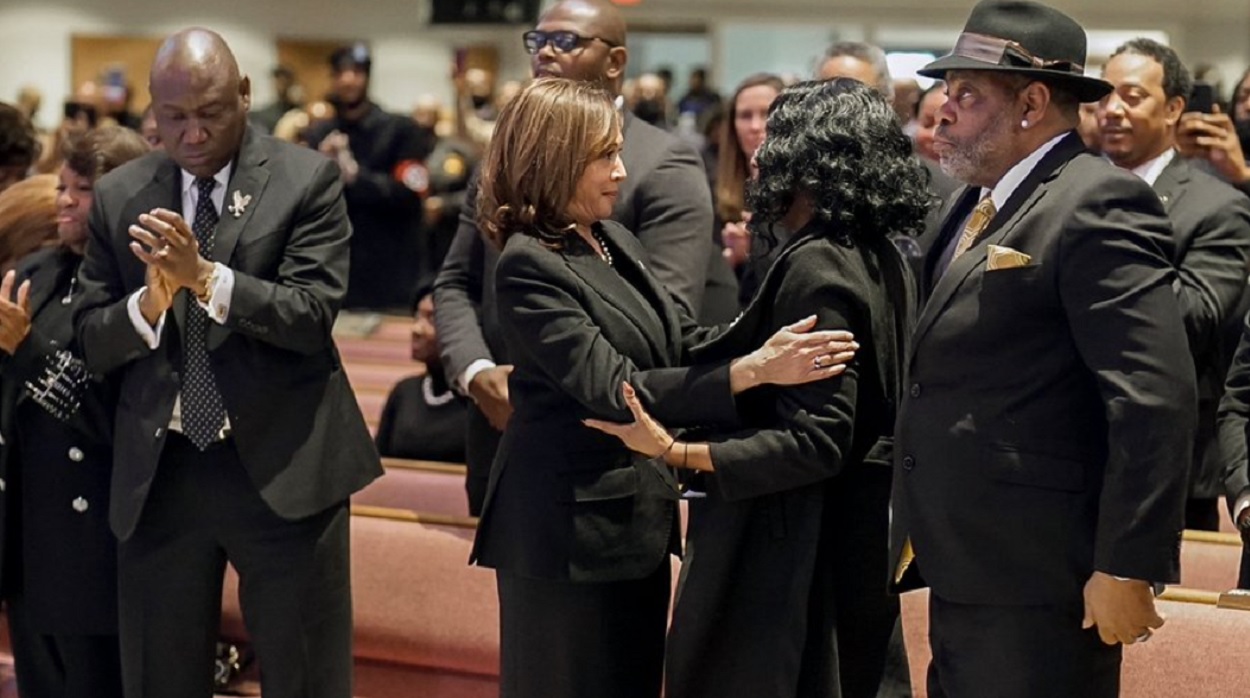 MEMPHIS, Tenn.—Tyre Nichols, the 29-year-old unarmed and unresisting Memphis Black man beaten, clubbed, and kicked to death by Memphis cops, died in January by "an act of violence at the hands and the feet of people who had been charged with keeping them safe," Vice President Kamala Harris says.
With those words at Nichols's Memphis funeral on Feb. 1, Harris cited a decades-long issue: The attitude of police towards Blacks, and specifically towards Black men. It's usually a case of "white cops kill unarmed Blacks." But five Memphis cops, members of a special "Scorpion" unit, thus far charged in the killing of Nichols, are Black. The murder reveals not just the deeper problem with police culture but the fact that racism is a systemic evil, far more than just bias of one individual against another. It is inconceivable that five Black police officers would murder a white person pulled aside for a traffic stop in a wealthy white community.
The National Alliance Against Racist and Political Repression has put its finger on the crux of the problem, the lack of real meaningful community control of the police and it is battling on that front all over the country but particularly in the approaching Chicago elections.
The five officers have been fired and charged with second-degree murder. Scorpion has been disbanded. But surveys show distrust of police by people of color, not just in Memphis but nationally, remains. And data compiled by various sources over tens of thousands of cases shows the skepticism is justified.
"Mothers around the world, when their babies are born, pray to God, when they hold that child, that that body and that life will be safe for the rest of his life," the Vice President began, speaking for her boss, President Joe Biden, and the American people.
"Yet we have a mother and a father who mourn the life of a young man who should be here today. They have a grandson who now does not have a father. His brothers and sister will lose the love of growing old with their baby brother."
All because the police, without giving a reason or a cause, beat, kicked, and clubbed Nichols to death, taunting him and cursing him all the while as he sobbed and called for his mother. At the end, the video of his death shows, police propped him up against a car and said "Get up, bro."
The officers chatted with one another, first responders took 20 minutes to arrive at the scene, and an ambulance never appeared, said the keynote preacher at the service, the Rev. Al Sharpton.
The first step to a solution to that fraught relationship, Harris declared, is for lawmakers to approve the George Floyd Justice In Policing Act. As a California senator, she co-sponsored and fought for it after Minneapolis cops killed unarmed unresisting Black man George Floyd several years ago. The bill stalled in the last Congress and talks to revive and approve it before Nichols's funeral failed.
Harris's boss, Biden, met at the White House on Feb. 2 to discuss how to revive the George Floyd Justice in Policing Act in this Congress, especially facing a House Republican majority whose voter base includes white nationalists.
"My perspective is: How can we make some progress on police reform of consequence and violence in our communities?" Biden asked the lawmakers.
"The death of Tyre Nichols is yet another example of why we do need action," replied caucus chair Rep. Steven Horsford, D-Nev., a veteran Las Vegas union member. After praising Biden for his past executive orders to promote racial justice and police accountability, he asked Biden to lobby for the law. "We need your help to make sure we can get the legislative actions that are necessary to save lives and to make public safety the priority that it needs to be for all communities. I want to thank you for that," said Horsford.
Not in pursuit of public safety
"This violent act was not in pursuit of public safety," Harris declared in Memphis. "It was not in the interest of keeping the public safe. Because one must ask: Was not it in the interest of keeping the public safe that Tyre Nichols would be with us here today?" she said, to applause. "Was he not also entitled to the right to be safe?
"So when we talk about public safety, let us understand what it means in its truest form. Tyre Nichols should have been safe."
Harris's remarks touched on a key facet of the nation's systemic racism: The rocky relationship between cops and the communities they're supposed to serve, especially the Black community.
Even if it's not quite the words "occupying army," it is certainly close—and the tension has long preceded the police killings of Nichols, George Floyd, Fernando Castile, Michael Brown, and other unarmed Black men, boys, and women too. Their deaths in recent years exposed the police attitude for the whole nation to see.
Consider the most-detailed public opinion poll about cop-community relations, commissioned by, of all organizations, the conservative-to-libertarian Cato Institute in 2014. Here are some key findings:
Only 40% of Blacks had favorable views of police, while 68% of whites and 59% of Hispanics did. In the 1970s, 67% of whites backed cops, but only 43% of Blacks did. Latinos weren't polled then.
Almost three-fourths of Blacks (73%) believed in 2014 that police were too quick to use deadly force. So did just over half (54%) of Latinos. Whites? 35%.
No wonder the National Education Association, in its reaction to Nichols's killing, declared "When police behave as our adversaries rather than as our protectors, we are not safe."
Black distrust extended to reporting a crime, or not. 78% of whites would, they told pollsters in 2014, while 54% of Blacks and 57% of Hispanics would.
Republicans were almost monolithically pro-police (82%). More Democrats (69% pro-police) and Independents (67% pro-police) have doubts.
"Research finds that when the police have legitimacy, the law has legitimacy, which encourages compliance and cooperation," Cato commented. The National Alliance Against Racist and Political Repression sees such legitimacy as impossible to achieve without real community control of the police (See related story.)
These poll findings were before all the high-profile killings of unarmed Blacks, with Nichols as the latest, by cops
Connection to King's murder
At Nichols's funeral, the Rev. Al Sharpton. Head of the National Action Network, made the connection between Nichols and another Black man murdered in Memphis, though not by police, but by white nationalist James Earl Ray: Dr. Martin Luther King Jr., in 1968.
He also predicted Nichols did not die in vain, despite congressional inaction. The deadlock over the George Floyd bill is due largely to bipartisan fealty to the gun lobby, or fear of massive votes against lawmakers, by its members. Another factor: Republican rank-and-file hatred of Blacks.
"What will happen? What will happen to his dream?" Sharpton asked about Nichols. "You thought you threw Dr. King's dream in a pit. But every time you throw someone's dream down in the pit, God takes it and rises it up," the preacher predicted.
Nichols's death produced mass marches and candlelight vigils in his honor in dozens of cities since then, including one vigil at the White House. The National Education Association, the nation's largest union, and the NAACP posted online petitions demanding congressional action for comprehensive police reform. Other unions denounced the killing, too.
Teachers (AFT) President Randi Weingarten predicted more marching for justice for Blacks, just as occurred after one Minneapolis cop murdered Floyd while three others stood by and did nothing.
"Protection of and respect for human life should be the fundamental principle that guides all American policing," Weingarten, a New York city civics teacher, said. "But, once again, that responsibility has been cast aside in the most violent, craven, and excruciating way imaginable.
"Just as we marched for Eric Garner, Breonna Taylor, George Floyd, and the many others who have died unjustly at the hands of the police, we call for justice today. We will not stop organizing until the change our nation is demanding is realized." Garner was a Black New Yorker killed on Staten Island by a cop's chokehold while Garner was selling untaxed cigarettes. He, too, died pleading for life and his mother.
"The recent fatal beating of Tyre Nichols is a stark and brutal reminder we have a long way to go on this journey," towards justice, the Steelworkers added. "We in the labor movement must do our part to correct the course. We must have open and courageous conversations with each other, with our neighbors, our friends, and our foes."
"Some may wonder how racism can be at the root of this violence since it involved Black officers in the majority Black Memphis police department," the Communications Workers observed in their statement. "That is the insidious nature of structural racism in our police departments–practices and cultural assumptions that dehumanize Black people and make any encounter with police a source of fear.
"The officers involved should be held accountable for their crime. There is no excuse. But we can't stop there. We call on working people to help bring an end to this trauma by joining together to insist police departments in our communities engage in education and training programs to change the culture of policing from one that demands obedience to one that earns respect."
"We've waited for far too long for meaningful federal legislation," the NAACP said. "In the meantime, many more Black lives have been lost at the hands of police officers."
The NAACP, the nation's oldest and largest civil rights organization, demands "reform legislation to "end the horrors of police brutality and reform a criminal justice system that fails to properly hold law enforcement officials accountable." That includes "ending qualified immunity" which protects cops from being sued for wrongful arrests, injuries, and deaths.
Failure to pass is failure to protect
"Failure to pass legislation is a failure to protect the people who elected you," the group declared.
"All of us want to feel secure in our neighborhoods," NEA said. "But when police behave as our adversaries instead of our protectors, we are not safe. The killing of Tyre Nichols by Memphis police officers is yet another example that, with alarming frequency and regularity, many communities—particularly those that are Black and brown—are not protected by police officers. They are targeted.
"Congress can help end police brutality by enacting reforms that protect our liberties and rights."
For the most part, Congress hasn't helped. Instead, it's made matters worse, notably with the mid-1990s reaction to what was then a higher crime rate. The 1994 Violent Crime Control and Law Enforcement Act is now remembered for its gun control legislation, principally its assault weapons ban.
That 1994 law also authorized $30.2 billion in grants to state and local governments, with half going to hire more police ($8.8 billion) and build more prisons ($7.9 billion). That measure also enshrined "three strikes and you're out" in the federal criminal code. States copy-catted it.
The only recent move in the other direction, which has yet to take full effect, was bipartisan legislation, the First Step Act, pushed by Sen. Cory Booker, D-N.J., a former Newark Mayor, in 2018 during the Republican Trump regime. It addressed sentencing disparities and prison reform, but not police shoot-first actions.
The prime shepherd of that 1994 crime bill was the Senate Judiciary Committee Chairman, Democrat Joe Biden. In a speech during the 2020 presidential campaign, he said the crime bill "worked in some areas. But it failed in others. …The violent crime rate was cut in half in America."
Like free stuff? So do we. Here at People's World, we believe strongly in the mission of keeping the labor and democratic movements informed so they are prepared for the struggle. But we need your help. While our content is free for readers (something we are proud of) it takes money — a lot of it — to produce and cover the stories you see in our pages. Only you, our readers and supporters, can keep us going. Only you can make sure we keep the news that matters free of paywalls and advertisements. If you enjoy reading People's World and the stories we bring you, support our work by becoming a $5 monthly sustainer today.