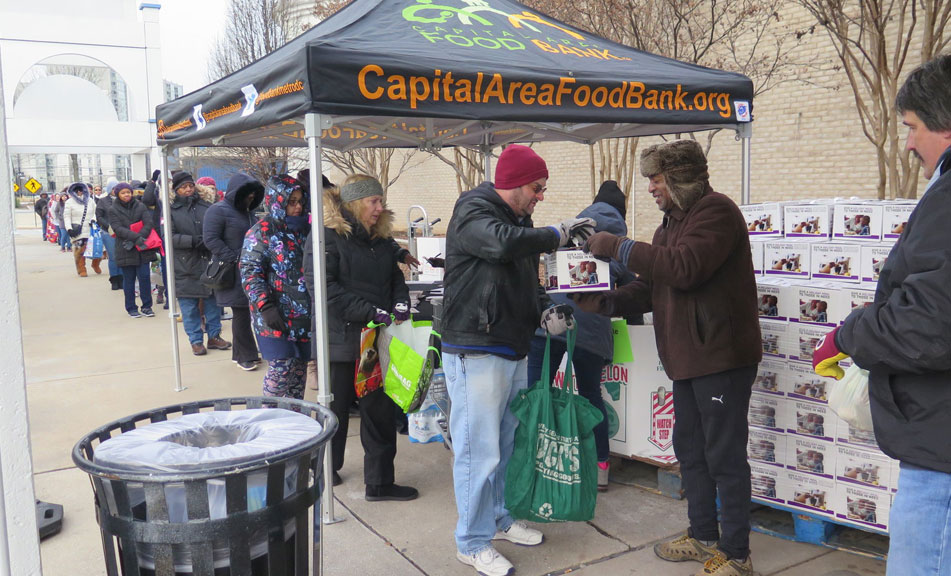 WASHINGTON—With landlords preparing eviction notices for unpaid federal workers and banks scheming to repossess their cars for unpaid loans, Senate Democrats are trying to stop the pain.
The legislation, introduced by Sen. Brian Schatz, D-Hawaii, drew support from 24 other Democrats, including Minority Leader Charles Schumer. And two top union leaders who represent federal workers, Tony Reardon of the Treasury Employees (NTEU) and Paul Shearon of the Professional and Technical Employees (IFPTE) strongly support it.
The legislation may not come up for a vote in the third week of January, though Senate Majority Leader Mitch McConnell, R-Kent., promised two votes on measures to end GOP President Donald Trump's month-long lockout/shutdown of federal workers and their agencies.
Egged on by right-wing radio talk show hosts, House Republicans, and his own staff, Trump gleefully shut several Cabinet departments and related agencies at midnight Dec. 21 after agreeing to, and then welshing on, a measure to keep them open through the rest of this fiscal year.
Instead, he demanded lawmakers fund his $5.7 billion Mexican Wall, which foes call racist and House Speaker Nancy Pelosi, D-Calif., calls "immoral," before he'd reopen the government.
But that didn't stop Trump from sending some 350,000 workers home without pay and forcing 450,000 others, including federal firefighters, airport screeners and IRS workers, to toil without pay since then.
It's those workers, minus paychecks for the last month, who are facing eviction, auto repossession, ruined credit because they can't pay their bills and other financial ills – and whom Schatz, Schumer and the other Democrats are trying to help.
"Amidst another push to open the government, I am fighting with my colleagues for necessary financial protections for impacted federal workers during this shutdown and for workers of any future shutdown, because no federal public servant should have their financial well-being held hostage by a president unwilling to simply open the government in the middle of a debate," Schumer said.
"While the president and Senate Republicans struggle to get their act together, real people are suffering," said Schatz. "Right now, thousands of federal workers and their families are struggling to pay rent and make ends meet. It's absolutely unacceptable. Our bill will protect federal workers and make sure they aren't harmed because of a political stunt."
The Schatz-Schumer bill, the Federal Employee Civil Relief Act, would bar landlords and creditors from taking action against federal workers or contractors hurt by the government shutdown and unable to pay rent or repay loans, a Schatz fact sheet says.
The measure is modeled after legislation that already covers families of military service members. It would also empower federal workers to sue creditors or landlords that violate this protection. One co-sponsor, Sen. Mazie Hirono, D-Hawaii, said she'll try to insert it in the money bills coming up for votes.
"People who took an oath to serve their country as federal employees should not have to worry about being evicted, having their car repossessed or going further into debt because of a government shutdown," said Reardon, whose union represents many of the workers, notably the IRS workers, whom Trump has ordered back on the job to toil without pay.
The measure "would protect the nation's federal workforce, many of whom are suffering after nearly three weeks without pay. The Federal Employee Civil Relief Act would give frontline federal workers a reasonable amount of time to catch up on their bills once the shutdown ends and their income is restored. Federal employees around the country are grateful that there are members of Congress who are looking out for them in their time of need," he added.
Shearon's union, IFPTE, lauded Schumer, Schatz, and House Democratic sponsor Derek Kilmer, D-Wash., "for authoring this critically important bill." His union includes engineers, scientists and – ironically – immigration judges who face an enormous caseload of applicants waiting to enter the U.S. and whose cases can't get judged because Trump has shut down their agency.
"This legislation will provide much-needed relief to federal employees who may be facing civil actions against them due to a lapse in pay that has resulted because of the government shutdown. It is truly unfortunate that President Trump is using these civilian workers and their families as political pawns to achieve a political goal," Shearon added.
"The real-life ramifications on these working Americans are hard choices between feeding their families and meeting other financial obligations. The Federal Employee Civil Relief Act will provide impacted workers additional time after a shutdown to meet their financial obligations that would otherwise result in actions against them such as eviction, foreclosure and other civil claims."
But while Schumer, Schatz and Co., come to the aid of the federal workers, two other large groups of people hurt by the shutdown are, so far, out in the cold, and may not be made whole even when, or if, the government reopens.
One is contract workers – janitors, fast food workers, security guards and their colleagues, many of them represented by the Service Employees. They're not federal workers, so the Schumer-Schatz bill doesn't cover them. Nor does legislation Trump signed Jan. 16 saying federal workers would get retroactive back pay. Maryland's two Democratic senators and Sen. Tina Smith, DFL-Minn., are trying to get pay retroactivity for the contract workers, too.
But another large group of people – recipients of federal housing Section 8 vouchers and other aid to low-income people — also face auto repossession and eviction notices. Landlords are demanding Section 8 renters pay full freight, replacing the federal Housing Department subsidies the landlords usually get.
Otherwise, those poor could be out on the street as early as February.
Not mentioned by anyone in this battle so far is the fact that the capitalist system itself encourages the vulture-like behavior of banks and mortgage companies that stand to intensify their profit rates when they kick people out of homes who have already paid off half or more of their mortgages. In addition to the huge interest rates they have already wallowed around in they can use the same real estate to start the money machine going all over again for themselves. What they are doing with the victims of the Trump shutdown is nothing more than business as usual for them – only intensified. It's like price gouging after a storm or natural disaster – only this time its on steroids.