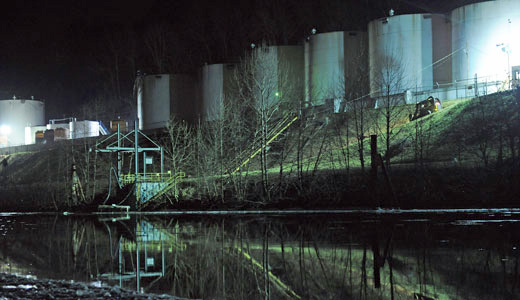 This month is a bitter anniversary for Charleston, W. Va.: Three years ago in January, experts with the U.S. Chemical Safety Board (CSB) urged the state to create a new program to prevent toxic chemical spills. They did so after an extensive investigation of an August 2008 explosion and fire at the Bayer CropScience plant, which left two workers dead. The board's proposal went nowhere. Fast forward to 2014: 7,500 gallons of a chemical "sudsing agent" used in coal processing have leaked into Charleston's water supply, sickening many and leaving 300,000 residents in nine counties across the state unable to drink or use their water. And still, oversight is sorely lacking.
The chemical, which was stored in a tank, overflowed the containment area around it, wending its way over land and through soil until it poisoned Elk River – the main drinking water source for the affected population. The tank is owned by Freedom Industries, which supplies products for the coal mining industry: the same industry that regularly engages in mountaintop removal and other practices that wreak environmental havoc.
According to experts, the real tragedy of it all is that it could have been avoided. The Kanawha-Charleston Health Department had also sought to develop an initiative to address the lack of scrutiny of chemical corporations in the state. But the state's Department of Health and Human Resources would not step in to provide the legal authority (or the funding) that Kanawha-Charleston needed to execute such a plan.
"We've had [the CSB's] recommendation on the books for several years now," said Health Department Director Dr. Rahul Gupta. "This [latest disaster] gives us another opportunity to look at what they recommended."
The recommendation to which he refers is the CSB's proposal for a new "Hazardous Chemical Release Prevention Program" – a core part of the agency's report on the 2008 Bayer plant explosion. This was dismissed by the state Department of Health and Human Resources, no doubt bowing to the coal industry's political sway. The CSB pressed the point again in 2011, to no avail. The program would require companies to draw up and submit comprehensive safety plans and be subject to regular government audits of those plans. The majority of the funding would likely come from fees paid by the chemical companies.
Industry groups such as the American Chemistry Council denounced the recommendation as something that would "create unnecessary redundancies" and impose "economic burdens" on industry and the West Virginia state government. Reading between the lines, one might glean that what they really mean is it would place the coal industry under tighter scrutiny, if only slightly. It would also require profiteering chemical corporations to open their wallets.
In truth, the need for an overhaul of how chemical companies handle and process their material seems desperately needed. The CSB perhaps said it best in their 169-page report on the Bayer explosion: "The Kanawha Valley has many facilities that handle large quantities of hazardous materials, some of which are acutely toxic. Furthermore, there are environmentally sensitive areas like the Kanawha River, which is an important transportation corridor. The local government should adopt regulations and implement a program that would improve emergency planning and accident prevention."
Photo: A series of tanks at Freedom Industries in Charleston, W.Va. The chemical leaked after breaching a containment area around one of them. AP