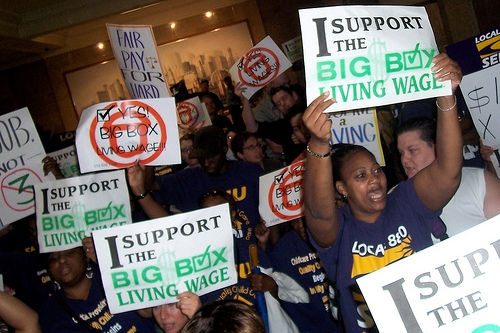 CHICAGO (PAI)–Extracting concessions for union construction workers and wages that will be at least a dollar an hour higher than the retail monster Wal-Mart wanted to pay, Chicago unions and their political and community allies finally agreed, after a six-year campaign, to let the behemoth build a store in Chicago.
The pact, announced June 24, calls for a Wal-Mart to be erected at Pullman Plaza. That's in the South Side community, now predominantly African American working poor, that became world-famous for oppression of workers in the 1890s.
WakeUp Wal-Mart, a national campaign by the United Food and Commercial Workers — the union trying to organize the violently anti-union retailer's workers — hailed the Chicago pact as a first step towards national standards for other Wal-Mart projects.
Those standards could bring living wages to Wal-Mart workers, it said.
"They're responsible for a lot of job loss in areas that they've been operating in, so its a good first start," said Jorge Ramirez of the Chicago Federation of Labor. "But they need to do more. They need to be held to a higher standard."
Wal-Mart, of course, is known for its often-illegal resistance to unionization, its extreme anti-worker bias, its low wages and skimpy benefits — and its always-low prices that, due to its size, lets Wal-Mart force its suppliers to impoverish their workers, too.
Against all that, the Chicago Federation of Labor, the Chicago Building and Construction Trades Council and United Food and Commercial Workers Local 881 won concessions from the mega-retailer.
"After years of demanding more from the world's most profitable retailer, we have reached a point where we have received more guarantees over wages, community benefits and construction than any other place in the world," said CFL President Dennis Gannon. "The time is right to bring retail and construction jobs to the people of Chicago. We will be vigilant about holding Wal-Mart accountable for the promises it has made to us and to the community." The agreement's details include:
Starting wages at $8.75 hourly, 50 cents more per hour than Illinois' minimum wage; then 40-cent, 50-cent and 60-cent yearly raises;
Project labor agreements, setting union wages, grievance procedures, work rules and safety rules not just at the Pullman Wal-Mart, but at any other store it wants to erect in Chicago or the 20 Northern Illinois counties.
A $20 million Wal-Mart contribution to community economic development.
"Considering what the corporation is capable of paying and its long, tarnished record of mistreating employees and communities, we demanded better" than it first offered, the CFL said. Unions demanded entry level wages of $9.15-$9.35 per hour for workers after the first year the store is open.
"We are committed to ensuring that Wal-Mart will not deny its workers in Chicago their rights," said Local 881 President Ron Powell. "Around the world, this corporation has routinely mistreated its employees and violated labor laws. We won't let that happen here in Chicago."
The Pullman PLA, negotiated by Chicago Building Trades President Tom Villanova, mandates "increased employment opportunities for minority workers and provision of minority apprenticeship opportunities," the CFL said.
WakeUp Wal-Mart called the Chicago pact "an important first step in establishing workplace standards for Wal-Mart operations in new markets" and "a starting point for future discussions that will establish retail jobs that can sustain a career, pay wages that can support a family and rebuild America's middle class."
The new stores will be built with union labor. And the company has also promised to open some stories in so-called "food deserts" — places where there are no easily accessible grocery stores.
The jobless recession and supposed recovery is credited with the shift of political opinion among the Chicago City Council. In 2006 the City Council, over the objections of Mayor Richard Daley, passed a "Big Box Living Wage Ordinance" designed to prevent Wal-Mart and other "big box" stores from coming into communities and driving down wages and demolishing small businesses. The mayor then vetoed the ordinance. The first time Daley ever used his veto.
After the 2006 ordinance, Wal-Mart redoubled its PR machine, and working overtime to court African American communities, in particular, with its promise of jobs. Wal-Mart also sought to drive a wedge between the communities and the labor movement.
"With the economy like it is, who can afford to vote no on jobs?" asked long-time Wal-Mart supporter Ald. Anthony Beale of Chicago's 9th Ward, soon to be home of the Pullman Wal-Mart.
"Is there any alderman who is going to turn their back on 12,000 jobs here in the city of Chicago? I don't think so."
Wal-Mart is seeking new markets, after saturating the suburban and rural ones. The under-served urban markets are its next frontier. Chicago is seen now as setting the standard for its nationwide campaign to break into cities.
After the deal was announced and the zoning committee voted to OK the Pullman store, Wal-Mart attempted to "scrub" the record denying there was a deal. A spokesman at the Chicago Federation of Labor said the retail giant was posturing.
"The mayor says there is a deal. Alderman Burke read into the zoning committee record the deal. Wal-Mart's policy is they don't talk about wages. They are trying to scrub the record. There is a deal," the CFL spokesman said.
Teresa Albano contributed to this story.
Photo: Supporters of the Big Box Living Wage Ordinance rally at City Hall in July 2006. (PW)

Related stories from the archives:

Chicago to Wal-Mart: Pay a living wage
Chicago postpones action on new Wal-Mart stores
Don't steal the big box ordinance
Wal-Mart pulls back from Chicago
Windy City elections show growing class divide