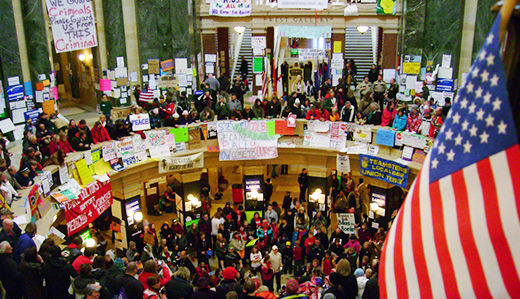 MADISON, Wis. – Here we go again in Wisconsin: Right-wing Gov. Scott Walker's anti-union law is headed for another test in the state's Supreme Court.
The justices decided on June 14 to accept another appeal against the law and its impact from unions of city workers in Milwaukee, represented by the American Federation of State, County and Municipal Employees, and teachers in Madison, represented by the local affiliate of the National Education Association.
Walker's 2011 law, jammed through by an enthusiastic GOP majority in the state legislature, killed collective bargaining rights for 200,000 state and local government workers, all of them members of unions that opposed Walker's 2010 run for the governor's chair. Members of unions that backed Walker kept their rights.
Walker's law, Act 10, produced a national uproar. Tens of thousands of workers and their allies, with a peak crowd of more than 100,000, jammed the state capitol building in Madison to protest and erected a "Walkerville" camp on its lawn. But Act 10 survived court challenges and Walker won a subsequent labor-backed recall campaign.
The Supreme Court, which has a GOP majority, did not specify why it would hear the challenge to Walker's law this fall. Nor did it set a date. An email to the attorney for the unions, asking him the basis for the challenge, has yet to produce an answer.
Meanwhile, Walker's GOP-run legislature plows ahead with other anti-worker brainstorms. Its latest scheme extends taxpayer-paid vouchers for parents of private school kids statewide, yanking money from public schools. Citizen Action and the South Central Federation of Labor rallied against the vouchers on June 17, just before the legislature's Finance Committee approved them.
"This continues the assault on public education by the Walker administration and the Republican leadership, in response to corporate lobbyists who are working to privatize our state's services and resources," the two groups said. "Following Act 10's attack on public workers and historic cuts to public education in his first biennial budget, Walker and his privatizing partners propose legislation that further funds parochial and private schools at the expense of public schools."
Walker and his allies "throw the state's educational system into chaos by allowing private, for-profit schools to siphon off public tax funds, which have no accountability to the state or to taxpayers. Despite 20 years of experience in Milwaukee with no evidence that voucher schools are better for students, they want to continue this destructive march towards privatization." It concludes with a demand to "stop the selloff to corporate interests."
Photo: Walker's attack on unions that drew thousands to the Wisconsin state capitol in the winter of 2011 is back again now. John Paul Holmes/Flickr (CC)