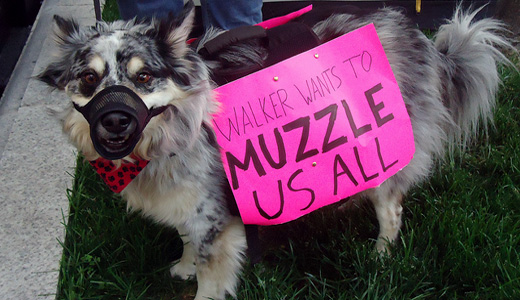 MADISON, Wis. – Sara Lam spent Saturday night sleeping in a tent outside the Capitol here.
A lot of the other people camping out in "Walkerville" that night were surprised that she was there among them. Lam is 30 weeks pregnant.
"To me it was not even a question," said Lam. "This (Gov. Walker's) budget is going to negatively impact the health and wellness of thousands of Wisconsinites. One night outside was not an issue."
On Saturday, June 4, as dusk slowly gave way to nightfall over this city, the first residents of Walkerville began to arrive, erecting their tents. Hundreds more, union workers and students among them, arrived as the evening and then the weekend wore on, bringing with them sleeping bags, more tents, pillows, children and even their dogs. They've started still another massive protest in the continuous chain of protests taking place here ever since the state's Republican governor introduced a budget last February that cut social services and killed the collective bargaining rights of public workers. They say that they say will remain at the Capitol until the Walker budget is passed, not allowing the governor to sneak it through.
Like the workers who built "Hooverville" tent cities in the Depression of the 1920s, protestors are dramatizing their opposition to Republicans' economic policies.
Each night the tent city residents are treated to music and entertainment provided by local performers and artists.
During the day Walkerville residents visit the small businesses that fill the downtown Madison area surrounding the Capitol, telling the store owners about why they protest. Some shops display signs in support and others help out with food and refreshments.
"We are fighting for working families, small businesses and better communities in Wisconsin," said Peter Rickman, a University of Wisconsin-Madison law student and Teaching Assistants Association member who spoke to the first groups as they arrived Saturday night.
"Since locking down the Capitol to the people of Wisconsin, GOP lawmakers are planning to pass their radical budget in the dead of night with no citizen participation," said a statement from the Wisconsin AFL-CIO as the protest began. "Without witnesses they are gutting our schools, crippling our communities and eliminating programs for the poor and elderly. This action will continue indefinitely until the budget is passed."
Marches and rallies are planned every day through at least June 11. On Sunday the theme was education, today it is public services. On Tuesday it will be health care, Wednesday higher education, Thursday democracy and corporate power, and on Friday and Saturday all the labor and community groups supporting the protest will converge in Madison under the theme of social and economic justice for all.
There was bright sunshine and a cloudless blue sky on Sunday, day two of Walkerville as the demonstrators focused on protesting cuts in education.
Lam, the pregnant woman who slept in Walkerville the first night, is a member of the Teaching Assistants Association at the University of Wisconsin. She works in the college's Curriculum and Instruction Department and said Walker's cuts will severely damage her program by forcing it to lose some of its best faculty.
Teachers held an open mic on Sunday to discuss the impact of Walker's budget on the schools. "Kids are the most important investment we can make," said Kelly Sullivan, a high school teacher who arrived in Walkerville just after she attended the graduation ceremony at the Monona Grove High School where she teaches.
A Waukesha County elementary school teacher took the mic and said, "Gov. Walker and the state legislature need to prioritize funding for public education. Public schools are the basis of democracy."
Helena White, a speech and language clinician at East High School, brought her two sons to Walkerville.
"We are here to raise our voice against this budget and tell Scott Walker that the people do not support his policies," she said. "This budget will affect my teaching environment by increasing my case load to a point where each child is not getting the best education possible."
She said that as a union member she was losing her rights and her voice on the job and that as a mother she had to worry that the education of both her sons was also on the line.
The Union Building Trades brought a trailer-full of food to the Sunday rally and when the teach-in ended the residents of Walkerville held a community meal. They filled their plates with bratwurst and cornbread. Those who preferred got vegetarian or vegan meals instead.
Photo: Wisconsin AFL-CIO