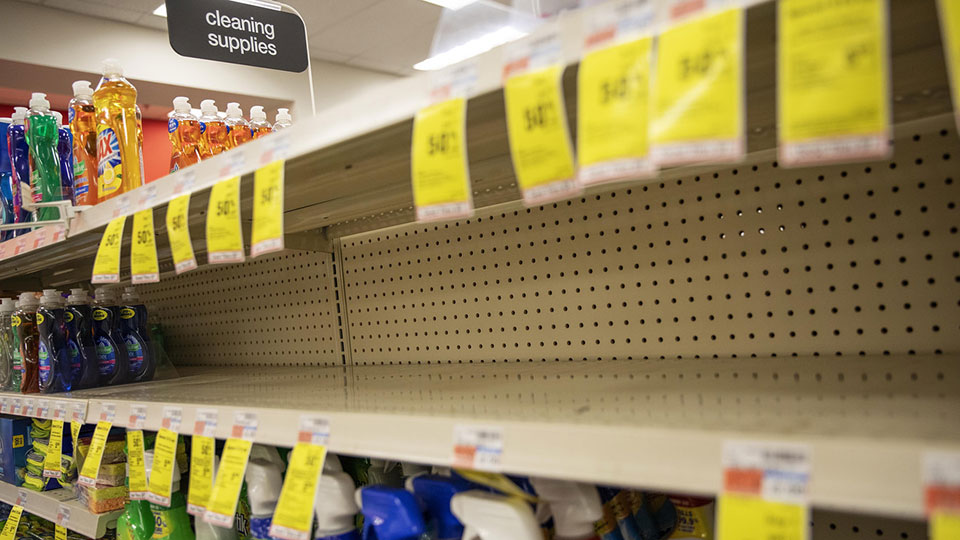 HARRISBURG, Pa.—Why are we not surprised by this?
Thirty-three state Attorneys General from both parties, led by Pennsylvania's Josh Shapiro and including Minnesotan Keith Ellison, Kwame Raoul of Illinois and Maryland's Brian Frosh, are going after five big businesses who let outside sellers use those firms' online platforms for price-gouging consumers harmed or scared by the coronavirus pandemic.
Two of the offenders are online platforms of Walmart and Amazon, who are also notorious for exploiting their workers – associates (Walmart) and warehouse workers (Amazon). The other three online offenders are eBay, Facebook, and Craigslist.
Using a short report the U.S. Public Interest Group (USPIRG) developed, the AGs said the five big online sellers let other companies who use their platforms post huge price hikes for supplies needed to combat the virus's spread. But Amazon posted some big hikes on its own products, too, the report adds.
The AGs' letter to offenders demanded those firms use their online product platforms to both roll prices back and to set prices approximately equal to those before the pandemic hit.
Otherwise, they're engaging, as Ellison put it, in "pandemic profiteering." Said Shapiro: "Ripping off consumers by jacking up prices in the middle of a public emergency is against the law."
One big hike, USPIRG said, was 50% by the outside providers on Amazon's platforms for hand sanitizers and masks – items that consumers and nurses, respectively, need to stop the spread of the disease. Amazon wasn't the sole offender, though.
USPIRG discovered that in March alone, "On Craigslist, a two-liter bottle of hand sanitizer was being sold for $250, on Facebook Marketplace, an eight-ounce bottle was being sold for $40, and on eBay, packs of face masks were being sold for $40 and $50," Shapiro's letter told the companies.
All those prices were far above what sellers were charging, via those platforms, before the pandemic was officially proclaimed on March 13. And in Pennsylvania, Shapiro reminded them, such gouging is not only immoral but illegal.
"We believe you have an ethical obligation and patriotic duty to help your fellow citizens in this time of need by doing everything in your power to stop price gouging in real-time," Shapiro wrote the five.
"These companies have an ethical obligation to stop enabling this behavior for this emergency and those in the future."
The Pennsylvanian and his colleagues recommended the five big online platform retailers set policies to limit price hikes, enforce them, maintain "fair pricing" pages on their portals and links to AGs' sites to report price-gouging.
Such hikes are illegal in Maryland, too, under an emergency law that took effect March 23, Frosh warned. Violators, he said, could if convicted face prison time.
"In Maryland, retailers — including online retailers — who engage in price gouging are in violation of the Consumer Protection Act and may face civil penalties of up to $10,000 per violation and possible criminal prosecution," he added in a letter to the five.
"Our Consumer Protection Division has received reports of price gouging from all over Maryland since the beginning of the COVID-19 pandemic. It's unconscionable that retailers would take advantage of consumers during this worldwide pandemic crisis, and we will take every action we can to stop them."
"Online retailers are no exception. If they sell products or services to Maryland consumers, they also must comply with our anti–price gouging law."
Amazon was a prime offender in not preventing price-gouging by its sellers, said USPIRG's consumer watchdog writer, Adam Gerber. The monster online retailer, owned by Jeff Bezos, one of the three richest people in the U.S., is also known for mistreating and exploiting its warehouse workers, especially naturalized Somalis in the Twin Cities.
"More than half the products we examined" from other sellers, marketed through Amazon's platform "saw price spikes of at least 50% compared to the average price. At times, the cost of these products would spike 2.3 times higher than the average," Gerber reported. One-sixth of Amazon's own products had price spikes "averaging 65% greater than the average" hike by all sellers of the same goods. He recommended lawmakers probe the gouging, too.
Minnesota's Ellison and Illinois' Raoul also warned they would pursue gougers who use the coronavirus pandemic to jack up prices. Acting under a March 21 state executive order banning gouging, Ellison already caught the Downtown Smoke Shop in St. Paul, and has sent a warning letter to Menard's, Inc., telling that firm it's under investigation. Local district attorneys are joining the investigations.
An AG's "secret shopper" found the Smoke Shop charged $2.99 for a roll of toilet paper, $4.99 for two and $79.99 for a pack of 36. It also sold one-ounce bottles of hand sanitizer for $4.99, among other items. Smoke Shop signed an agreement with the Ramsey County (St. Paul) DA, to stop selling price-gouged products. If it doesn't, it faces a $30,000 civil fine.
In just the first four days since the order took effect, Ellison got more than 300 complaints about price-gouging for toilet paper and other paper products, rice, cleaning/sanitation products, face masks, eggs, butter, and water.
Raoul said he got more than 100 complaints about "price gouging on items tied to the epidemic, such as hand sanitizer, disinfecting wipes, face masks, and disinfectant sprays." He ordered businesses to "maintain fair prices," especially on items people need to prevent the virus's spread. Local DAs will enforce that, while Raoul enforces Democratic Gov. J.B. Pritzker's March 17 executive order banning price gouging, but concentrating on "essential medical supplies."