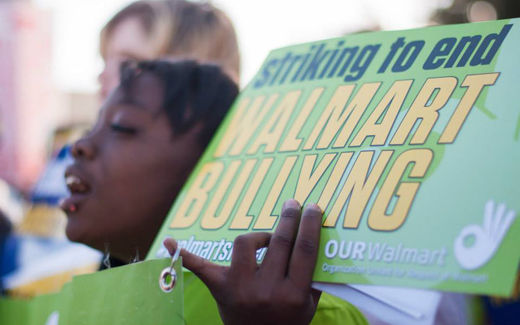 WASHINGTON (PAI) – Shades of J. Edgar Hoover. In a tactic that raises memories of the old FBI, which spied on union and civil rights leaders, Walmart management hired a top U.S. defense contractor, Lockheed-Martin, and asked the FBI to spy on activist workers.
The spying was contained in documents filed with the National Labor Relations Board in a case that OURWalmart, an employee group that lobbies management to improve pay and working conditions, filed with the agency. The Bloomberg Business Report disclosed the documents and Walmart's spying.
The United Food and Commercial Workers, which has tried to organize the monster anti-worker retailer for years, supports OURWalmart's goals, but has no connection with the group, according to a court settlement. It had no immediate comment. Neither did the FBI.
But OURWalmart activists, some of whom still work for the notorious labor law-breaker, did. The spying involved tracking approximately 100 activists' organizing of Black Friday protests in 2012 and 2013 and workers' subsequent demands for a $15 hourly wage and the right to organize without company interference, harassment, repression and retaliation.
"We are fighting for all workers to be paid a fair wage and enough hours to put food on the table and provide for our families," Mary Pat Tifft, a Wisconsin Walmart employee, told a Common Dreams writer. "To think that Walmart found us such a threat that they would hire a defense contractor and engage the FBI is a mind-blowing abuse of power."
Tifft wants elected officials "to launch an official investigation" of the case.
The documents, posted Nov. 30, show Walmart enlisting the defense contractor and the agency's Joint Terrorism Task Force to monitor worker activists. In those years, Walmart also illegally fired dozens of OURWalmart members for their activism and pro-worker stands.
The documents show company executives first mobilized Walmart's emergency response team to battle OURWalmart and its mobilizing for a 2012 Black Friday national strike.
Numerous NLRB cases involving Walmart, which has been convicted of at least 288 labor law violations over the last decade, show it flies that team of honchos into areas and stores whenever there is even a whisper of worker activism.
Walmart first used its own team, then hired Lockheed-Martin. When it heard that Occupy movement members might accompany OURWalmart activists to a demonstration during the firm's annual meeting at its Bentonville, Ark., headquarters, it labeled them terrorists and asked the FBI's anti-terrorism task force to join. The documents do not detail the FBI's role
"With some assistance from LM [Lockheed Martin] we have created the attached map to track the caravan movements and approximate participants," Kris Russell, a Walmart risk program senior manager, wrote in one memo.
Photo: Organization United for Respect