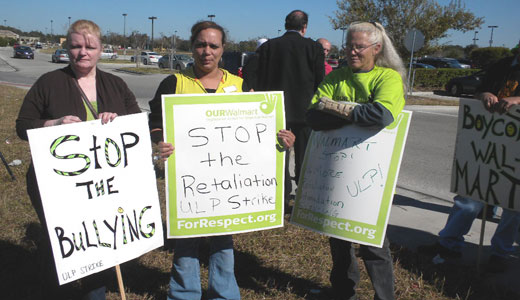 ORLANDO, Fla. – A busload of fellow Walmart workers along with community supporters stood with Walmart worker Lisa Lopez here on May 29 as she informed her store managers that she was going on strike.
The workers also handed out fliers to customers in support of a worker at a Walmart in St. Cloud, Fla., (about 30 miles from Orlando) who was fired a few weeks ago in retaliation for her participation in OURWalmart – Organization United for Respect at Walmart.
"I'm striking today for the retaliation that I receive in this store and the [working conditions] that we face today," Lopez said outside the east Orlando store.
A short rally ended with the workers chanting: "We're going on strike! / We're going to see Mike!" That was a reference to Walmart CEO Mike Duke, who was paid $20.7 million in 2012 (an increase of 14 percent over his 2011 compensation).
A delegation accompanied Lopez into the store, where she was met by several managers who stood sullenly as she read them a letter that began:
"Today, we, the Associates whose signatures appear below, are on strike. We are not reporting to work to protest Walmart's attempts to silence Associates who have spoken out in against things like Walmart's low take home pay, unpredictable work schedules, unaffordable health benefits, and Walmart's retaliation against those Associates who have spoken out. These Associates are members of OURWalmart and they will not be silenced.
"It is illegal to attempt to silence and retaliate against them. Unfair labor practices charges have been filed with the National Labor Relations Board for Walmart's violations of the National Labor Relations Act," the letter continued.
"Any adverse actions that Walmart takes against us for not reporting to work would constitute additional violations of the NLRA and ULPs. This would include any hours that Walmart cuts, any unwanted changes in schedules, unwanted transfers, demotions or attempts to permanently replace us."
The letter warned that these actions would result in the filing of further unfair labor practices complaints with the NLRB.
Unlike previous OURWalmart actions at this store, managers did not have sheriff's deputies on hand to arrest protesters.
"I feel very good. I feel that I accomplished something today. I was a little bit afraid, but with everybody supporting me that gave me a lot more strength," Lopez said afterwards on the bus as it pulled out of the store's parking lot.
Lopez said she was excited about going to Bentonville, Ark., as part of the Ride for Respect caravan organized by OURWalmart. The caravan is taking workers to the company's hometown for several days of actions around its annual shareholders meeting.
"If I can do this [go on strike], I can go to Bentonville and stand up for other workers to make a change," said Lopez.
Lopez joined OURWalmart on Thanksgiving Day 2012 when the group, its community supporters and Rep. Alan Grayson, D-Fla., handed out turkey sandwiches and fliers to workers at her store, explaining their right to organize.
Lopez is from Kissimme, Fla. Her family includes two teenage sons and a grandson. She has worked at the Walmart in east Orlando for two years. Her wages are so low that even after getting a second job she still receives $44 a month in assistance from the federal Supplemental Nutrition Assistance Program (food stamps).
An employee who works Walmart's definition of full-time (34 hours per week) makes just $15,500 a year, according to OURWalmart. This is around 133 percent of the federal poverty level for a single person and just 66 percent of the federal poverty level ($23,550) for a four-person household.
A report released last month by the Democratic staff of the U.S. House Committee on Education and the Workforce noted that "when low wages leave Wal-Mart workers unable to afford the necessities of life, taxpayers pick up the tab. Taxpayer-funded public benefit programs make up the difference between Wal-Mart's low wages and the costs of subsistence."
Using data from Wisconsin's Medicaid program, the report's authors estimated that the indirect taxpayer subsidy for a single Walmart Supercenter in that state with 300 employees is at least $900,000 per year and could be as high as $1.75 million per year (about $5,815 per employee).
Other estimates peg the cost of public benefits to Walmart workers at over $1 billion annually, including their participation in Medicaid and the Supplemental Nutrition Assistance Program.
Vanessa Ferreira, 59, was a cake decorator in the bakery at the St. Cloud, Fla., Walmart for eight years. She was terminated on May 18 in retaliation for what she believes was her activism with OURWalmart. She had joined in March 2012 because she wanted respect, better wages and more consistent scheduling. (The company claims her firing was due to Ferreira taking extended breaks.) Ferreira was paid $11.90 an hour, which she says was less than the $13 she earned for doing the same job at a grocery store in Connecticut 16 years ago.
"Walmart does not want you to say anything," Ferreira told The Huffington Post. "They don't want you to ask questions. They want you to sit there and obey. When you start asking questions, they start retaliating."
Photo: Florida OurWalmart members (left to right) Vanessa Ferreira (St. Cloud), Lisa Lopez (Orlando), Karen Aubrey (Merritt Island) at a Black Friday, Nov. 23, 2012, action. Ben Markeson/PW