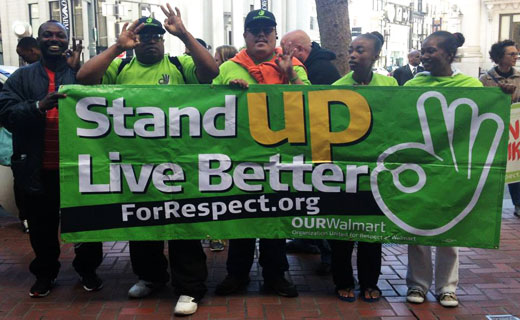 ROCHESTER, N.Y. – Though the fine is small, the leading independent Walmart workers' group, Our Walmart, hailed the monster retailer's settlement with the federal government, which forces job safety measures involving trash compactors and handling hazardous materials at all 2,857 Walmart and Sam's Club stores nationwide.
The settlement, announced Aug. 8 by the Occupational Safety and Health Administration (OSHA), also fines Walmart $190,000 – down from $365,000 OSHA originally proposed – for specific safety violations at its store in Rochester, N.Y. The problems there triggered a company-wide OSHA order, the agency said.
Our Walmart said the unsafe trash compactors and the lack of training in handling hazardous chemicals "are issues we have been raising for years, but it's clear the company has consistently failed to listen to our concerns, let alone address them.
"This is just the latest indication of Walmart's malfeasance throughout the supply chain, and these serious problems represent a major danger to workers," the group of independent workers said. "We routinely face inadequate fire safety measures, including blocked exits, and do not receive proper training on how to safely handle hazardous chemicals. Poorly maintained equipment, including balers and compactors, represent another hazard," worsened by the lack of interlock devices.
"We like our jobs and want what's best for the company. We hope the settlement sends a message to Walmart that cutting corners on safety comes at great costs…Walmart needs to go beyond the settlement, start listening to its workers, and investigate its stores throughout the country to see if these violations are widespread and where they find violations, fix them. These are about the very basic right employees have to work in safe environments," the workers added. The mega-monster retailer is known for its low pay and anti-worker stands.
Walmart agreed to put interlock devices on all its trash compactors, redesign the compactor doors to prevent workers from freely entering at any time and to bar workers and managers from going into the compactors except when lockout/tagout devices are operating to keep compactors turned off. It also agreed to communicate and train workers in hazardous cleaning chemicals and how to handle them, and to submit a new plan for training workers in preventing exposure to blood-borne pathogens. And independent safety monitoring firms can enter at least 80 percent of Walmart and Sam's Club stores at least once every four months to ensure Walmart obeys the settlement.
"This settlement will help keep thousands of exposed Walmart workers safe and healthy on the job," said OSHA Administrator Dr. David Michaels. "This sends a strong message that the law requires employers to provide safe working conditions, and OSHA will use all the tools at our disposal to ensure all employers follow the law."
Photo: OURWalmart (pictured) put a lot of pressure on job safety policy at Walmart, which has led to the federal government cracking down on the company. Organization United for Respect Facebook page