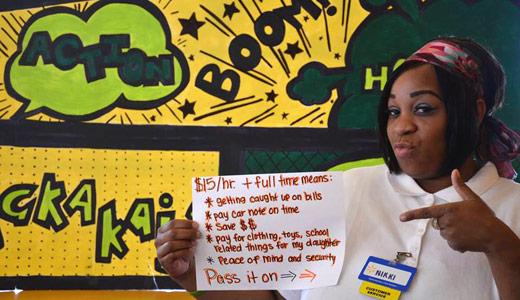 Walmart workers, who have been agitating peacefully for years for pro-worker changes at the notoriously anti-worker low-paying lousy-benefits retail monster, are again planning mass protests at their stores nationwide on "Black Friday," the big shopping day immediately after Thanksgiving.
The activists, members of Our Walmart, set their plans in motion after Walmart pressured police in D.C. and New York City to arrest 42 people on October 17. Arrestees were demonstrating outside the D.C. office of Walmart's foundation and outside a Park Avenue penthouse that a rich Walmart co-owner/family member just bought in Manhattan.
Protesters demanded Walmart stop using taxpayer funds – calculated at $7.8 billion annually for food stamps, Medicaid, housing subsidies and more – to support its low wages.
And they delivered a petition to firm chairman Rob Walton and to the foundation office, demanding the company pay its workers a living wage of $15 an hour, and provide full-time (40 hour) workweeks on predictable schedules. That would let them find child care, pay their bills and raise their kids normally. If Walmart refuses, the Black Friday protests will go ahead as planned.
The Walmart workers are a leading sector of the mass movement of low-wage workers nationwide – retail workers, port truckers, fast-food workers, warehouse workers and others – who have had it with low wages, no benefits and company oppression of their rights.
Millions of those workers, like the Walmart workers, have taken the streets demanding a living wage, decent working conditions and benefits, regular hours and the right to organize without employer interference and law-breaking.
Walmart's wages are usually below $10 hourly and often below $9. And it defines "full-time" as 30 hours a week. Last year, Walmart's former CEO admitted most Walmart workers are paid less than $25,000 each yearly. The low-pay few-hours combination usually means Walmart workers cannot afford the firm's high-cost health insurance, either.
Workers who have protested Walmart's conditions have been met by massive company repression, illegal firings and other labor law-breaking. A Cornell University study showed at least 288 federal labor law-breaking citations against Walmart in the last five years.
The protesters made it clear that Walmart's wages and working conditions are totally inadequate to support families. Protests occurred at Walmart stores and other sites nationwide on October 17, though arrests occurred only in New York and D.C.
Workers from 1,710 Walmart stores, located in each state, signed the petition to Rob Walton. "The Waltons have made it impossible for me to get ahead and make sure my daughter goes to bed in a warm home," said Fatmata Jabbie, a Walmart worker who delivered a copy to the foundation's D.C. office. "My grandkids go hungry because of low pay at Wal-Mart," added Sandra Sok, a Walmart worker in Phoenix.
"We are tired of seeing the Waltons enjoy every luxury this world can offer while the workers that build their wealth are unable to pay their bills," said Interfaith Worker Justice Executive Director Kim Bobo. "Income inequality will only be addressed when the Waltons and Walmart provide fair pay and regular hours to their workers. I'm here today taking a stand for Walmart workers, and I'll be back on Black Friday with thousands of others who have had enough of Wal-Mart's destruction of the American Dream."
Rep. Raul Grijalva, D-Ariz., who spoke at the D.C. protest, noted that "Walmart alone rakes in $16 billion a year while enjoying $8 billion in tax breaks and subsidies, but refuses to pay employees enough to put food on the table or clothes on their back. Many employees are forced to rely on taxpayer-funded programs, meaning taxpayers are paying for the Walton family's refusal to pay a decent wage. It's time to end this scam, and ensure all workers have the decency of a livable wage and full-time work."
Photo: This is what $15/hour and full time would mean for Our Walmart Southern California member Nikki. Organization United for Respect, Facebook.