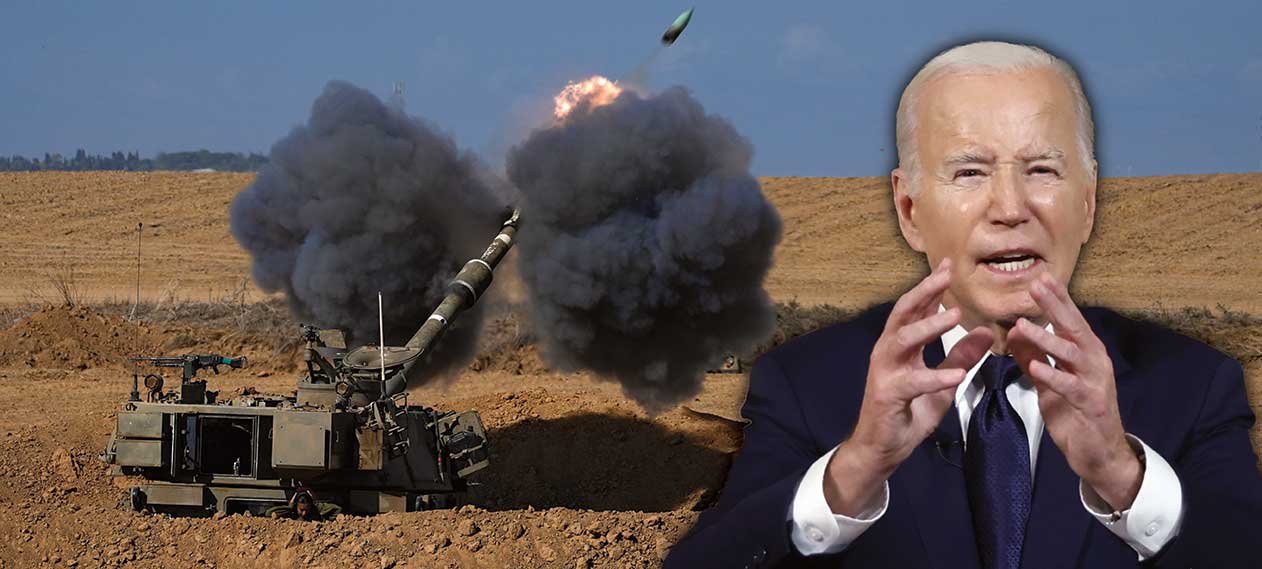 WASHINGTON—Playing the part of classic Cold Warrior in his Thursday night Oval Office speech, President Joe Biden made a sales pitch for a permanent war economy, using democracy as a prop to convince the American people that he needed $105 billion to spend on weapons for Israel, Ukraine, and—unmentioned in his remarks—Taiwan.
Shoehorning Israel's war against the Palestinian people and the Ukraine-Russia war together, Biden deployed a narrative equating "terrorists like Hamas" with "tyrants like Putin," both supposedly determined to "annihilate a neighboring democracy." Any background context to the two wars—75 years of Palestinian dispossession in the first case and an eastward-encroaching NATO military alliance in the second—was absent from the speech.
Hoping the strategy of linking the two fights will make it easier to secure the money, Biden said his emergency weapons budget request "serves the cause of freedom" and funds "America's national security needs."
Sounding almost Reaganesque in his rhetoric, Biden deployed time-worn phrases about America being a "beacon to the world" and "the indispensable nation" which allies like Israeli Prime Minister Benjamin Netanyahu and Ukrainian President Volodymyr Zelensky follow behind.
He declared that "innocent people all over the world" have "hope" and "believe in a better life" because of the United States. The president did not say whether he thought the "innocent Palestinians" he mentioned in the speech, those who are feeling the full wrath of the U.S.-backed Israeli military, shared that view of his government.
Biden reiterated U.S. support for a two-state solution and offered renewed sympathy for Palestinian civilians, but the overall thrust of the speech was aimed at giving Netanyahu a green light to proceed with his campaign against Gaza.
Polls suggest the majority of the American people disagree with Biden's approach. Numbers released by Data for Progress on Thursday showed 66% believe the U.S. should call for a ceasefire in Gaza. A separate poll from YouGov and CBS News showed that 52% oppose sending weapons to Israel, and 72% think the U.S. should pursue diplomacy to bring a halt to the fighting.
Words such as "negotiations" or "ceasefire" never left Biden's lips Thursday night, but there were several comments that likely left the military-industrial complex applauding.
Building the arsenal
Speaking the language of Wall Street weapons-makers, Biden said his $105-billion war supplement is a "smart investment that's going to pay dividends." It comes on top of the $1 trillion defense budget already passed this summer.
Sending a new tranche of weapons to Tel Aviv and Kiev, Biden said, would "keep American troops out of harm's way" by letting those countries' forces fight on the frontlines.
"We're going to make sure other hostile actors in the region know that Israel's stronger than ever," Biden said, and arming Ukraine will guarantee that "American troops" won't be "fighting in Russia."
Most of the huge sum Biden's requesting will go directly toward fresh arms purchases from major U.S. weapons manufacturers—companies that are already cashing in on this war. In the days immediately after Israel launched its latest assault on Gaza, the stock prices of defense-related corporations soared. Northrop Grumman was up 11%, Lockheed Martin 9%, and Raytheon 5%.
Rather than talking about missile profits on Thursday night, though, Biden attempted to sell the American public on the war agenda by presenting it as a jobs plan—a re-run of Cold War military Keynesianism.
He explained how the arrangement works: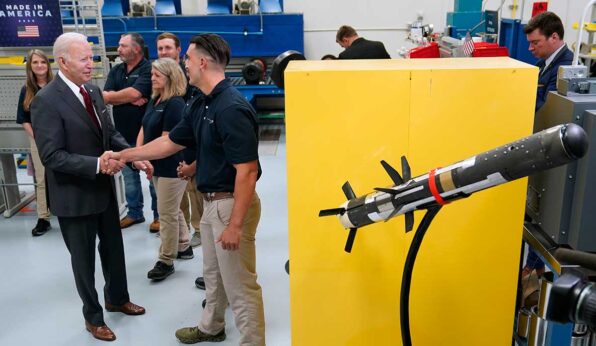 "We send Ukraine equipment sitting in our stockpiles. And when we use the money allocated by Congress, we use it to replenish our own stores, our own stockpiles, with new equipment. Equipment that defends America and is made in America. Patriot missiles for air defense batteries, made in Arizona. Artillery shells are manufactured in 12 states across the country, in Pennsylvania, Ohio, and Texas. And so much more."
Appropriating the mantle of Franklin D. Roosevelt, the president who led the U.S. in the fight against Hitler's fascism and Japanese imperialism, Biden waved the red-white-and-blue, saying, "Just as in World War II…patriotic American workers are building the arsenal of democracy."
Unspoken in the Oval Office but included in the ask sent to Congress is at least $7 billion in weapons for Taiwan, labeled as "assistance for the Indo-Pacific region"—which means the allocation is part of the U.S.' escalating new Cold War against China, as well.
Mutiny in Washington
While the president was busy on television building support for more war, a revolt against his blank-check backing of Netanyahu's military campaign broke out into the open in Washington.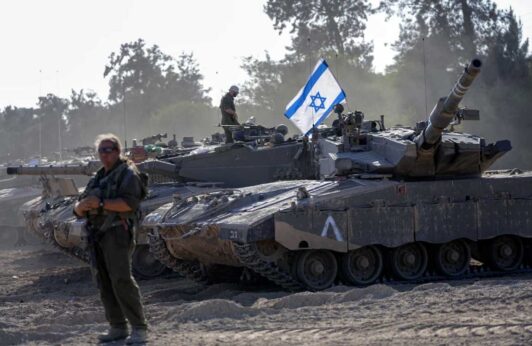 Already on Wednesday, Josh Paul, the State Department official who signs off on U.S. arms transfers to foreign countries, resigned his post in protest, saying "provision of lethal arms to Israel" does more harm than good. "We cannot be both against the occupation and for it," he said.
Then, just over an hour before Biden hit the airwaves, HuffPost reported that a group of State Department insiders were preparing to express their opposition with a rare "dissent cable." Such documents are formal disagreements with official policy that staff can send to top leaders through a protected internal channel. The instrument was established during the U.S. war against Vietnam to allow diplomats to warn when they believe the U.S. is "making dangerous and self-defeating choices."
"There's basically a mutiny brewing within State at all levels," one State Department official said. A possible avalanche of resignations is potentially in the offing, according to some working in the government.
The U.S. decision to veto a United Nations resolution on Wednesday that endorsed humanitarian aid and condemned all violence against civilians—whether committed by Hamas or the Israeli military—was a further blow to internal morale.
News has also emerged of widespread disillusionment among staffers within the Biden administration who disagree with the president's lockstep support of Netanyahu but feel too intimidated to speak out. In anonymous interviews with the media, a number of government employees said they fear losing their jobs if they raise questions.
On Capitol Hill, meanwhile, the ranks of lawmakers supporting Rep. Cori Bush's ceasefire resolution continue to grow. At the same time, a group of 411 Congressional staffers signed an open letter demanding the U.S. government push for a Gaza ceasefire. "We feel compelled to raise our voices in this moment," the staffers wrote. "Millions of lives hang in the balance."
The politics of passage
Despite Biden's all-out effort to get the weapons money, it's not yet clear what his chances are of securing Congressional approval. The Democratic-controlled Senate is expected to quickly move on the proposal, but the GOP-run House will be a different story.
The House remains in chaos, as the Republicans' factional civil war keeps the Speaker's chair empty. Trump ally Rep. Jim Jordan of Ohio has been removed from the race, but no matter who emerges as GOP leader, they won't likely give Biden an easy pass.
Conservative Republicans already scuttled the president's earlier request for $24 billion for Ukraine in August. He is now gambling that throwing in money to arm Israel, confront China, and further militarize the U.S.-Mexico border will win some of them over to his side, but several Republicans are already saying they won't go along.
"These are two separate and unrelated conflicts, and it would wrong to leverage support of aid to Israel in an attempt to get additional aid for Ukraine across the finish line," eight Republicans said in a letter.
Given the growing number of Democrats in Congress calling for a ceasefire, unanimous support from Biden's own party is not guaranteed.
Some Democratic political operatives are also fearful that their leader's agenda is jeopardizing his own chances of re-election next year. Fifty years after the 1973 oil embargo, memories of the major economic damage caused by past Middle East conflicts are rushing back. Oil prices are already up, thanks to Israel's war, cutbacks in production by Saudi Arabia and Russia, and increasing Chinese energy needs.
Fatih Birol, head of the International Energy Agency, said Israel's assault on Gaza is "definitely not good news" for oil markets and warned the war is "bad news for inflation." With Biden's poll numbers flagging in hypothetical match-ups with Trump, more economic trouble and higher prices are exactly what Democratic Party campaigners don't want to see.
What Americans will be paying for
Israel spent Thursday and Friday showcasing precisely what the American people are being asked to pay for.
Dozens of Palestinians were killed as the Israeli Defense Forces continued its unrestrained bombing campaign across the occupied territories, including in zones it has said are "safe." The IDF proudly announced it hit more than 100 targets overnight.
An historic church, built in 1150, was hit by Israeli bombs in Gaza City. It had been serving as a shelter.
"Targeting churches and their institutions, along with the shelters they provide to protect innocent citizens, especially children and women who have lost their homes due to Israeli airstrikes on residential areas over the past 13 days, constitutes a war crime that cannot be ignored," the Greek Orthodox Patriarchate of Jerusalem said in a statement.
In the West Bank, Israeli forces attacked the Nur Shams refugee camp, killing 13 people, including five children. Hospitals in Gaza are starting to close, meanwhile, as they run out of fuel. Most Gazans are down to one meal a day and rely on dirty drinking water to avoid dehydration.
The much-vaunted humanitarian aid that Biden promised would flow to Gaza from Egypt remains stuck at the border. U.N. Secretary-General Antonio Guterres arrived at the Rafah crossing himself on Friday and begged for the gates to be opened, calling the loaded trucks a "lifeline" for Palestinian civilians and saying the aid was "the difference between life and death."
On the Gaza frontier, Israeli troops are massing for an imminent ground assault. Defense Minister Yoav Gallant told soldiers Thursday to "be ready to see Gaza from the inside." IDF spokespersons said that when the invasion comes, civilian casualties and the recovery of Israeli hostages will be "secondary" to the effort to destroy Hamas.
Since the current war began, at least 4,137 Palestinians have been killed and over 13,000 wounded, mostly women, children, and the elderly. Another 1,300 more are thought to be buried beneath the rubble of bombed-out houses, apartments, hospitals, and shelters.
More than 1,400 people in Israel have been killed, most in the initial Hamas attack of Oct. 7. As many as 200 others are believed to still be held hostage inside Gaza.