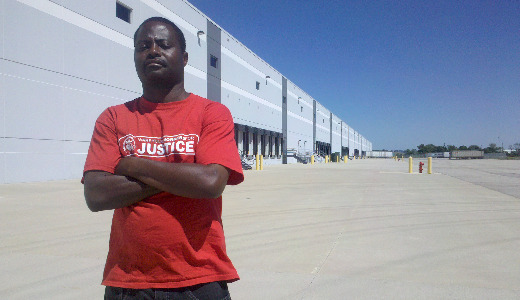 CHICAGO – Tory Moore, 37, from Kankakee, Ill., worked as a temp warehouse worker in the southwest suburbs of Chicago for six years before he was fired in December 2009, after standing up for his rights.
Moore said he asked for a pay raise each year and noticed that his paychecks were consistently short. So naturally he complained.
"That's why I got fired," he said.
At a church in Joliet, Ill., on Aug. 16, Moore along with labor, community and religious leaders announced the release of a new study showing that 63 percent of warehouse workers in the area are temps making poverty-level wages. The study focused on Will County, which has one of the largest concentrations of warehouses in the hemisphere.
Will County warehouse workers distribute products to some of the nation's most profitable big-box retailers such as Wal-Mart, Home Depot and Sports Authority.
Workers from over 150 different warehouses were surveyed for the eight-month study, "Bad Jobs in Goods Movement: Warehouse Work in Will County." It documents low wages, few benefits and high rates of injuries and discrimination for these workers.
Moore, who is now an activist with Warehouse Workers for Justice, says it's not right the way he and his co-workers are being treated by temp agencies and companies that hire them.
"We are tired of being treated like slaves and we want to be appreciated for the hard work that we do," he said.
Many workers were not getting paid after showing up to work. He said one worker was injured after chemicals got in his eye and a doctor told him to take a few days off. He was eventually fired, said Moore.
Some temp workers have been on the job for over 10 years with no benefits, he said.
"It's hard for us to support our families or rent an apartment because most people deny housing for temp workers," he said. "We need livable wages to support our families, including vacation, holiday and sick pay."
According to the study the majority of warehouse workers made poverty-level wages, and temps had it worse than direct hires. The median hourly wage for a temp was $9 an hour – $3.48 an hour less than direct hires.
The study also found that 1 in 4 warehouse workers had to rely on government assistance to make ends meet for their families and 37 percent of current warehouse workers had to work a second job.
Temps were far less likely to have basic benefits. For example, only 5 percent of temps had sick days and only 4 percent had health insurance. And 20 percent of warehouse workers had been hurt on the job and of those, 1 in 3 were disciplined or fired when they reported their injury.
Moore said what's needed is for warehouse workers to stand together and get organized.
"Permanent warehouse workers need to get organized so they don't lose their jobs and so they can fight for what they believe in and stand in solidarity with temps," said Moore.
Moore said it's harder to organize temp workers because they're already struggling and afraid to lose their jobs. But when direct hires become unionized, it helps all workers including temps, he said.
Yet critics note many workers are not sharing in the economic benefits of the industry.
Pastor Craig Purchase with Mt. Zion Full Gospel Tabernacle in Joliet says the study shows proof that too many people are being taken advantage of.
"We found out the situation is worse than we thought," said Purchase. "Major companies are making millions of dollars, like Wal-Mart, and they're far from broke. In fact they treat their workers bad in order to increase their profits while some guy working at a warehouse can't feed his kids. It's just wrong."
Purchase continued, "We want our lawmakers and major companies to read this study and stop the lying and create a better deal for us. The key thing is to stand up for these workers and not look the other way."
Labor activists say what's needed is to create a pathway toward stable employment for warehouse workers including enacting policies that promote living wage jobs. Laws like the Illinois Day Labor and Temporary Services Act and others should be strengthened and enforced, they add. And warehouse workers including temps should not have to face barriers to their right to organize and join unions.
Warehouse Workers for Justice issued the study in conjunction with researchers at the University of Illinois at Chicago's Center for Urban Economic Development. More information about the report is available at www.warehouseworker.org.
Photo: Tory Moore of Warehouse Workers for Justice. (www.warehouseworker.org)