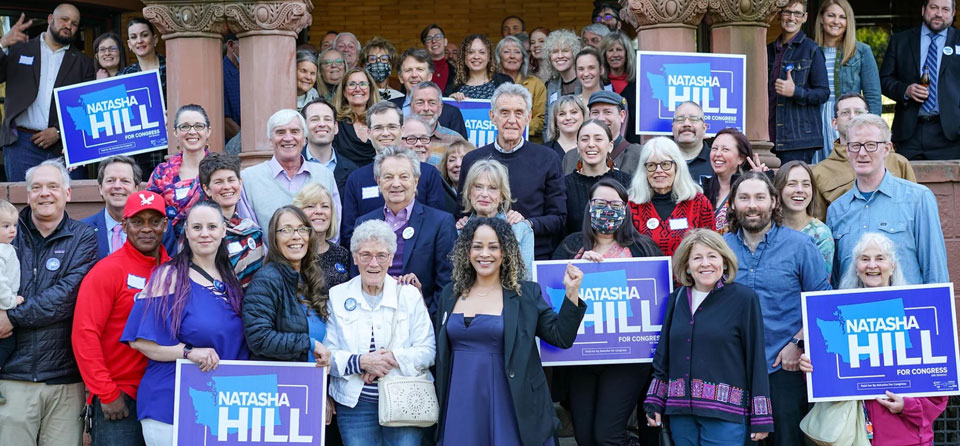 SPOKANE, Wash.—In a televised debate last Thursday, Democratic congressional candidate Natasha Hill blasted her Republican opponent, Rep. Cathy McMorris-Rodgers, for evasive answers about her attitude toward former President Donald Trump and the right wing storming of the U.S. Capitol on Jan. 6, 2021.
"We need some direct answers, here," said Hill, a young African American attorney, running as a Democrat against McMorris-Rodgers in Washington State's sprawling 5th Congressional District.
The debate by Spokane's PBS channel, KUOW, was a highlight of Hill's spirited grassroot campaign to unseat McMorris-Rodgers the nine-term incumbent, an assistant Republican whip noted for kowtowing to Trump.
A reporter for The Inlander, a Spokane-based newspaper, had asked Rep. McMorris-Rodgers about a statement she made as the neo-Nazis swarmed the Capitol: McMorris-Rodgers told an interviewer that Trump supporters, in her own words, "turned a blind eye to arrogant, prideful, and bullying behavior from the former President."
The Inlander's reporter asked, "Do you believe you personally turned a blind eye to Trump's behavior? And if so, have you changed your approach to Trump in the year-and-a-half since?"
McMorris-Rodgers replied that she had made the statement previously that Jan. 6, 2021, was "a dark day in our nation's history. It was un-American what happened at the Capitol on Jan. 6. And President Trump, I felt that he had crossed the line…." She stressed that she had voted to "uphold the vote of the Electoral College" and stated that Joe Biden's election is "legitimate."
Yet she added, "there were questions that had been raised that needed to be answered in order that people would have confidence in our elections. And that is where I have continued to say that we need to be willing to answer those questions…."
The Inlander reporter repeated his question: "I wanted to ask you personally. Have you personally turned a blind eye to Trump's arrogant, prideful and bullying behavior?"
Rodgers replied, "I think the actions that happened that day were driven by people who believed that there were election procedures that had changed leading up to the November elections and that questions had not been answered…."
This was nothing less than an outright defense of the right-wing forces who, in her warped opinion, were demanding that the "questions" be "answered," i.e. that Congressional certification of the vote be halted resulting in Trump holding onto power.
The Inlander reporter, with a sigh, said, "I guess I haven't got the question answered…."
Natasha Hill then addressed McMorris-Rodgers: "If you are going to turn a blind eye and you haven't changed your behavior since then, we expect you're going to continue to do so and not own it."
Hill added, "What we did hear is that she did not condone some of his behavior. But she did not call out the lies, she did not call out the disparaging of vulnerable communities…We need a representative…to stand up. You cannot just sit in silence and turn a blind eye when our democracy was at stake and perpetuate these lies up until there is a violent act."
One of the reporters asked Hill about statements she made at a Black Lives Matter rally in 2020 ostensibly calling for defunding of the police, that the role of police in the past was to "return people escaping from slavery to slave masters."
Hill replied that she has police officer friends, that law enforcement is necessary to protect safety. "I am not unwilling to have conversations with folks," she continued. "But there's got to be accountability. None of us want to see what happened to George Floyd ever happen again. When an officer commits misconduct, there needs to be accountability. There also needs to be a reckoning, a recognition of the history of law enforcement in our country."
McMorris-Rodgers brushed aside Hill's reference to the police murder of George Floyd. "Well, I think that is the kind of rhetoric that is making our community less safe," she said.
Hill's campaign is fired up fueled by the activism of students at Gonzaga University, especially young women drawn by Hill's defense of women's reproductive rights.
During the debate Hill said, "A majority of Americans want access to abortions. Politicians should not be making these decisions about personal issues like abortions. I would support legislation that would codify Roe v. Wade."
By contrast, McMorris-Rodgers fully supports the Republican war on women's right to choose.
Natasha Hill is a daughter of the "Inland Empire." She has practiced law in Spokane for 15 years and fits the mold of Carl Maxey, the late legendary African American attorney who fought his entire life for civil rights and civil liberties in Spokane. Maxey was a "Freedom Rider" who traveled to Mississippi to fight for voting rights. Maxey ran for the U.S. Senate against Sen. Henry M. Jackson, "The Gentleman from Boeing." Carl Maxey was unwavering in his stand for world peace and equality. Natasha Hill walks in Carl Maxey's footsteps.