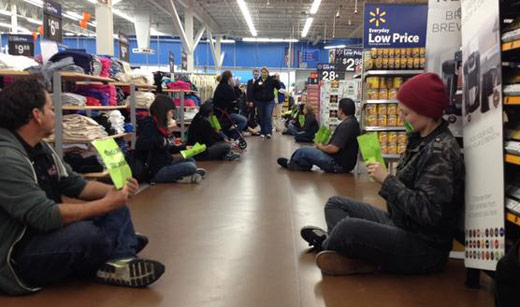 Walmart workers are planning protests at well over a thousand stores across the nation next week on Black Friday, Nov. 28, the busiest shopping day of the year. The national wave of protests, which could be the biggest yet to hit the giant retailer, comes on the heels of last week's first sit down strikes in Walmart's history. Some 23 workers were arrested last week during those strikes in Los Angeles.
One of the workers arrested, giving just her first name, Denise, said she has worked for Walmart for the past eight years despite having been "harassed and intimidated all the time." She proudly said the reason she took direct action and arrest is that she wanted, "to be part of history." She wanted to be, "one of the first to stand up to Walmart by sitting down."
Tiffany, a four-year Walmart veteran, travelled from Sacramento to participate in last Thursday's direct action. "Everyone was very supportive: more than one associate said, 'Thank you for what you are doing.'" Store management was apparently caught completely off guard to see protesters peacefully sitting inside the store, but "they were not aggressive or mean to us," Tiffany said. On the contrary, she noted, "I think they really understood what we were doing."
Chuckling slightly, Denise said that "a lot of workers just stared at us: they were in shock." Given Walmart's history of intimidation, bullying, and harassment of front line workers, for many it was an act of bravery even to give the protesters a thumbs up. Denise recalled the broad support they received: "Even customers said, 'We support you, we support you, keep it up.'" Her voice swelled with emotion as she recalled: "I wanted to cry, but I kept my composure."
Walmart workers like Denise and Tiffany, organized under the Our Walmart banner, are fighting for $15 an hour and full-time work. The average associate, says Tiffany, is fed up "living paycheck to paycheck [while] working for the wealthiest company in the world." Last year alone, Walmart reported $129 billion in profits.
Supported by the United Food and Commercial Workers, Our Walmart's primary demand is for respect on the job. On November 28, Black Friday, Walmart workers expect that their fight for dignity and fair wages will be on the national stage. Protests and direct actions are planned at 1,600 Walmart locations nationwide.
Although specifics are not being given away by organizers, it appears that the days of protesting only outside the stores are over. From now on action that takes place inside the stores seems to be the way many workers want to go.
Darlene Macleod, UFCW 2's Director of Organizing in Kansas City, says that on Black Friday the goal is to raise awareness about the working conditions "within the walls of Walmart. What we want to do is to reach working America: we are not against [someone] getting a television for $200 less, we are against Walmart paying people $6,000 less a year than they need to live on."
Citing the fact that it is the public who subsidizes Walmart's profitability by providing public assistance to Walmart workers who cannot otherwise make ends meet, Macleod said, "Once the public becomes aware of this, Walmart loses their edge." Referring to Walmart's corporate logo, Macleod said: "A yellow smiley face only goes so far."
Cautious of alerting the retail giant of their plans for Black Friday, Our Walmart remains understandably vague on the details of their plan for Black Friday. Rumors of increased direct action abound, including shutting down key intersections in major U.S. cities on the busiest shopping day of the year. What is certain is that the bravery shown by 23 Walmart workers in Los Angeles last week marks an escalation in the fight of 1.4 million American workers for a living wage, and for respect.
Photo: Organization United for Respect. Facebook.