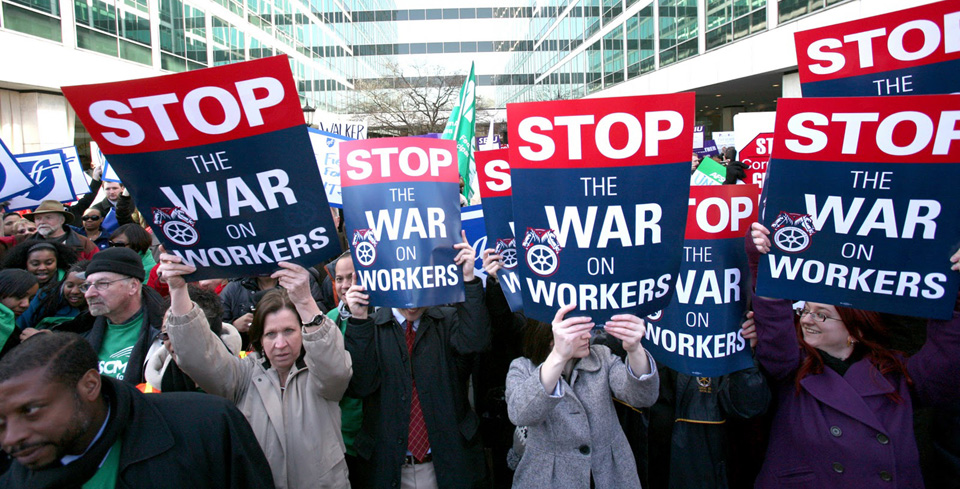 Just because progressive beat back the Republican try to repeal the Affordable Care Act (ACA) does not mean we should let up or back down, on health care or anything else.
We're still under attack at the federal, state and local level by the one percent, the corporate criminals and the radical right.
They're still trying to trash the ACA, to enact so-called "right to work" laws at both the states and at the federal level and to repeal the Davis-Bacon Act, which guarantees decent wages for construction workers, and on and on and on.
Want proof? House Speaker Paul Ryan, R-Wis., speaking to big GOP givers behind closed doors on March 27, said the Republicans would try again to kill the ACA. He wants to "replace" it with a far worse law. A huge hunk of his troops want to replace it with nothing.
And the same day, Donald Trump signed legislation repealing the Obama-era Fair Play and Safe Workplaces rule. Business big shots hated it because it forced firms that wanted federal contracts to show proof they pay their taxes and follow labor and civil rights laws.
So we may have saved the ACA – however flawed it is – for now. But the radical right is still aligned against it, and against us. They will continue their war.
We must prepare for four years of struggle. It'll be constant, it'll be wearing, there will be wins and there will be losses.
We can't let up and we can't back down.
Fighting back will be absolutely necessary. The incomes, standards of living of workers depend on it. So do labor law and workplace safety protections.
Indeed, the lives we save will be our own.