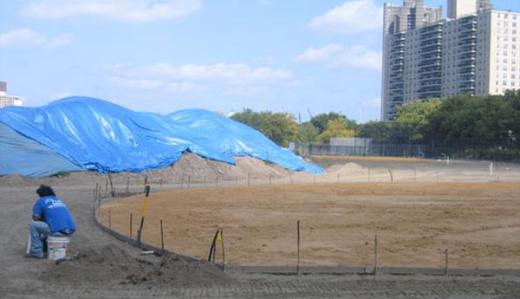 Most mornings, I take a 45-minute walk around my Bronx neighborhood. My route takes me past Harris Field, where my kids played baseball with the Mosholu-Montefiore Little League. My oldest played there for seven seasons, and I have lots of good memories of Harris, of sitting in my portable chair, rooting for my kids and schmoozing with the other parents.
Unfortunately Harris Field has been closed for two years now, and from the looks of the place (construction fences closing it off, dirt and rocks everywhere), no one will be playing baseball or any other sport there anytime soon.
What's the problem? In a nutshell, lack of money.
In the spring of 2008, a renovation project began at Harris, with a budget of $6.6 million, which soon went up to $8.7 million. However, the price tag skyrocketed to $15 million, after high levels of lead were found in the soil.
Given the budget crisis facing the city, and the priorities of the Bloomberg administration, it's hard to imagine how they will find money for a park in the Bronx, despite the fact that Harris was a very busy place. In addition to the Mosholu-Montefiore sports program, the Bronx High School of Science, DeWitt Clinton High and others shared its six fields.
For the past two years, M-M has had to cut its Little League program from 1000 to 500 kids, and the high schools have scrambled for space. Unfortunately, playing field scarcity is a common story here in NYC- unless you have money, as when a group of private schools brokered a deal with the city to reserve for themselves the choice times on Randalls Island fields in exchange for paying part of the renovation costs.
What's happening at Harris is just a tiny part of the catastrophe that's in the works when it comes to the public places where working-class people relax, play and enjoy nature.
According to the National Trust for Historic Preservation, state parks from coast to coast are threatened with deep funding cuts – in fact, they list "state parks" as #1 of the most endangered sites.
This year nearly 30 states have proposed or enacted such cuts and a recent survey estimates as many as 400 state parks could close. And city parks are in as bad or worse shape.
Here in New York, Governor Paterson recently came up with a cynical proposal for saving New York's parks – cutting the budget of the Environmental Protection Fund. Needless to say, environmental organizations are outraged at this King Solomon-like choice.
Is there no money for parks? The Central Park Conservancy (a private foundation that runs Manhattan's Central Park) raises 85% of its $25 million annual operating budget from private donors, and pays its president $364,000 a year. Richard Hammond, the CEO of the recently opened Highline park in lower Manhattan receives $250,000 a year.
When I read this, I thought about the fact that Paterson and gubernatorial hopeful Andrew Cuomo have both come out against the State Assembly's "millionaire tax" — a 1 percentage point increase on millionaires, and another 0.75 points on those earning more than $5 million per year.
Dean Baker, of the Center for Economic and Policy Research, has estimated that a small tax of a quarter of 1 percent imposed on the sale of a wide range of securities would yield $100 billion to $150 billion.
As the Central Park Conservancy slogan says, "You gotta have park." Unless we believe that Manhattanites "gotta have park" more than people in the Bronx, Brooklyn, Queens and Staten Island, then funding must be found to keep all of our parks open and cared for. Unless we believe that the students at exclusive private schools in Manhattan have more right to sports than kids in the Bronx, funding must be found to quickly clean up and renovate Harris Park.
So yes, tax those millionaires (the "half-millionaires" too). Tax those Wall Street bonuses, most of which were given as stock transfers to avoid income tax. Find the money, because we all gotta have park.
Photo: Heavy metals have been found during the reconstruction of Harris Field. (Megan Taylor/Norwood News)