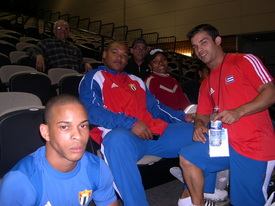 CHICAGO – In another sign that relations are changing between the United States and Cuba, 10 Cuban weightlifters participated in the Pan American and Ibero-American Weightlifting Championships here June 4-7. The team consisted of 8 men, 2 women and a coach. The event also tripled as the U.S. Weightlifting Championships and is a qualifying event for the Pan American Games in Guadalajara, Mexico, in 2011.
"Cuba is a very important player in international competition," said Lazaro Lopez, a 23 year-old weightlifter from Havana in the 105-kilo (230 lb) class. "The International Weightlifting Federation made every effort to get us here. They told the U.S. government it was absolutely necessary for us to get the visas. Even though we got them, they still denied entry to two of our coaches."
When asked how the Cuban weightlifters did in the competition, Lopez smiled broadly and said proudly, "magnificent!" He turned to some of his teammates and they quickly counted up 16 gold medals, five silver and one bronze medal. Lopez himself won three gold medals. "The competition was wonderful. We have some great rivals," he said.
"Our stay here has gone very well, said coach Rafael Gonzalez. "The events have been very well organized."
"We were treated very well," said Lopez. "Chicago is a beautiful city."
"Because of the intensity of the competition the team had little opportunity to do much sightseeing. The weather was a little cold for them," said Raphael Ravelo, a Cuban American living in Chicago who assisted the delegation during their stay. "They made many friends and loved everything about their experience."
Meanwhile a group of 13 U.S. track and field athletes were competing in Havana, Cuba, May 30-31 for the first time since 1992 in an event that featured 240 athletes from 15 countries. Doug Logan, chief executive of USA Track & Field, which governs the sport in the United States, was quoted by Reuters as saying, 'As an organization, we had an obligation to re-establish friendships in the Caribbean and re-establish the people-to-people tradition we had with the Cuban people'.
Logan was also quoted as saying talks had begun with the aim of increasing track and field events between the two countries.
'We're in a different season, with the new president that we have, and I believe that there is a new opportunity with sports,' he said.
Perhaps these modest steps taken in sports competitions will lead to greater breakthroughs in ending the 50 year-old U.S. economic blockade and travel ban for tourists from the U.S.
jbachtell @ rednet.org