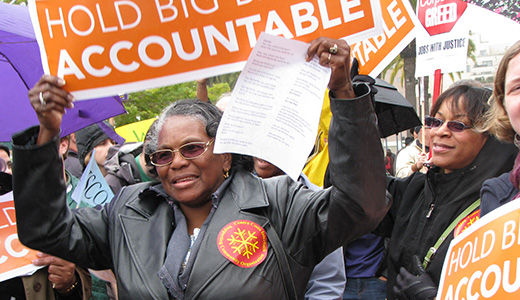 Wells Fargo, which, along with other major banks, has taken a lot of heat from anti-foreclosure campaigners across the nation, is becoming the focus of a new kind of protest – against the way it manages the foreclosed homes it owns.
The National Fair Housing Alliance and four member organizations filed a federal housing discrimination complaint against the banking giant last week, under the Fair Housing Act.
The complaint charges that Wells Fargo systematically let its foreclosed "Real Estate Owned," or REO properties in communities of color fall into disrepair and failed to market them, while maintaining and marketing its REO holdings in mainly white communities in a much better manner.
Wells Fargo and other banks have often been accused of setting off the foreclosure crisis in the first place, by targeting communities of color for subprime loans.
The Fair Housing Alliance began its undercover investigation in 2010, examining Wells Fargo's REO properties in eight metropolitan areas: Atlanta, Baltimore, Dallas, Miami-Ft. Lauderdale, Philadelphia, Washington DC, Dayton, and Oakland/Richmond/Concord, Calif.
The group said it would soon announce a similar complaint against another major bank.
In a telephone press conference Apr. 10, NFHA President Shanna Smith, legal counsel Peter Romer-Friedman, and heads of NFHA affiliates based in and around four of the metropolitan areas investigated, described the investigation's findings and showed slides of Wells Fargo REO properties in their areas.
Speakers emphasized that they did not expect Wells Fargo to improve the properties but simply to maintain them. They said they looked for such obvious things as trash, broken doors and locks, broken or boarded windows, graffiti, missing gutters, water damage, mold, and utilities that had been exposed or tampered with.
Jim McCarthy, who heads the Miami Valley Fair Housing Center in Dayton, Ohio, said 70 percent of Wells Fargo's properties in area communities of color had broken doors or locks while only 52 percent of those in white communities had the same problem. Ninety percent of REOs in communities of color had no indication on the property that they were for sale, while only half those in white communities lacked such signs.
Gail Williams, head of Metro Fair Housing Services in Atlanta told journalists, "Overall, African American communities were twice as likely to have trash and debris in their yards." She reported comparable findings for overgrown grass, accumulated leaves and other problems.
All participants in the press conference noted similar findings for other criteria in their investigations.
Earlier this month, NFHA released a report, The Banks Are Back, Our Neighborhoods Are Not: Discrimination in the Maintenance and Marketing of REO Properties, "This report offers evidence that banks responsible for peddling unsustainable loans to communities of color and triggering our current foreclosure crisis are continuing to damage those communities by failing to properly maintain and market the properties they own," NFHA head Shanna Smith said.
The Fair Housing Act, first passed in 1968 and strengthened in 1974 and 1988, bans housing discrimination on the basis of race, color, religion, and national origin, and provides a variety of enforcement mechanisms.
Photo: Marilyn Bechtel/PW