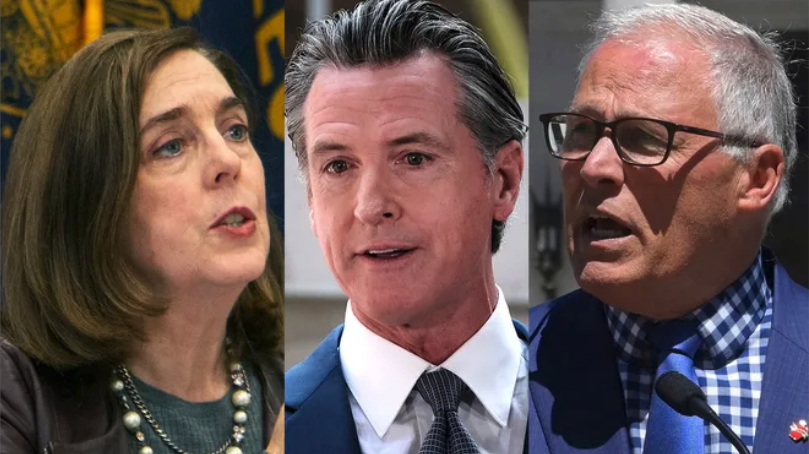 OAKLAND—Just hours after the U.S. Supreme Court announced its sweeping decision ending abortion rights in place for almost half a century, the governors of California, Oregon, and Washington state issued a joint declaration June 24 announcing that their states will uphold access to reproductive healthcare and protect patients and medical professionals against efforts by other states to impose rules outside their borders.
The three, Governors Gavin Newsom of California, Kate Brown of Oregon, and Jay Inslee of Washington joined in a video message to declare that the West Coast will continue to be a region where reproductive healthcare will be accessible and protected.
Newsom called the court's decision "another devastating step toward erasing the rights and liberties Americans have fought for on battlefields, in courthouses, and in capitols," adding, "This is not the America we know—and it's not the California way."
Said Brown, "Abortion is healthcare, and no matter who you are or where you come from, Oregon doesn't turn away anyone seeking healthcare … please know you are not alone, and the fight is not over."
Inslee declared that Washington state remains committed to protecting the ability and right of every patient who comes to the state needing abortion care, "and we will fight like hell to restore that right to patients all across the country."
They pledged that the three states will work to protect patients, their supporters, and medical professionals against efforts by anti-abortion states to target them, against judicial and local law enforcement cooperation with out-of-state actions regarding reproductive healthcare, and against extradition of people who access legal reproductive healthcare.
At a press conference in Sacramento that same afternoon, Newsom and California legislative and organization leaders underscored their determination to uphold the rights of Californians and of all people who come to the state seeking an abortion.
Opening the press conference, an emotional First Partner Jennifer Siebel Newsom observed that in successive decisions the Supreme Court has shown it thinks guns should have more rights than women and said SCOTUS' action represents "toxic masculinity at work in the highest court in the country." She predicted the ruling "will have grave consequences for women's health, women's safety, women's economic security, and our ability to thrive in the United States of America."
Calling the ruling "unique … historical … unprecedented in a horribly tragic way," state Attorney General Rob Bonta said it "is the first time the U.S. Supreme Court has stricken down, has abolished, has demolished, has stripped away an existing constitutional right" in place for half a century.
Bonta emphasized that abortion remains fully legal in California and declared that "it is time to explicitly recognize the right to abortion in our state's constitution."
Legislative leaders Senate President Pro Tem Toni Atkins, D-San Diego, and Assembly Speaker Anthony Rendon, D-Lakewood, highlighted the measure they have jointly authored, State Constitutional Amendment 10, which Rendon said will give Californians "the opportunity to enshrine a woman's fundamental right to reproductive freedom into our state constitution."
Both the state Senate and Assembly have passed SCA 10 with the required two-thirds majorities, and the governor has pledged to sign it into law. The measure will now go before voters in November.
Atkins and Rendon also called attention to Assembly Bill 1666, by Assemblymember Rebecca Bauer-Kahan, D-Orinda, to protect those in California from civil liability for providing, aiding, or receiving abortion care in the state—a measure seen as vital as states outlawing abortion move to let private citizens sue their residents who seek abortions in another state.
Newsom signed AB 1666 into law on Friday.
As he addressed the press, the governor contrasted the Supreme Court's ending of states' rights regarding concealed-carry weapons with its invocation of states' rights concerning abortion, citing the "extraordinary" hypocrisy embodied in the two decisions.
"For whatever reason," he said, "we're here with a Supreme Court that believes women should not be treated equally. And we have men, dominantly men, in all these positions of power and influence, that don't believe in life, because if they believed in life they would be doing other things to support (children) after they're born. Their absolute indifference to life—they are pro-conception to birth, period. Full stop. That's all this is about."
But despite the great divergence between the country's red and blue states, Newsom said, "we are many parts of one body, and while one part suffers, we all suffer, so our empathy needs to be matched with our care, compassion, and action to help support those Americans that are under real threat and autocracy."
Shannon Olivieri Hovis, director of NARAL Pro-Choice California, and Jodi Hicks, CEO of Planned Parenthood Affiliates of California, highlighted the legislative package of some 16 measures, including SCA 10 and AB 1666, that have reached or are expected to reach the governor's desk in coming weeks.
Among other priority bills aimed at protecting rights and assuring that adequate resources are available to care for Californians and those from other areas seeking abortion care:
AB 2091, by Assemblymember Mia Bonta, D-Alameda, would protect patients' medical privacy by ensuring that out-of-state subpoenas seeking information about a patient who received reproductive healthcare in California would not be granted.
SB 1375, by Atkins, would increase access by allowing nurse practitioners meeting specified criteria to independently perform first-trimester abortions without physician supervision.
AB 1918, by Assemblymember Cottie Petrie-Norris, D-Costa Mesa, would create the California Reproductive Health Service Corps to recruit and train a diverse workforce of healthcare professionals to be part of reproductive healthcare teams working in underserved areas.
The budget framework Gov. Newsom and legislative leaders announced on June 26 includes more than $200 million in additional funding for reproductive healthcare services, to help prepare for the anticipated arrival of people from other states.
Organizations around California also wasted no time in making their views known on the Supreme Court's ruling. Among them:
The California Medical Association called the decision "a direct attack on the practice of medicine," and declared, "We stand committed to doing all we can to protect the fundamental human right to access reproductive health services, including abortion and contraception, and we will work to end the criminalization of those services."
Black Women for Wellness pledged to "continue the critical work for reproductive justice that includes access to affordable, safe, legal abortions for all women, no matter where they live, who they are, or how much money they have or do not have."
California Labor Federation Executive Secretary-Treasurer Art Pulaski said in a statement, "Those most affected by this decision are low-wage workers, immigrants, and women of color who now have even fewer options for critical healthcare." He said the state's labor movement will "vigorously defend healthcare access, including reproductive care, for all in our state who rely upon it."
Health Access Coalition Executive Director Anthony Wright stated, "Abortion is health care. We know we stand with our allies and millions to ensure safe access to needed care, including reproductive health services, at the state and federal levels … We will continue our work to have California lead the way to ensure quality, affordable, equitable, and comprehensive health care for everyone. No exceptions, no exclusions."
At the same time, however, observers are cautioning that no matter how determined the fightback against restrictions on reproductive healthcare, if Republicans do regain control of Congress in the November elections, and if they win the presidency in 2024, the future could involve a national ban on abortion.
In his remarks, Newsom also highlighted Justice Clarence Thomas' concurring opinion calling on the Supreme Court to reconsider its decisions on marriage equality and access to contraception.
"This is not just about women," he said. "This is not just about choice, this is not just about reproductive freedom. They are coming after you next."