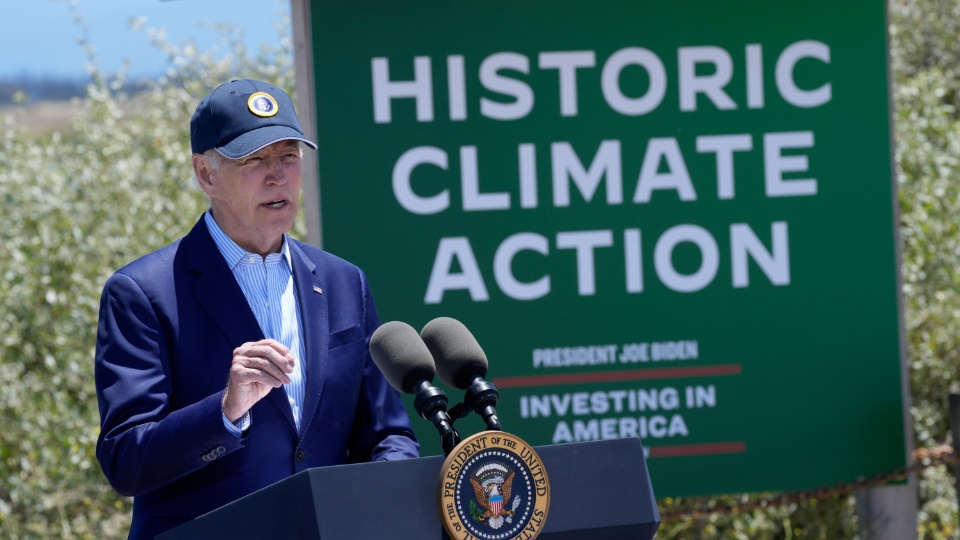 This is the second in a three-part series analyzing the set of policies dubbed "Bidenomics" by the Biden administration and the Democratic Party. In the series, author John Bachtell argues the economic initiatives of the Biden presidency are a break from the neoliberal orthodoxy that's dominated policymaking in Washington for decades. Click here to read part 1. Stay tuned for part 3 in the coming days.
The Biden administration is implementing a new set of policies aimed at fundamentally breaking with the neoliberal "trickle-down" economic and social policy dominant for the past 40 years. Those policies resulted in massive wealth inequality, job outsourcing, economic carnage in working-class communities, deteriorated infrastructure, reduced union density, a tattered social safety net, and scaled-back environmental and safety protections.
The new policies, dubbed "Bidenomics," represent a sea change, redefining the role of government to actively guide a national industrial strategy for a just green energy transition while addressing massive inequality and other deep-seated problems left in neoliberalism's wake.
According to Biden administration officials, the transformative new policy framework rests on three pillars:
Modernizing the U.S. physical infrastructure and targeting investments in manufacturing, science, research, and development for a green energy transition;
Empowering workers and working-class and historically discriminated-against communities; and
Increasing economic competitiveness to reduce costs and economic inequality.
The new framework constitutes a new terrain of struggle, and corporate, environmental justice, labor, and other democratic forces are fiercely contesting each pillar. Already, Biden and the Democrats were forced to pare back the scale and scope of the transformative policies due to the balance of political forces in Congress, the resistance of powerful fossil fuel interests and the GOP, deficit hawks in both parties, and narrow Democratic majorities. The loss of the Democratic House majority in the 2022 elections ended any new funding for now.
National industrial policy for a green transition
The first pillar of "Bidenomics" is a new national industrial policy centered on a green energy transition with targeted public investments to incentivize U.S. manufacturing in sectors critical to clean energy and funding science and R&D. The idea is that the green transition will occur based on a rebuilt U.S. domestic manufacturing sector and supply chains, whose vulnerability the COVID pandemic exposed.
After taking office, the Biden administration and Democratic majorities in Congress passed the American Rescue Plan (ARP), directing $2 trillion to overcome the  pandemic and deep economic crisis by "juicing aggregate demand." In addition, Congress allocated another $2 trillion to the Inflation Reduction Act (IRA), Infrastructure and Investment Jobs Act (IIJA), and CHIP and Science Act (CHIPS).
So far, the combined legislation has spurred the creation of 13 million new jobs, including 800,000 manufacturing jobs. This has reduced official unemployment to under 4%, increased the labor participation rate, and cut inflation in half. Funding has led to 35,000 projects in 4,500 communities, creating 142,000 green energy jobs.
Funds disbursed over the next decade will reduce, but won't eliminate, the risk of an economic recession, at least in the near term. At least, that is the administration's bet.
The reality is the green energy transition will be private industry-led. The IRA has already incentivized nearly $500 billion in private capital to spur a green energy revolution through tax credits, federal loan guarantees, and "buy America" provisions. The IRA targets critical industries, like semiconductors, E.V. charging stations, batteries, transmission lines, and the electric grid and mining of strategic minerals like nickel, cobalt, lithium, and graphite.
The environmental implications of these new levels of extraction and their impact on the Global South remain to be seen, and questions naturally arise about a growing dependency on mining.
"Investment in new manufacturing facilities has grown 100% over the (Trump) administration since Biden" took office, said Biden's Council of Economic Advisors chair Jared Bernstein. In the last year, businesses created over 800,000 domestic manufacturing jobs in what one financial observer termed a new "manufacturing supercycle."
"Solar investment is due to outpace oil investment this year for the first time, and manufacturing construction has soared, including in sectors the U.S. had abandoned in decades past," writes David Dayen.
Private investment in semiconductors and clean energy production has surged 20 times in the last two years. Economists expect public and private investment to total $3.5 trillion over the next decade, still less than half of what is needed to reach net-zero emissions by 2050.
Ultimately, federal climate investments will create 1.3 million domestic manufacturing jobs building solar panels and wind turbines to cut U.S. greenhouse gas emissions to 40% below peak levels by 2030. It is part of the U.S. commitment to reach 50–52% below 2005 GHG levels by 2030.
Massive federal investment, tax incentives, and the sheer magnitude of government procurement, which create guaranteed markets, are "derisking" capital investments for corporations. Technological advances and production to scale have reduced the costs of renewables rapidly, making them cheaper than energy produced from fossil fuels. Lower renewable costs are accelerating the green transition.
A modern U.S. infrastructure, one resilient and adaptable to global warming, is the goal of IIJA investments. The infrastructure includes a modern electric grid that connects renewable power sources and building power storage facilities.
The IIJA invests $42 billion to achieve coast-to-coast internet access, the digital backbone of a modern economy. Many liken this project to President Franklin Roosevelt's Rural Electrification Act, which brought electricity to rural America. In the same way, universal broadband is necessary to overcome regional and local obstacles to economic development and inclusion.
The challenge posed by decarbonization and the climate crisis requires massive funding of science, research, and development and broad collaboration across scientific and technical fields and government agencies.
The nation's science and R&D architecture rests on a decentralized and diversified network of private and public universities, labs, and federal institutions and agencies. Corporations increasingly abandoned in-house R&D to maximize short-term profits and relied on this essential resource even as neoliberal policies chronically underfunded government support for science, research, and development. The CHIPS and Science Act seeks to reverse this.
Mass democratic movements can use CHIPS and government support for science and R&D as leverage to "discipline capital," argue Matthew Keller and Fred Block. Corporations like Big Pharma or renewable energy producers would have to make concessions to the public for access to publicly funded R&D, including pricing, worker pay, and union recognition.
For example, Ford Motor Co. reduced the projected number of electric vehicles it will build. Why? Because they are only producing expensive electric trucks and SUVs. Future subsidies could come with a provision to build smaller, affordable vehicles.
Empowering workers
The second pillar is creating greater economic equality by empowering workers and working-class and historically discriminated-against communities. The goal is to build the economy from "the middle out and bottom-up" rather than top-down through corporate giveaways.
Funding from the ARP and other legislation juiced the economy, creating a tight labor market, which policymakers expect to put upward pressure on wages.
The administration policies promote collective bargaining rights, including a robust and pro-worker NLRB, more funding for apprenticeships and technical education programs, continued fight for the PRO Act, student debt cancellation, free universal preschool, free childcare, and free community college.
In collaboration with environmental justice groups, the Biden administration and Congress embedded the legislation and policies with environmental justice initiatives. For example, Biden signed an executive order called Justice40 Initiative, an historic "all of government" program spanning federal agencies.
The order targets 40% of federal climate investments for clean energy, clean transit, affordable housing, workforce development, pollution reduction, and water infrastructure to the frontline, historically marginalized, low-income, tribal governments, and people of color communities. According to activists, it is the most significant environmental and climate justice initiative ever undertaken.
"Justice40 is the first-ever comprehensive federal goal to advance environmental justice by aiming to deliver 40% of the benefits from climate investments to disadvantaged communities," wrote Carla Walker. "The climate investments that this initiative covers are sweeping, including everything from promoting clean transit and clean energy to ensuring people have access to affordable and sustainable housing and remediating pollution, which has impacted communities for years."
Justice40 seeks to empower historically discriminated-against communities to initiate, shape, and have authority over industrial policy and public investments in their communities. The IRA offers additional tax credits for clean energy projects in "energy communities" near dirty fossil fuel sites, recognizing the horrible price these communities and workers have paid over the years. Projects that employ union labor receive even more tax credits.
The IRA Elective Pay provision extends grants to municipalities, state agencies, tribal governments, non-profits, rural coops, schools, community-based organizations, and other tax-exempt entities. This provision creates the opportunity to establish green public utilities, "including for generating clean electricity through solar, wind, and battery storage projects; building community solar projects that bring clean energy to neighborhood families; installing electric vehicle charging infrastructure; and purchasing clean vehicles for state or city vehicle fleets."
IRA funding also includes pro-labor provisions and tax credits for companies that "pay union wages, employ union apprentices, and buy American steel, iron, and components." For example, companies building clean energy generation (solar, wind, etc.) get 6% tax credit. But if they pay prevailing wages, they receive a 30% tax credit, which can exceed the difference in labor costs.
Still, Congress weakened the pro-labor and union wage enforcement provisions in the final legislation. For example, the Biden administration and Democratic leadership supported an IRA provision mandating E.V. battery production plants be union. However, that didn't make it into the final legislation because it needed more votes.
The Big Three auto companies are building new E.V. plants or converting older union plants in Michigan, Ohio, and Missouri. An E.V. battery plant in Lordstown, Ohio, is also union. But public subsidy of non-union E.V. vehicle and battery plants in Kentucky and Tennessee, including joint ventures with foreign automakers, angered the UAW.
TMSC, the builder of the massive microchip plant in Arizona, thumbed its nose to the prevailing wage guidelines and imported low-wage labor to help construct their facility.
Renewable energy jobs meant to pay union wages are often low wages instead, especially those projects in right-to-work states.
But the IRA also requires company agreement to neutrality during union organizing campaigns as a condition to receive federal contracts. The contract with Blue Bird in Georgia, a maker of electric school buses, resulted in 1,350 workers joining the USWA.
Curbing monopoly power
The third pillar is reducing costs for working families and small businesses, including creating economic competitiveness by enforcing anti-trust laws, empowering Medicare to bargain for bulk purchase of prescription drugs, greater regulation, and eliminating predatory bank fees and fines. The biggest inflationary pressure is monopoly pricing.
The policies increase taxes on the wealthy corporations. The IRA imposes a 15% minimum tax on corporate profits exceeding $1 billion, and the administration brokered a 15% global minimum corporate tax agreed to by 130 countries.
"We're talking about long-term play here," said Bernstein. "Where if we get the implementation and public-private aspects of those investments right, we have the potential to transform the economy very much in the spirit of 'Bidenomics,' bottom-up, middle-out growth. This is a complete opposite of 'trickle-down,' top-down economics that decades of evidence fails to support."
Organized labor, environmental and social justice organizations, and other pro-democracy forces must reorient their activities and initiatives within this new framework. The policies are not set in stone.
By re-electing Biden and electing more significant Democratic majorities, the just green transition can be radically strengthened and accelerated in all directions, including infrastructure resilience and adaptation, worker, civil, and democratic rights, and measures to curb the power of transnational capital and redistribute wealth.
"The Inflation Reduction Act would not have happened without the movement for a Green New Deal, but it shouldn't be confused for one. The climate left (broadly defined) now faces a novel problem: how to deal with having won something—and keep fighting for more," wrote Kate Aronoff.
Industrial policy
The U.S. has always had an industrial policy or targeted public investment partnering with private capital, according to Bernstein. Previous iterations include the early canal system, railroads, scientific applications to agriculture, the WPA and significant public works projects, the atom bomb, and nuclear energy, the interstate highway system, Cold War militarism, and NASA. Corporate lobbying is usually decisive in determining the priorities of the industrial policy.
"[Neoliberal] proponents have always argued vehemently against industrial policies like the IRA, even after new developments in economic theory explained why such policies have been necessary to promote innovation and technological change," said economist Joseph Stiglitz.
He praised Biden's rejection of two core neoliberal beliefs, "that markets always allocate capital productively and efficiently," and that "the type of growth [does] not matter."
The Biden administration and Democrats used the rivalry with China to overcome resistance to the idea of a national industrial policy. Capitalist elites knew a green energy transition was coming and feared U.S. corporations would be shut out by China with its huge head start.
The legislation reflected significant concessions to finance capital, which could facilitate corporate monopolization of new technology and the green energy revolution. For example, of the $50 billion allocated under the CHIPs legislation, $39 billion goes to the top semiconductor manufacturers with the resources to build immense production facilities.
However, another $11 billion will establish collaborative research and development centers and programs. But the legislation also spreads $81 billion in science funding over a much "wider number of regions and population groups and to build STEM education and outreach programs," according to Fred Block. Many CHIPS Act "provisions focus on smaller, start-up style entities."
In other words, the new economic and political framework, like neoliberalism, is being contested. Environmental justice, organized labor, and other forces have been shaping the new Biden policies, but so have the corporations, including fossil fuel corporations. The battle will be to democratize, scale up, and accelerate the green energy revolution.
The Biden administration is directing money to green energy projects in swing states. It's no accident that Arizona, Georgia, Pennsylvania, Michigan, and Wisconsin are all being targeted for investments.
But green energy projects are also being funded in so-called red states and districts. For example, the IRA tax credits in Texas will create 100,000 clean power jobs. Building voting constituencies based on the new green energy industry, including environmentalists, labor-community coalitions, and green power capital in those states and districts, is one by-product of the legislation. Those forces recently defeated an attempt by fossil fuel interests in Texas to block the development of renewable energy, which accounts for 30% of the state's energy production.
Like Social Security, Medicare, Medicaid, and Obamacare, a new social green transition consensus can lock in these policies. But the administration also takes a page from past Democratic presidents who kept military spending levels high by funding production in every congressional district.
If this happens, the GOP and fossil fuel interests will have more difficulty slowing down, stopping, and reversing the green energy revolution. But it also means that the green transition could come with its own contradictions: heightened militarization, other problematic traits that characterized the industrial policy of the Cold War era, and sharpening tensions with China.
This article reflects the opinions of its author.