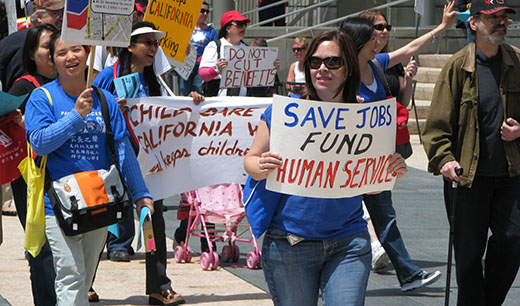 WASHINGTON (PAI) – The U.S. unemployment rate in June was 7.6 percent, unchanged from the month before, the Bureau of Labor Statistics said. A separate survey added that businesses claimed to create 195,000 net new jobs last month.
The figures still left 11.78 million unemployed, BLS added, 17,000 more than the month before. Combined, the unemployed, those working part-time when they really want full-time jobs and discouraged workers who have stopped seeking employment total 14.3 percent of the labor force, or one in every seven. That figure rose 0.5 percent in June.
Some 36.7 percent of the unemployed have been jobless more than 27 weeks, meaning they exhausted state unemployment benefits, if the states kept those benefits for half a year. Some GOP-run states have cut benefits to 20 weeks.
The data show the economy is continuing its slow recovery from the Bush crash, officially known as the 2008 Great Recession, said analyst Heidi Shierholz of the Economic Policy Institute.
"Taking into account both the 2.4 million jobs we are still down from December 2007, and the 6.1 million jobs we should have added since then just to keep up with growth in the potential labor force, the current gap in our labor market is 8.5 million jobs.
"The economy has added an average of roughly 175,000 jobs per month over the last year. If we continue at that pace, the gap in the labor market won't close until early 2020. That would mean that, from beginning to end, the Great Recession led to 12 years of weak job opportunities for U.S. workers," she said.
Factories lost 6,000 jobs in June, declining to 11.96 million. The big changes were in primary metals (-2,800 jobs), electrical equipment (-3,300) and cars and parts (+6,100). Some 989,000 factory workers (6.4 percent) are still jobless.
Construction gained 13,000 jobs, reflecting both the warm weather and continued recovery in the housing market. Most of the gains were in residential specialty trade contractors (+5,100 jobs) and heavy and civil engineering (+5,600). But 825,000 construction workers (9.8 percent) are still officially unemployed and construction union leaders say the real percentage is closer to double that.
Service firms claimed to add 194,000 jobs in June, to 95.41 million. Big gains were, as usual, in low-paying areas such as janitors (+10,800) health care (+19,800) and bars and restaurants (+51,700). Mass transit lost 5,700 jobs, while utilities, gained 1,300. Governments shed a net of 7,000 jobs in June. A 15,000-job gain in local government – outside of schools – offset a 15,000-job loss in the states. That left losses in the federal government (-5,000) and local schools (-1,400).
Photo: Marilyn Bechtel/PW