The films of Japanese film director and screenwriter Ryusuke Hamaguchi lodge in your brain and heart like small incendiary devices, ticking from his self-awareness toward yours. What did the character mean by that? How does that change her life? Where are we going with this anyway? They are the slowly digestible complexities of people discovering themselves as they interact with others, a prescient dialectic. Listen and be patient.
As much as any other major director in this time of economic and social unraveling, Hamaguchi rubs his characters against each other to ignite sparks of personal and societal incandescence. In arriving at these illuminations, he focuses on character development. Sometimes he resolves his actors' struggles at the expense of the world which they inhabit. At all times, he only slowly reveals the material construct which shapes the players' worlds.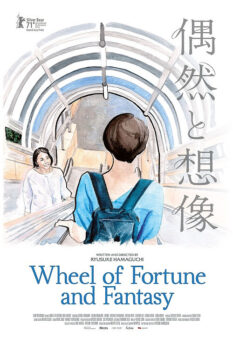 Wheel of Fortune and Fantasy, more accurately translated as "Chance and Imagination," is a collection of three vignettes, running 121 minutes. In the first scenario, "Magic (or Something Less Assuring)," protagonist Tsugumi (Hyunri Lee) tells her friend, the model Meiko (Kotone Furukawa), the details of her relationship with new boyfriend Kazuaki (Ayumu Nakajima). Tsugumi shares her passions and concerns, seeking advice. Meiko patiently listens without revealing that her friend's love interest is actually her very own old flame. Should she tell Tsugumi? Is she still interested? What would Kazuaki do when confronted by either or both of the women?
In the second story, "Door Wide Open,"student Sasaki (Shouma Kai) hopes to gain revenge by setting up the university professor who has failed him in his coursework. He enlists his consort Nao (Katsuki Mori) to seduce Professor Segawa (Kiyohiko Shibukawa) in order to ruin the professor's career. Will Nao carry forward this plan despite her respect for the professor and her ambivalence about her sometimes lover Sasaki? Three lives hang in the balance.
"Once Again," the final chapter of the trilogy, is ostensibly about mistaken identity. Natsuka (Fusako Urabe) attends her high school reunion. Already a bit uncomfortable, she is dismayed not to recognize anyone, nor have them recognize her. She rushes out in panic. On her way home, she is gratified to encounter Aya (Aoba Kawai), whom she recognizes as an old friend and classmate. But their reminiscences take them in unexpected directions.
In his three fables, Hamaguchi has balanced the wheel of fortune and fantasy. He straddles the classical debate in Japanese literature between form and content. The Akutagawa Prize, which he pointedly references in "Door Wide Open," is named after the father of Japanese short writing, Ryunosuke Akutagawa (Rashomon), who argued with the great writer Jun'ichiro Tanizaki (Some Prefer Nettles) that form, or how a story was told, was more important than content.
Hamaguchi may not directly answer this debate. But he has rediscovered the wheel. His great success is that his film, much like his great work in Drive My Car, is able to infuse structure with lyricism. He has provided a great, thought-provoking entertainment.
Wheel of Fortune and Fantasy is available on Amazon Prime Video. The trailer can be viewed here.