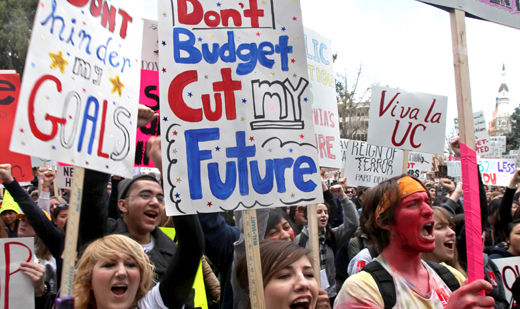 Two recent national polls show differing data regarding youth opinion about the president among young voters under age 30. One highlights a steady high approval rate for President Obama and the other notes his popularity and approval of the Democratic Party is decreasing since 2008.
In an analysis by Gallup, data shows Obama's ratings among young voters remains high compared with ratings for past presidents Bill Clinton and George W. Bush during their administrations. In this poll the numbers were broken down among four age groups: 18-29, 30-49, 50-64, and 65 and above.
According to the study Clinton's numbers showed very little variation, with a high of 57 percent among 18-29 group, and 54 percent among the 50-64 cohort. Bush however did show variation, with a low of 46 percent among the under 30 group and a high of 52 percent with the 30-49 group.
Among Obama, though, the high is 66 percent among young voters with a low of 51 percent among seniors. The president's approval ratings among young adults have consistently exceeded those among older Americans through his young presidency. Even though his overall approval rating has declined to the 50 percent range in recent months, his support among young adults remains relatively strong, averaging 60 percent last month, says Gallup.
However a poll by the Pew Research Center for the People and the Press finds support for the Democratic Party among young voters is waning and Republicans are gaining strength among voters under 30.
Pew Center officials note that gains among young voters in recent elections have rolled back during the current economic crisis leading to widespread public anger at the U.S. government in general and Congress in particular.
Many point out that young voters were Obama's strongest supporters in 2008 and were the Democratic Party's best age group in both 2004 and 2006 elections. Although young voters, dubbed "millennials" who favor Democrats, still outnumber those who lean Republican, that gap is shrinking, says Pew.
According to Pew in 2008, 62 percent of registered millennial voters favored Democrats while 30 percent favored Republicans, a gap of 32 percentage points. By the end of 2009, that gap had narrowed to 14 points.
Pew notes that Obama still maintains a 57 percent approval rate among young voters but it's down from 73 percent a year ago.
Voter turnout had increased from 40 percent in 2000 to 51 percent in 2008 among millennial voters. However recent gubernatorial races in New Jersey and Virginia, that turnout dropped dramatically. In New Jersey, voters under 30 represented 9 percent of total voters. In 2008 that number had been 17 percent in the state.
"I don't think young people have lost that hope and many understand it's a long process," said Maria Escobar, national coordinator with the Student Labor Action Project. "But with the current economic crisis more needs to be done when it comes to jobs and work study programs for youth and students," she said.
Escobar said her group and young voters are watching how Congress considers legislation that benefits young people and students.
"Are they with us or with the banks and corporations," she asked.
We need to hold our elected officials accountable and urge the federal government to aid state budgets that grant student aid and helps protects badly needed human services, she said.
The root of the problem is the revenue system, said Escobar, and federal and state governments need to tax the wealthy elite and major corporations.
Mass education and campus mobilizations are on the agenda urging Congress to pass legislation that supports youth jobs programs and affordable access to higher education, said Escobar.
"And we're looking forward to making an impact in the 2010 midterm vote," she said.
Photo: AP /Rich Pedroncelli
California university students and supporters demonstrate against cuts to higher education at the state Capitol in Sacramento, for the March 4th National Day of Action for Public Education.