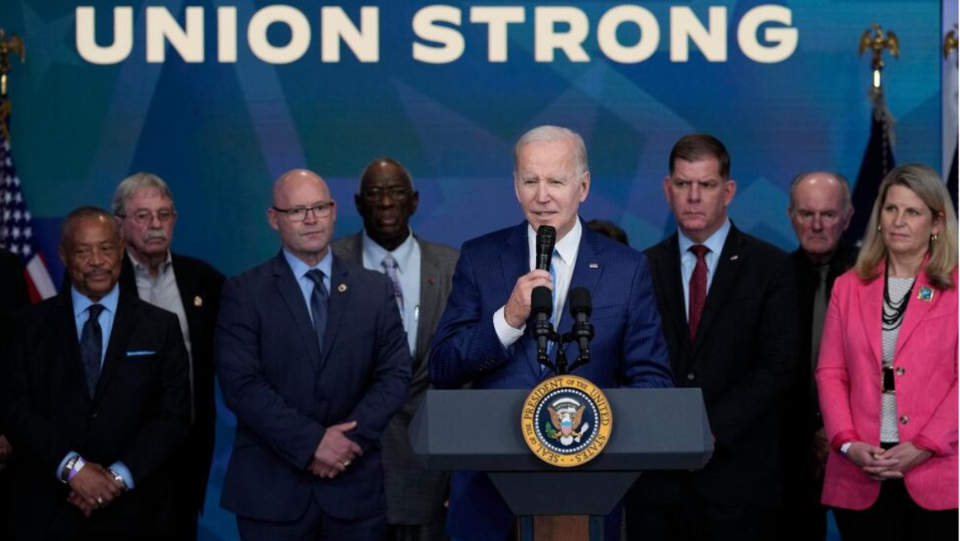 WASHINGTON —Flanked by Teamsters whose pensions will be preserved, not destroyed, President Joe Biden touted the law—The Butch Lewis Act—that will keep pensions flowing to retirees and their families through 2051.
The Lewis Act, part of Biden's American Rescue Act, gives long-term aid to some 200 financially troubled multi-employer pension plans, all clobbered by the financier-caused 2008 crash. It robbed those plans of income and asset values they used to pay beneficiaries and left them on the brink of going broke.
Some two to three million workers were at risk, including 357,056 retirees and beneficiaries in the largest impacted plan, the Teamsters Central and Southern States Plan. Multi-employer plans cover a total of 11.2 million workers and retirees.
The Lewis Act resulted in Central States receiving $36 billion, "which ensures" beneficiaries "will enjoy their full pension benefits for the rest of their lives," the union said. Benefits are guaranteed through 2051.
Without aid, it would have become insolvent by the end of 2025, leaving its beneficiaries to turn to the federal Pension Benefits Guaranty Corp., whose multi-employer plan fund too would have run out of money by 2026. And PBGC's fund will stay solvent for almost as long
Central States retirees and survivors saw their pensions endangered "through no fault of their own," Biden said. The Butch Lewis Act and the payment also validates another 2020 Biden campaign promise to union members.
"This is an issue of fairness, of this country keeping its word to hardworking, honest people who did everything they were supposed to do in life," said Teamsters President Sean O'Brien, who led Teamsters to the ceremony. AFL-CIO President Liz Shuler joined them.
"Our members chose to forgo raises and other benefits for a prosperous retirement, and they deserve to enjoy the security and stability that all of them worked so hard to earn," O'Brien added. "Labor law, bankruptcy law, the tax code—so much of public policy in America today is written by and for big corporations and Wall Street, so it's good to see elected officials stand up for working families for once."
The money for Central States, and other financially troubled multi-employer plans—which cover grocery workers, building trades workers, stevedores and other workers whose multiple employers over their careers jointly pay into funds—had a long and politically winding journey to the Dec. 8 White House ceremony.
In the dead of the night in the closing days of a 2014 lame-duck session, a then-Republican run Congress inserted its own "rescue," into an omnibus money bill, socking pensioners and their dependents with benefit cuts of at least 29%, with the money "saved" reserved for future retirees. Central States recipients faced 60% cuts.
Even then, right-wing Republicans, led by then-Sen. Mike Enzi, R-Wyom., charged that scheme was a
"bailout"—a drumbeat they've kept up ever since and that was reflected in some news headlines about the White House ceremony.
Republicans still want to cut off money
"PBGC's $35.8 billion bailout of Central States, Southeast & Southwest Areas Pension Plan is a reckless use of taxpayer dollars," said Rep. Virginia Foxx, R-N.C., the top Republican on the House Education and Labor Committee—and a poisonous union foe who may again take over the panel when Republicans control the House, starting on Jan. 3.
"Throwing money at a sinking ship saves no one. Chronically underfunded multiemployer pensions have cracks in their foundations. Bailing these programs out without requiring drastic reforms"—Republican rhetoric for cutting benefits—"is irrational and irresponsible."
The Butch Lewis Act reversed that 2014 cut, but only to those plans which both promised to pay current pensions in full while financially restructuring, with Treasury Department oversight and approval, to preserve future payouts, too.
Central States fund administrators, in a letter to local unions, said retirees who suffered cuts under the 2014 Republican-pushed law will be made whole, soon. Pensions would be restored to their pre-2017 levels—when the 2014 law took effect—on Jan. 1, and back payments covering what retirees lost would be paid by March 1.
The White House fact sheet calculated that 18 plans, covering 80,000 workers, had already cut benefits under the 2014 Republican-enacted law.
The Teamsters and other unions both lobbied lawmakers and worked long and hard with prime sponsor Sen. Sherrod Brown, D-Ohio, to craft the Butch Lewis Act.
"What this means to me is that this long fight is finally over, now that we know our pensions are secure and will be there forever," said 30-year Teamster Ken Stribling, a leader with his late wife in the grass-roots lobbying for the law.
"My wife isn't here to share in the joy today, but I made a commitment to her when I first got involved that I would stay in this struggle until a solution was found. I can look up at the sky tonight and say, 'Sweetheart, we did it. The journey is over.'"
The fact sheet says the Butch Lewis Act is expected to fully fund 40,300 Central and Southern States workers and retirees in Michigan, 39,900 in Ohio, 27,800 in Missouri, 25,000 in Illinois, 22,000 in each in Texas and Wisconsin, 20,000 in Indiana, 19,000 each in Minnesota and Florida and 14,000 in Tennessee.