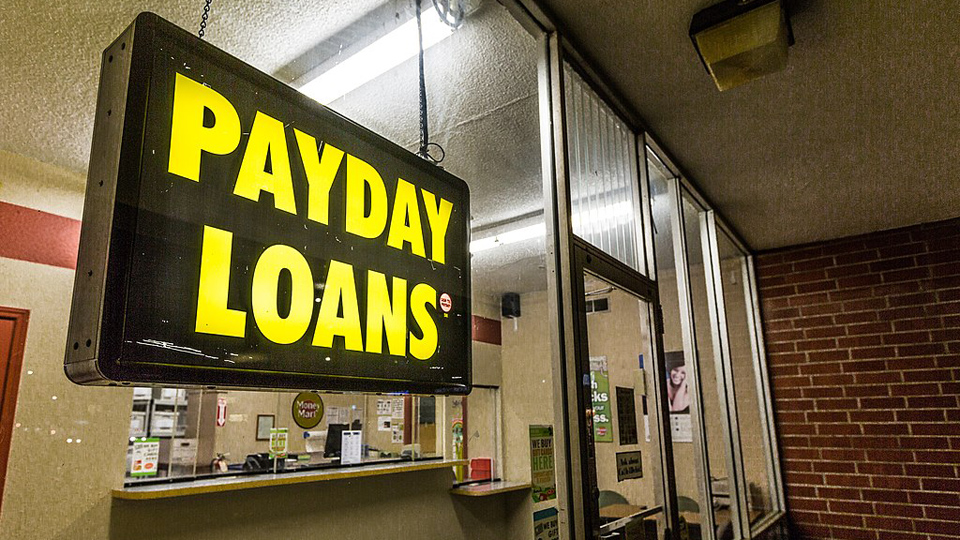 WASHINGTON — In what may be a new low, even for this GOP regime, the Trump White House is scheming to let payday lenders – one of the sleaziest industries in the country – prey upon military families, despite a federal law designed to stop such abuses.
Needless to say, the plan, floated by the Republican president's acting director of the Consumer Finance Protection Bureau (CFPB), Mick Mulvaney – who is also GOP President Donald Trump's budget director – outrages consumer groups, a pro-labor veterans group and congressional Democrats. The GOP is notably silent on the issue.
The payday lenders are some of the most notorious financial predators in the U.S., along with loan sharks and collection agencies. Payday lenders advance people money against their paychecks, but if the full amount isn't repaid on the exact date it's due, the lenders roll the loans over at usurious rates and keep doing so as the interest mounts up.
One study reported annual interest rates on payday loans of 900 percent or higher. Its author laconically noted that even the Mob charged only 250 percent.
To try to stop such extortionate interest rates, Congress passed and President Obama signed the Military Lending Act (MLA). The National Military Family Association strongly pushed the law.
The MLA law caps annual interest rates which payday lenders, auto title loan and tax refund anticipation firms and similar outfits can charge military families at 36 percent.
It also bans lender penalties on consumers who repay the loans in advance, and forces lenders to provide both written and verbal disclosures of actual loan rates and says the lender can roll over the loan, but only at a lower rate.
But what the law didn't do was regulate who could lend to military families. That's where the CFPB – set up under the Dodd-Frank financial re-regulation law after the Great Crash – stepped in. And that's where Trump and Mulvaney scheme to have it step out.
CFPB not only sued and collected millions of dollars from some of the worst of the payday lenders — $10 million from one Texas outfit alone — but also held hearings and sought and got public comment on proposed rules to rein in their greed. And its rules would have applied to all payday loans, not just to those to military families.
CFPB was set to issue the rules – and then Trump named Mulvaney as acting director. Mulvaney, who hated the bureau when he was a right-wing South Carolina GOP congressman, stopped the anti-payday lender rules from taking effect. Now he's gone beyond that.
Mulvaney says CFPB "lacks the legal standing to engage in proactive oversight" over the payday lenders, according to the New York Times. So Mulvaney is suspending CFPB's examinations of the shysters. The exams determine if they violate the Military Lending Act. That means predatory lenders can go unchecked. And Mulvaney asked the Defense Department to cooperate with the White House.
Consumer groups, a pro-worker veterans group and lawmakers are outraged.
"For years unscrupulous car dealers and payday and title loan industries have flocked to the outskirts of military bases to exploit and take advantage of those who serve our country," said Sally Greenberg, executive director of the National Consumers League, one of several groups which has led the fight against predatory lenders of all types.
"The Military Lending Act put a stop to some of the most egregious practices. These protections should be preserved, not repealed. If not, it's open season once again for businesses to come in and rip off our service members. They deserve better."
Big pro-GOP veterans' groups, such as the American Legion, are silent so far about the Mulvaney-Trump payday lender actions. VoteVets, an organization of Iraq and Afghanistan vets that is more progressive and supports workers, including ex-service members rejoining the workforce, is not.
"The Trump administration is planning to suspend examinations of lenders for violations of the Military Lending Act, which protects military service members and their families from financial fraud, predatory loans and credit card gouging," VoteVets says.
"This is an outrage," adds progressive Rep. Pramila Jayapal, D-Wash. "Predatory lenders are a scourge on our nation. Trump and Mulvaney are taking us backwards."
"It's basically about greed," Sen. Jack Reed, D-R.I., top Democrat on the Senate Armed Services Committee and a veteran of the 82nd Airborne Division, told the New York Times. Reed said the payday lenders pushed for the Trump-Mulvaney move because they want to make more than a 36 percent profit off military families. He saw their abuses when he was a company commander.
"Who does this help?" Abigail Spangenberger, a CIA veteran and Democratic nominee in Virginia's 7th District in the Richmond suburbs, tweeted about the scheme. "We know who it will hurt – active duty service members, their families, & veterans. Veterans, active duty members, & their families are 4x as likely to be targeted by bad lenders, & these examinations were successfully addressing that threat." Her GOP foe, incumbent right-winger Dave Brat, has nothing on his website about it.
While Trump and Mulvaney moved in the direction payday lenders want, the California State Supreme Court went the other way. On August 13, the justices ruled unanimously that courts "have a responsibility to guard against consumer loan provisions with unduly oppressive terms," including outrageous interest rates. A 1980s law set no cap on interest rates for loans up to $2,499 but banned "unconscionable" interest on larger loans.