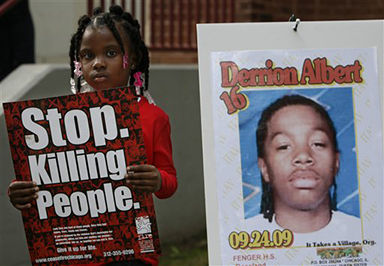 CHICAGO – Attorney General Eric Holder declared Oct. 7 that the beating death of a 16-year-old high school student was a "stark wake-up call" to the nation to deal with youth violence.
President Barack Obama sent Holder and Education Secretary Arne Duncan to this city to meet with school officials, parents and students after the killing of Derrion Albert on Sept. 24. The fatal beating was captured on a cell phone video, and viewed by millions across the country.
"The scenes in the video left an indelible mark on the mind of every American who has seen them," Holder said. He said the video underlined "a reality that can be too easy for too many to ignore as they go about their daily lives."
Holder urged a "comprehensive, coordinated approach" to teen violence involving police, religious organizations, businesses and social service groups.
School closures, many say, are one of a number of factors that contributed to the violence and killing.
Since 2005, dozens of Chicago's public schools have been closed and thousands of students reassigned outside their neighborhoods, often across entrenched gang lines, as part of Renaissance 2010.
The plan involves replacing supposedly "failing" public schools with charter schools, something teachers' unions and many community groups oppose. Many parents, students and neighborhood activists say the plan has led to a spike in violence that often turns deadly.
At the press conference Duncan said it was "ridiculous" to suggest that a plan to improve education in Chicago contributed to a surge in violence among students.
"Chicago won't be defined by this incident but rather our response to it," Duncan said. "I am committed to this fight. I am committed to this cause."
Duncan, who as the former head of Chicago Public Schools, helped implement the district's "improvement" plan, told the press that "it is easy to point fingers, but the country needs to focus its attention instead on the root of the problem."
Angela Robinson, 42, has a two-family home on S. Coles Av., about two miles northeast of where the killing occurred. Her nephew, a student at the high school attended by Albert, is living with her now. "My sister put him here because it's safer," she told the World. "The real root of this is that there is nothing in these neighborhoods for anyone, no way to live like a human being. I don't excuse violence but young people and a lot of other people here are left with nothing except to prey off of each other."
Pro-labor economists say the problem goes far deeper than just a lack of jobs, programs and services for youth and that the result of more than 30 years of "trickle down" economics and a widening of the income gap have left neighborhoods, if not entire cities, without an economic base that can sustain productive livelihoods for people.
Before the 2006 school year in Chicago, an average of 10-15 public school students were fatally shot each year. That soared to 24 deadly shootings in the 2006-07 school year, 23 deaths and 211 shootings in the 2007-08 school year and 34 deaths and 290 shootings in the last school year.
Albert, an honor student at Christian Fenger Academy High School, was attacked by a group of youth about six blocks from school on the city's South Side.
The video shows him curled up on the sidewalk, as other youth kick him and hit him with splintered railroad ties. So far, four have been charged in his death.
Duncan announced that Fenger High would receive $500,000 in federal emergency grant money to help it stabilize after the killing. The school says it will use the money for counselors and other programs.