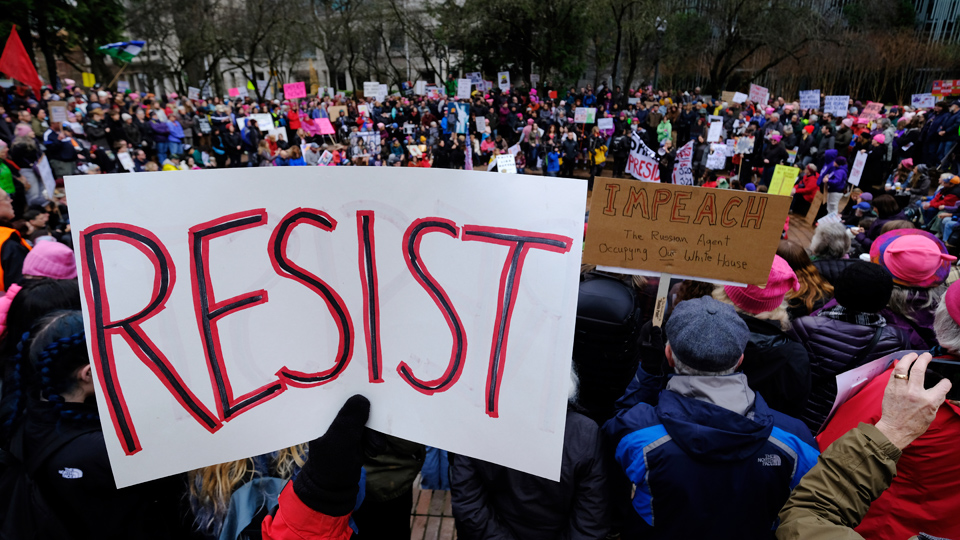 WASHINGTON—The White House Office of Special Counsel has issued a blunt warning to the nation's two million federal workers – Don't "talk Trump," either resistance or impeachment – at the office. And that's drawn the ire of the two big federal workers' unions, the Government Employees (AFGE) and the Treasury Employees.
The Nov. 27 memo specifically says talking about Trump, putting up signs or even #resist bumper stickers is "political" and violates the Hatch Act.
But the workers can still talk for or against Trump on their own time, the memo adds.
Treasury Employees President Tony Reardon said the guidance from the White House "could be applied in a way that unfairly inhibits" workers' free speech rights. AFGE President J. David Cox, a retired VA psychiatric nurse, was even blunter. He flatly said it violates workers' rights.
"This is plainly another attempt to intimidate and harass the hardworking men and women, many of whom are veterans, that go to work every day to keep our country safe and prosperous," he said.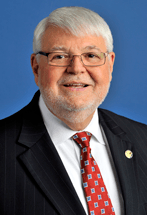 Federal workers, Cox added, "are entitled to First Amendment rights and should feel comfortable discussing government policy and legislative action in the workplace."
"Any attempt to silence the voice of our hard-working government employees is nothing less than an attack on these employees' First Amendment rights and our constitutional checks and balances. It's censorship, and it's wholly incompatible with our shared American values," Cox declared.
"The 'Guidance Regarding Political Activity' memo will serve only to strike fear into America's workforce and prevent future workers from blowing the whistle on waste, fraud, and abuse," he warned.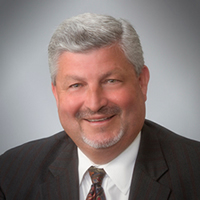 Reardon said the memo "could unnecessarily have a chilling effect on employees' First Amendment free speech."
The memo says that now that Trump is officially a candidate for re-election, "the terms 'resistance,' '#resist' and similar terms have become inextricably linked with the success (or failure) of the president."
The Hatch Act didn't kick in before because – officially – Trump wasn't a candidate, the memo says. Trump himself, however, started raising money for another run for the Oval Office almost as soon as he took it over, if not before. Federal records show that from Jan. 1, 2017-Sept. 30, 2018, his campaign committee raised $60.6 million and has spent just over half of that.
"Now that President Trump is officially a candidate for re-election, we must presume that use or display of 'resistance', '#resist' or '#resistTrump' or similar statements is political activity unless the facts or circumstances indicate otherwise," the memo adds.
That includes talking about impeaching Trump, the memo says.
By contrast, private sector workers are free to talk Trump on the job – unless their bosses ban it, too.
The common saying, applied especially at non-union shops, is that the Bill of Rights, including the First Amendment's free speech rights, stops at the workplace door.
The 79-year-old Hatch Act bans rank and file federal workers from taking "any active part in political campaigns." It was designed to once and for all put an end to the spoils system the original federal Civil Service Act of 1883 was enacted to curb, by insulating the federal workers from political influence – and vice versa.
Congress modified the Hatch Act 26 years ago to say federal workers could participate in political management or political campaigns. Before that, Congress also decided they could run for non-partisan offices. But they still can't "solicit or receive" campaign contributions or "engage in partisan political activities" while at work.
The White House used that last ban to justify prohibiting talk about Trump.
"That prohibition has always been a fact-specific analysis in which the employee's intent is relevant," Reardon responded. "This new guidance goes too far because it eliminates that critical factor."