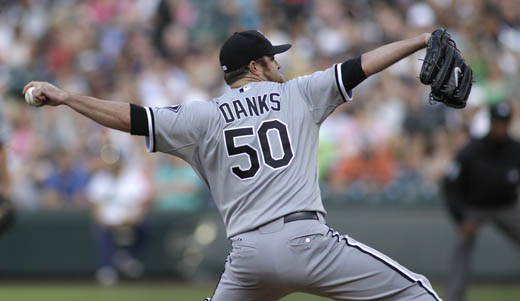 The Chicago White Sox have had a couple of rough games due to poor pitching performances recently but that all changed Monday night, July 26, when they brought their game against the Seattle Mariners.
John Danks got off to a hot start giving up zero runs in the first two innings. However he wasn't so lucky in the third. Outfielder Michael Saunders hit a double. Catcher Rob Johnson bunted to advance Saunders to third. A single followed it from shortstop Jack Wilson, allowing Saunders to score.
The Chicago White Sox weren't nervous though and they rallied back. Shortstop, Alexei Ramirez hit a single than stole second base. Outfielder, Juan Pierre singled allowing Ramirez to score. Just like that the Sox came back and tied the game 1-1, but they weren't done yet. Third baseman Omar Vizquel also singled, allowing Pierre to score and the Sox took the lead 2-1.
"Whenever you score runs off (Mariners') Felix Hernandez, arguably the best pitcher in baseball, it's nice," Danks said to the Associated press after the game. "Watching him throw, he had Nintendo stuff out there. I can't imagine trying to hit some of the stuff he was throwing out there, but these guys do a good job and we have 100 percent confidence in these guys. We know they're capable of scoring runs."
Danks on the other hand wasn't too bad himself giving up only one run in eight innings pitched. He improved to 7-2 with a 2.83 ERA in his last nine outings. Danks is 3-0 with a 1.14 ERA in three starts against Seattle this season.
"He's got a huge heart," White Sox manager Ozzie Guillen said to AP. "This kid, just every time he's out there, he just fights every pitch."
The bottom of the sixth inning was all about the Sox. First baseman Paul Konerko hit a solo home run. Outfielder Carlos Quentin was walked. Designated hitter Mark Kotsay, hit what appeared to be a home run to deep right but was robbed by outfielder Ichiro Suzuki who showed us why he is a nine-time Golden Glove winner.
"That was pretty good," Mariners' pitcher Hernandez said to AP. "That was a good play. He saved me two runs right there. In this ballpark, any fly ball could be out."
That didn't discourage the Sox though. Sox catcher A.J. Pierzynski hit a double followed by another, giving the Sox insurance runs.
When you thought things couldn't get any better for the Sox or if you're a Mariners fan, any worse for Seattle. They did!
Quentin singled to shallow center. Andruw Jones came in as substitute runner for Quentin. Kotsay followed with a base hit. Brent Lillibridge came in for him as a pinch runner. Then Pierzynski hit a sacrifice fly allowing Jones to score. Then Ramirez at bat singled, scoring Lillibridge giving the Sox what would be their final lead at 6-1.
Relief pitcher Sergio Santos came in to close out the game and Chicago went on to advance a 6-1 record against the Mariners this season.
As a side note, some fans credited the win to a streak started by the People's World. The People's World held its fifth annual "Night out with the Sox" on July 26. "We've been doing this for five years and each time the Sox win!" said event organizer Pepe Lozano.
Photo: Chicago White Sox starter John Danks pitches against the Seattle Mariners during the first inning of baseball game, Tuesday, July 20, 2010, in Seattle. (Ted S. Warren/AP)