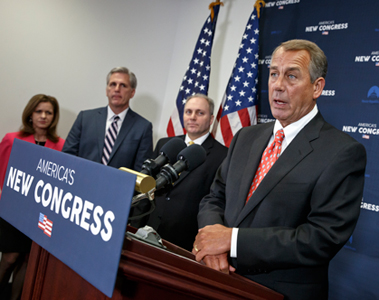 "Wicked," "a cynical political move." That's what even conservative commenters are calling Republicans' invitation to far-right Prime Minister Benjamin Netanyahu to address Congress on March 3, just two weeks before Israel's hotly contested March 17 elections.
Republican House leader John Boehner invited Netanyahu, supposedly to discuss the "Iranian threat," without any consultation with the White House or State Department. This violation of normal protocol is seen as a multi-pronged ploy: to undermine President Obama, try to whip up support for new sanctions on Iran that Obama opposes, and boost Netanyahu's re-election chances. Netanyahu will also be meeting with the American Israel Public Affairs Committee (AIPAC), the lobby group that plays a big role in pushing support for right-wing Israeli policies in Congress.
Netanyahu also addressed the U.S. Congress in 2011, also at the Republicans' invitation. In 2012, he openly backed Republican Mitt Romney's effort to unseat Obama. Writing at vox.com last week, commentator Max Fisher accused Netanyahu of "playing a game with US domestic politics to try to undermine and pressure Obama – and thus steer US foreign policy," and charged that "Boehner wants to help him out."
"The fact that Netanyahu is once again meddling in American politics, and that a US political party is siding with a foreign country over their own president, is extremely unusual, and a major break with the way that foreign relations usually work," Fisher wrote.
President Obama and Secretary of State John Kerry said they would not meet with Netanyahu during his Washington visit.
Even Israeli hawks are worrying that the situation could endanger their ties with the U.S.. Israel's own former ambassador to the U.S., Michael Oren, who was appointed by Netanyahu, said the Republican/Netanyahu maneuvers "created the impression of a cynical political move." He called on Netanyahu to cancel the congressional appearance "so as not to cause a rift with the American government."
And at Obama-unfriendly FOX News, commentators Chris Wallace and Shepherd Smith openly criticized Boehner and Netanyahu. Wallace called the "whole thing" "wicked," adding, "I have to say, I'm shocked." Smith said it seemed like these people "think we don't pay attention and that we're just a bunch of complete morons, the United States citizens, as if we wouldn't pick up on what's happening here."
Democrats who usually support Israeli policies have also reacted negatively. Sen. Dianne Feinstein and House Minority Leader Nancy Pelosi, both California Democrats, called the Boehner/Netanyahu move "inappropriate."
President Obama, in his Jan. 20 State of the Union speech, emphasized that he was pursuing a diplomatic agreement with Iran on nuclear weapons. He warned that he would veto new sanctions that are being pushed by Republicans and some Democrats, saying it would "undo" the "chance to negotiate a comprehensive agreement."
Presumed presidential contender Hillary Clinton, known for more hawkish views on Middle East policy, also criticized the push for additional sanctions on Iran. "Why do we want to be the catalyst for the collapse of negotiations until we really know whether there's something that we can get out of them that will make the world safer, avoid an arms race in the Middle East. Can you imagine?" Clinton told a meeting on global issues in Winnipeg, Canada, last week.
In Israel, Netanyahu's opponents in the upcoming elections across the political spectrum criticized his move for further inflaming relations with the Obama administration. What effect it will have on his re-election prospects remains to be seen. Israeli voters appear sharply divided, and voter turnout could be a key factor.
In an unprecedented development, Israel's Arab parties and its Jewish-Arab Hadash (Democratic Front for Peace and Equality), led by the Israeli Communist Party, announced on Jan. 22 that they have formed a joint slate for the March elections. The slate, known as the Joint List, is headed by Hadash leader Ayman Odeh, an attorney who has represented Hadash on the Haifa City Council, and also includes leaders of Arab parties Balad, Ra' am and Ta'al as well as well known Communist Knesset member Dov Khenin and several other Hadash members. The list is expected to boost critical voter turnout among Israeli Arabs. Polls suggest it is likely to win at least 11 seats in the 120-member Knesset, which could make it a key player in potential formation of a center-left coalition to replace the current far-right Netanyahu coalition.
Photo: On the morning after President Obama's 2015 State of the Union speech, House Speaker John Boehner, R-Ohio, tells reporters that he has asked Israeli Prime Minister Benjamin Netanyahu to address Congress on "terrorism" but that he did not consult the White House on the invitation, Jan. 21 on Capitol Hill in Washington. From left: Rep. Lynn Jenkins, R-Kansas, House Majority Leader Kevin McCarthy of Calif., House Majority Whip Steve Scalise of La. and Boehner. (AP/J. Scott Applewhite)