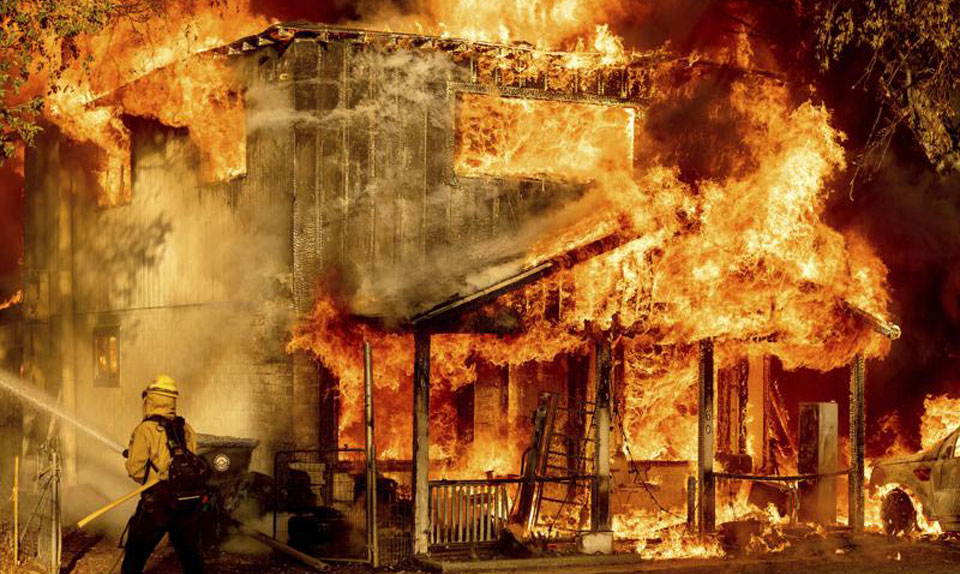 The largest California wildfire this year has led to evacuating communities and firefighters struggling against the inferno. As state residents are urged to reduce power consumption to avoid blackouts, the Beckwourth Complex fire continues to burn along the Nevada state line, having already decimated 134 square miles. Amid extreme conditions caused by climate change, the blaze is far from the only one currently devastating the Western U.S.
According to the National Weather Service in Medford, Oregon, "the Bootleg fire will see the potential for extreme growth today" due to what is called a heat dome, a phenomenon that anchors high pressure and heat to the south, causing excessive temperatures to build up, which are expected to last throughout this week. The Bootleg fire has already destroyed more land – 224 square miles – than its California counterpart, and it is still zero percent contained. The fire has not only tarnished huge parts of the Fremont-Winema National Forest, but it has also affected its neighboring state, disrupting service on three transmission lines servicing electricity to California.
Southeast Washington is contending with its own fire, which burned nearly 60 square miles, and in Idaho, lightning storms in the drought-ridden region triggered fires, prompting Gov. Brad Little to deploy the National Guard to help combat the flames.
Embattled firefighters continue to contend with the conditions amid temperatures topping 100 degrees. In California, they were able to gain ground on the Beckwourth Complex fire, but have only contained it by 20 percent. In Arizona, however, two workers paid a much steeper price: Retired Tuscon-area fire chief Jeff Piechura and pilot Matthew Miller were killed Jul. 10 when their plane crashed while surveying the Cedar Basin wildfire in Mohave County, according to AZ Central. As in Idaho, the Arizona fire was caused by lightning in an already dry environment. Piechuro was working for the Coronado National Forest, while Miller worked for Falcon Executive Aviation, contracted by the U.S. Forest Service.
The tragedy, as well as the continuing struggle of firefighters nationwide, highlights the harsh reality: that workers are on the front lines when it comes to these disasters. "Another threat to working people that the labor movement is central to is climate change," said AFL-CIO Secretary-Treasurer Liz Shuler. She added via Twitter, "My father and sister still live in Portland, Oregon where I grew up. What they have been through the past few years is very alarming. The fires, extreme temperatures, every bit of it is tied in some way to climate change."
In the meantime, workers continue to bear the brunt of climate disasters. Bob Prary, who manages the Buck-Inn Bar in Doyle, California, said he saw at least six houses destroyed by the Beckwourth Complex fire's rampage, with remote ranch properties still likely in the blaze's pathway and at risk. "It seems like the worst is over in town," said Prary. "But back on the mountainside, the fire's still going strong."
Scott Stephens, a professor at the University of California, Berkeley with a specialty in wildfires and forest management, remarked that " we have climate change impacting the state with higher temperatures, more drought, drying fuel. All of this contributes to our already vulnerable conditions. The other piece, which is really difficult, is so many people living in the wildland-urban interface. And this also causes great vulnerability. I think we have to get our communities better prepared for the inevitability of these fires."