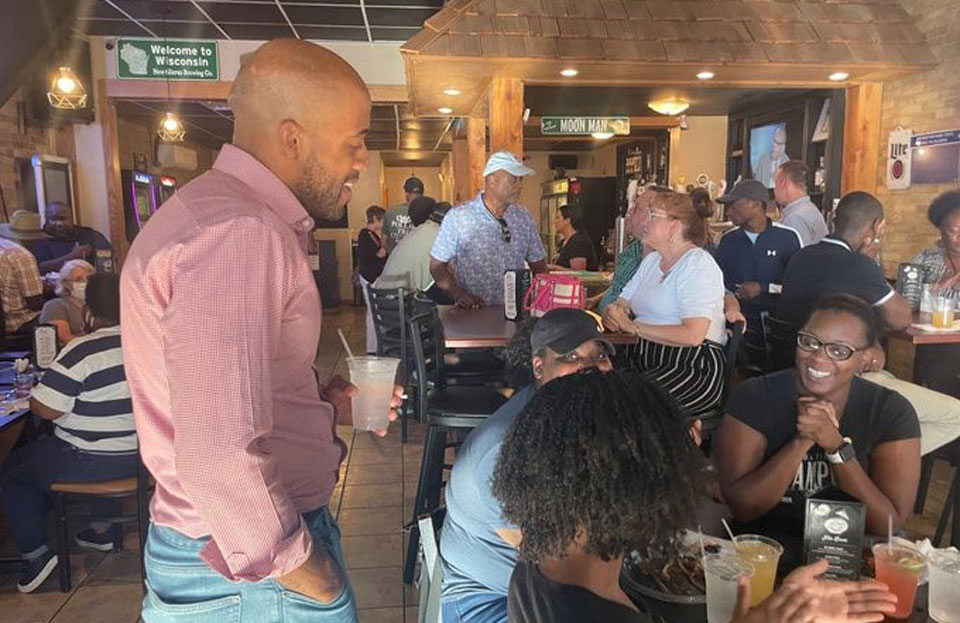 MADISON, Wis.—Wins in Wisconsin primaries on August 9 have set up a confrontation between rabid Republican Trumpites and—in so many words—everyone else. And the outcomes will be important for the country in the fall, because it's a contest over democracy.
Even before he won the Democratic U.S. Senate nomination in a walkaway with 89% of the vote, Lieut. Gov. Mandela Barnes was already going after incumbent Republican Sen. Ron Johnson, especially on that issue of democracy versus autocracy.
"It's time to deliver a clear message that America won't allow those who would undermine our democracy to continue leading it," Barnes declared.
But even more important to preserving democracy is who wins the Wisconsin governor's chair.
Incumbent Democrat Tony Evers, who was unopposed, has vetoed at least 12 election repression bills the Republican-gerrymandered legislature passed. He also vetoed its attempts to abolish the state's non-partisan elections board. The Republicans scheme to put election control in their own hands or that of their new gubernatorial nominee, self-funding big contractor Tim Michels.
Michels, backed by "Stop the steal!" liar Donald Trump, beat former Lieut. Gov. Rebecca Kleefisch, 47%-42.5% with 88% of the vote counted. Former Trump VP Mike Pence backed her. Both gubernatorial hopefuls advocated killing the elections board.
Who controls the election machinery in deeply polarized Wisconsin could help determine who wins the White House in 2024—Democratic President Joe Biden or a successor versus Republican predecessor Donald Trump or a clone—and in turn whether democracy nationwide survives Republican perversion and destruction.
Planned Parenthood Votes Executive Director Jenny Lawson was speaking of abortion as a galvanizing issue in both Wisconsin and Minnesota, which also held primaries on August 9, but her comments apply to control of the election machinery, too.
"Voters have an opportunity to decide which future they want: One where fringe politicians override the will of the people to push their political agenda, or one where their elected officials fight to protect their right to reproductive health care, including abortion," Lawson said.
The New York Times's post-election analysts noted Evers "cast himself as a defender of fair elections." It added "Michels pushed the false notion the 2020 election can still be overturned and wants to abolish the elections commission."
Wisconsin's Senate race is important because Johnson is the shakiest Republican incumbent seeking re-election. Knocking him off while holding all their own seats would break the Senate's current 50-50 partisan tie. The only polls in a Mandela-Johnson race, two months old, show Mandela with a 46%-44% lead, within the margin of error.
There are also three Republican open U.S. Senate seats up for grabs elsewhere.
How polarized is Wisconsin politically? Historically, the answer is "a lot." Its Republicans have anti-democracy and anti-worker tendencies stretching back decades.
On one hand, AFSCME was founded in the Badger State in the 1950s. On the other, 11 years ago, right-wing Republican Gov. Scott Walker, elected in 2010 with that right-wing legislative majority, pushed through notorious Act 10—crafted by the secret corporate-right wing cabal ALEC–designed to smash AFSCME and other public worker unions. Kleefisch was Walker's #2 and he backed her this time.
Elected red-scare McCarthy in 1946
And in 1946, Wisconsin elected red-scare Republican Joe McCarthy to the Senate. He beat progressive Bob LaFollette Jr. When McCarthy died of alcoholism in 1957, progressive Democratic iconoclast Bill Proxmire won the vacant seat.
And while rabid right-winger Johnson holds one U.S. Senate seat, progressive and openly-gay Democrat Tammy Baldwin holds the other.
Johnson wrapped himself in Trump's MAGA rhetoric and lies, going off the deep end in the process. The culmination came when his aides tried to deliver a slate of fake Donald Trump electors to Pence on Jan. 6, 2021, the scheduled date of the Electoral College count which confirmed Biden as the elected president.
Pence's aides turned Johnson's aides down. And then more than 1,000 Trumpites, many armed, invaded the Capitol in a coup d'etat try at insurrection, yelling, among other things, "Hang Mike Pence!" Pence, Johnson and everyone else had to flee for their lives. The count finally resumed in late evening.
Johnson's embrace of Trump's MAGA and the Republican democracy threat is a top Barnes scheme. So is Johnson's refusal to stick up for Wisconsin workers and jobs—indeed his comments that it would be better if factory jobs moved to low-paying China or, in a big case statewide, from the Auto Workers-unionized vehicle factory in Kenosha to a planned plant in anti-union South Carolina.
That drew a blast from Barnes, whose father was a United Auto Workers member and whose mother was a union-member teacher. But he put the future of democracy atop his agenda, even above reviving manufacturing and pro-worker labor law reform.
"Politicians and lobbyists rigged maps behind closed doors and made Wisconsin one of the most gerrymandered states in the country, Gov. Evers and I led the charge for non-partisan reforms, fair maps, and access to the ballot box for every eligible voter," Barnes said on his website.
"Unwilling to accept the will of the voters, Sen. Ron Johnson now wants to bypass the bipartisan Wisconsin Elections Commission and is proposing a full partisan takeover of our federal elections. Make no mistake, our democracy is on the ballot in 2022."
Most of the other notable results occurred in Minnesota, including an unexpectedly close primary for. The seat of Rep. Ilhan Omar, DFL-Minn., a founding member of "The Squad" of four progressive female lawmakers of color.
The Republican side of Minnesota's primaries can be summed up in a few words: A pro-Trump sweep. That includes the Attorney General's race, where former State Rep. James Schultz defeated fellow ex-State Rep. Doug Wordlow, 52%-35% with other candidates taking the rest. Schultz was the party convention's choice.
Will take on Keith Ellison
Schultz will take on incumbent AG and progressive leader Keith Ellison. Rather than pushing his Trump support, Schultz pledged to "restore integrity of our electoral system by ensuring secure elections and prosecuting election law violations," all GOP code words.
In a campaign video, Schultz accused Ellison, incumbent Gov. Tim Walz—a union member—and Secretary of State Steve Simon of ignoring state election law. Walz waltzed to an 89%-8% win over his nearest Democratic foe. He'll face former state legislator Scott Jensen, M.D., who opposes Walz's moves to curb the coronavirus pandemic. Downplaying that plague is another Trump-Republican trope.
Schultz also touted pro-cop and pro-gun positions in a state whose dominant metropolis, the Twin Cities, is still traumatized by the 2020 killing of unarmed unresisting Black man George Floyd by racist cop Derek Chauvin. Schultz campaigned on "ensuring safe and secure communities by supporting and funding the police and prosecuting criminals." In the Republican context, those are code words.
Ellison has prosecuted Chauvin, who was sentenced to a life term, and three other cops involved.
But a backlash against "defund the police," which Republicans hung around Democrats' neck nationwide, almost sank Omar this time. With all precincts reporting, Omar beat former City Council member Don Samuels 57,683-55,217 (50%-48%).
Omar supported a failed referendum to replace the Minneapolis Police Department, which is shot through with racism against the city's Black community, with a more-wide ranging Department of Public Safety, including social workers and experts in de-escalating confrontations. Samuels opposed the referendum and sued the city, successfully, to hire more cops.
Omar's stand led both the Minneapolis mayor and the editorial board of the city's dominant daily, the Star-Tribune, to endorse Samuels.
Campaign finance reports also reflected the split over the police. Two "dark money" campaign finance committees, the "Honoring Law Enforcement PAC" and the "Law Enforcement for a Safer America PAC," ponied up $63,750 each for anti-Omar TV ads.  A separate "dark money" local PAC openly supporting Samuels raised and spent $625,000 for ads favoring him.
The night's only other notable result  was in Vermont's Democratic primary for its sole at-large U.S. House seat. Incumbent Peter Welch waltzed to a primary win to succeed retiring long-time Sen. Patrick Leahy, opening up higher vistas in Vermont for the first time in decades.  Senate President Pro Tem Becca Balint, who is gay, beat Lieut. Gov. Patty Gray. Both the House and Senate seats are rated "safe Democratic," so if Balint coasts in in November, she would be Vermont's first-ever female member of Congress," making Vermont the 50 th, and latest, state to send a woman to Capitol Hill.