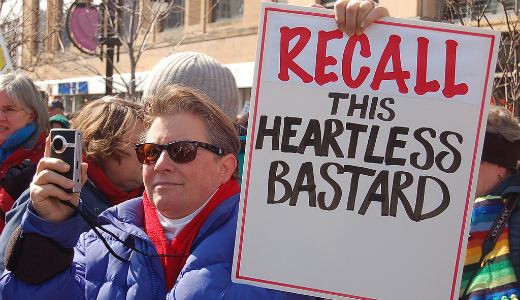 MADISON, Wis. – Opponents of Gov. Scott Walker and Republican attempts to shred union and democratic rights in Wisconsin have filed enough signatures to hold recall elections for six Republican state senators. The recall elections will be held July 12.
The last recall petitions to be filed were against Republican state Sen. Rob Cowles, from Green Bay, who represents what has been a reliably Republican district. Cowles was first elected to the Senate in 1987 and faced no Democratic opposition in 2008.
This is an unprecedented achievement. Only four state legislators have been recalled in the history of Wisconsin. Republicans now hold a 19-14 majority in the state Senate, so if Democrats gain three seats, majority control would swing in their favor.
The mass mobilization of labor and other grassroots activists who collected signatures to recall Republicans is an extension of the mass protests that have swept the state. In contrast, the Wisconsin Republican Party contracted out-of-state companies to import signature collectors in its counter-effort to recall several Democrats.
Three of the GOP recall petition efforts failed, but enough signatures have been filed to recall three Democratic state senators. However these have all been challenged by the Democratic Party of Wisconsin, which claims massive fraud was committed in the signature collection. Charges were filed on May 6 before the Government Accountability Board seeking to invalidate the recall petitions.
"The overwhelming evidence clearly shows a pervasive pattern of election fraud committed by the shady out-of-state organization hired by Republicans to collect recall petitions," said state Senate Minority Leader Mark Miller, D-Madison. "Thousands of Wisconsin citizens fell victim to lies and misinformation spread by the circulators, and the papers submitted by this operation contain a river of omissions and wrong information."
The group leading the effort against Democratic state senators is American Recall Coalition, based in Utah. It is headed by right-wing extremist Dan Baltes, who also leads the racist Americans Against Immigration Amnesty, among other outfits. Baltes spent 10 years in prison for "grand theft, forgery and writing bad checks," and has been accused of domestic abuse.
Republicans are alarmed by the support the recall campaign against them has generated. Fearing they will lose their Senate majority in the coming recall elections, they are now fast-tracking new reactionary bills through the legislature.
Among the bills being rushed through with practically no debate is a voter suppression law which will go into effect just in time for the recall elections. It would be one of the most restrictive laws in the country and make it harder for minorities, college students, the disabled, seniors and those living in poverty to vote because it requires voters show a driver's license, state ID, military ID, passport, naturalization papers or tribal ID.
"We were all wondering why there's such a rush on this bill – now we know," said state Rep. Jennifer Shilling, D-La Crosse. "It's about the recall elections. You feel the rules need to be changed right in the middle of the game."
A bill stripping public workers of union rights is likely to be included in the 2011-13 budget bill. This is a duplicate of the anti-union bill previously passed. That bill is currently being challenged in court because opponents say the way Republican leaders pushed it to passage violated the state's open meetings law. Passage of the new bill would bypass the court challenge.
Other legislation legalizes concealed weapons, deregulates the telephone industry and radically expands public school privatization by increasing charter schools and vouchers.
Meanwhile, Democratic candidates and their supporters are gearing up for battle in the recall campaigns.
Appropriately, one candidate is Shelly Moore, a public school teacher who is running against state Sen. Sheila Harsdorf in the 10th District.
Moore serves as National Education Association director for the Wisconsin Education Association Council. She has pledged "to fight for the people of northwestern Wisconsin and stand up to the extreme agenda in Madison that strips away worker rights and guts priorities like education."
Photo: PW