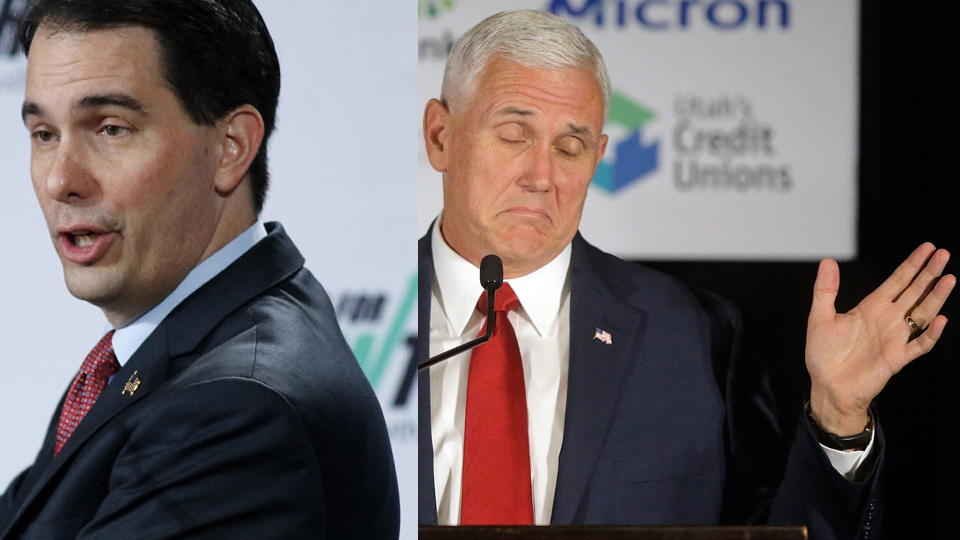 Right-wing Wisconsin Republican Gov. Scott Walker, who gained national notoriety for his anti-worker anti-union crusade – his hatred that sent almost 100,000 protesters into the streets of Madison in below-zero weather – wants the new Republican Trump administration in D.C. to take that package of legislation national.
And the administration, or at least Vice President Mike Pence, a former Indiana governor also known for anti-worker moves there, is listening.
Western New York Labor Today, citing a report in the Milwaukee Journal-Sentinel, the state's largest paper, quoted Walker in a Feb. 1 speech in Wauwatosa as discussing the anti-worker law, Act 10, with Pence at a private White House meeting.
Pence listened, the paper said, and commented – according to Walker – that parts of Act 10 could be incorporated into future federal legislation. Those parts could especially affect federal workers, who cannot bargain over wages and salaries, the paper added.
"Why would anyone want to make it harder for workers to have a shot at the middle class? Eroding union rights is an attack on all workers and the health of our middle class," Wisconsin AFL-CIO Secretary-Treasurer Stephanie Bloomingdale e-mailed to Press Associates Union News Service in response to Walker's proposal.
"Act 10 hasn't worked for Wisconsin and it would be a disastrous policy to implement at the national level. Public services, and our economy as a whole, work best when workers have the freedom to come together and collectively bargain for better wages, safer workplaces and a decent life," Bloomingdale added.
Walker jammed Act 10 through the GOP-gerrymandered state legislature in 2011 as part of a budget bill, and overcoming a Democratic boycott. It trashed most public worker unions in the Badger State. The exceptions: The unions that backed his 2010 candidacy.
The measure restricted collective bargaining for most public worker unions in Wisconsin and forced unions to stand for recertification every year, and to win only if they got an absolute majority of all members. That virtually made Wisconsin a right-to-work state for public workers.
The budget segment of Act 10 also forced union members to contribute more money for pensions, without any promise of increased future payments. Subsequently, another Walker-pushed law virtually abolished bumping rights and civil service due process protections.
Walker's legislation, and his heavy-handed tactics, sparked massive protests in the state capital of Madison, despite sub-zero temperatures in the middle of winter.
Up to 100,000 people – private and public union leaders, state and local workers, even farmers driving tractors – jammed the streets and filled the capitol's corridors to let lawmakers know they opposed Act 10. National and international support, including a solidarity message and pizza for Wisconsinites from striking Egyptian workers during the Arab Spring, flowed in.
Despite that, Walker got Act 10 through, and then later went after private-sector unions, too. He also beat back a union-initiated recall in 2012. Union density dropped in Wisconsin, from 11.7 percent in 2014 (316,000 members) to 8.1 percent (219,000), federal figures show.
Walker later used Act 10, and his hatred of unions and public workers, as virtually his sole platform plank in a short run for the 2016 Republican presidential nomination. To labor's glee, his campaign never got off the ground. Walker was the one of the first of the then-17 GOP hopefuls to drop out, in mid-2015. At the time, he urged the others to withdraw and unite around one common foe to oppose the eventual winner, Donald Trump. They didn't.
Walker's push also comes as right-wing congressional Republicans reintroduced two notable anti-worker measures: A national right to work law and a law overturning the Davis-Bacon Act, the 66-year-old law that mandates payment of locally prevailing wages on federally funded construction projects (see separate RTW-Davis Bacon story).
And it also comes as now GOP-run Missouri is on the verge of becoming the 28th RTW state. In January, now GOP-run Kentucky became the 27th.