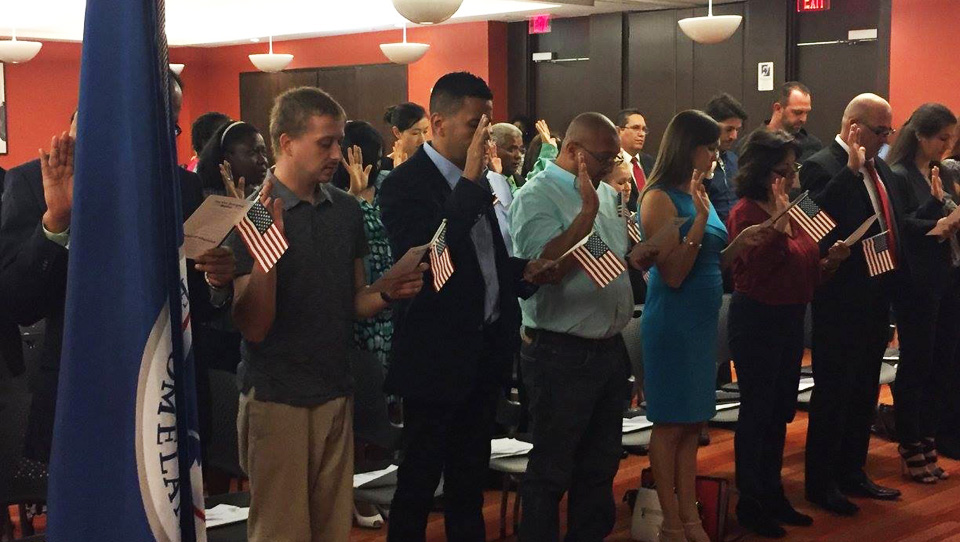 There are more than 8 million permanent legal residents in the United States, and if they could, a coalition of unions and civic groups would make sure each one became a citizen. Especially now.
"We have learned since Donald Trump took office that there is an unprecedented effort to deport non-citizens from this country," said Rep. Luis Gutiérrez, D-Ill., on May 12 media conference call. "On an individual level and on a community level, the best way to fight back is to become a U.S. citizen."
Gutierrez, a long time champion of immigration reform with a path to citizenship, said the number of people requesting citizenship is also "unprecedented." He said part of the reason was the fear of what happened to legal residents under the Trump administration's first travel ban. An estimated 500,000 legal residents would have been prevented from returning to the country after traveling abroad. Legal residents saw Trump as a threat to them too.
"Once they saw, during the Muslim ban, there were people who were permanent residents of the United States and others with American passports that were not allowed in, they said it was time for an upgrade to American citizenship," he said.
"Over the past six months, since practically the day after the election, my office in Chicago has been overwhelmed with people seeking information, applications and advice on citizenship," he said. "And it is very clear in talking to them that they see this as a avenue of protection."
Gutierrez described the awakening of this population as "a great civic moment of engagement … remarkable, distinct and unique," different from the 2005-2006 mega marches against a bill sponsored by Rep. James Sensenbrenner, R-Wis.
Gutierrez and the others on the call announced the launch of the Naturalize NOW! Campaign with a goal to mobilize more than 1 million people to become citizens in 2017. Speakers said that naturalization offers protection for those being threatened by deportation and builds political power for immigrant communities.
"Across the country, 8.8 million people are eligible to naturalize but haven't done so yet; 3.7 million of them could become citizens for free or for a reduced cost, using available fee waivers," according to the campaign's media statement.
Spokespeople for the coalition sponsoring the campaign said there has been an increase in residents seeking to naturalize, especially during the 2016 presidential election campaign. According to Pew Research, permanent residents applying for U.S. citizenship from October 2015 to June 2016 rose 8 percent from the same period before the 2012 elections.
Gaudy Cardona, a Chicago college student, was part of the 8 percent jump. She decided to become a citizen so she could vote in November, but her application did not go through until after the election. She was disappointed she didn't get to vote but glad she became a citizen.
"There will be other elections," she said.
For Cardona, citizenship is about political and economic empowerment
"Ever since I was 5, I knew I was going to come here. My grandparents lived here. My aunt was a citizen. She always wanted a better life for us," Cardona said in an interview conducted after the elections.
Cardona was born in Guatemala and came to the United States when she was 10. She remembers how tough it was at first when she and her mother arrived.
"I would come from school — and my mom didn't have a job the first year — she would be crying because she didn't know how to support me," she said. Cardona and her mother, like millions of others, see citizenship as a path to a better life and security.
Labor unions, especially those that have a large percentage of immigrants as members, are part of the Naturalize NOW! Campaign coalition. Immigrant workers make up a large portion of those who work in the U.S. hospitality industry, said Ada Briceno, secretary treasurer of UNITE HERE Local 11, based in Southern California.
"We represent 24,500 housekeepers, dishwashers, cooks, food service and other hospitality workers in Southern California and Phoenix, Ariz.," Briceno said, adding that the international union represents more than 270,000 in U.S. and Canada.
"We're proud to be a union of immigrants," she said on the conference call.
"We know the best protection members have on the job is a union contract. We also know the best protection as immigrant workers is to get their citizenship. They are saying 'We want to feel safe, and we want to vote.'"
UNITE-HERE trains staff to help members  and family apply for their citizenship. The union in Los Angeles has negotiated into their contracts a legal plan that has employers pick up 80 percent of the costs to apply for citizenship.
"Our members and their dependents only have to pay $145," she said.
The cost to naturalize has risen, which makes it harder for the working poor to afford the fees. United States Citizenship and Immigration Services charges $640 to file the application and an additional $85 for biometric services. The fees are non-refundable even if the application is withdrawn or denied.
Under the Obama administration, a partial-fee waiver for low-income applicants was introduced but speakers said they did not know if the Trump administration would keep that waiver.