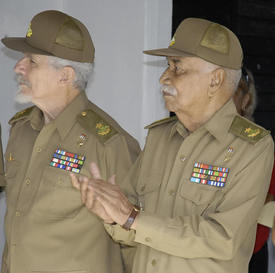 Veteran revolutionary leader Juan Almeida Bosque died Sept. 11 at age 82. Two days later, Cubans honored him in nationwide ceremonies in recognition of accomplishments during the anti-Batista guerrilla war and, later on, his leading role within the revolutionary government.
Almeida survived the Moncada attack in 1953, endured imprisonment and exile, and returned with other revolutionaries to engage the U.S.-backed tyranny. He headed a detachment of the rebel army. With the victory of the revolution, he took charge of the air force, served as armed forces general, and joined the Communist Party's Political Bureau and Central Committee. Almeida later became vice president of the Council of State. He headed the National Association of Veterans and Combatants of the Revolution.
Beyond deeds and responsibilities, however, Almeida's life described a trajectory extraordinary for any political leader. The tributes bestowed upon him, overwhelming in the Cuban media, stemmed, analysts say, from popular identification with Almeida's origins as one of 12 brothers in a poor Afro-Cuban family. At age 12 he was working as a bricklayer. Somehow he later became a law student, in the process encountering and following fellow student Fidel Castro.
"As the most visible and prominent Afro-Cuban in government, Almeida's life and accomplishments were representative of the great transformation which took place for Afro-Cubans beginning 50 years ago," said University of Memphis history professor Dennis Laumann. "Having endured apartheid-like segregation in the cities and labored in the countryside very much like their slave ancestors," he continued, "illiterate Afro-Cubans volunteered to join the rebel army and took part in the dismantling of the racist order when the Revolution triumphed. Within one generation, Cubans of African descent became doctors, engineers, professors and state officials. Almeida, along with other well-known Afro-Cubans, was symbolic of that advance."
He spoke in a concise, unadorned and often questioning manner. Interviewed for the 2003 Estela Bravo film, "Fidel," Almeida talked from the seeming vantage-point of an amused, distant observer about the white pigeons descending upon and around Fidel Castro's shoulders during Castro's first major speech in Havana in 1959.
"Everybody was moved," Almeida said. "In those days Cubans were very religious, based on African things, doves, dancing, and all that. From then on, people believed Fidel was Christ's messenger." This was hardly the usual spin of generals and top state officials.
The "Comandante of the Revolution" – so-named by Fidel Castro in the Sierra Maestra in 1958 – spoke to people in song, 300 to 500 of them according to varying estimates. Some became popular, including Este camino largo" (This long road), "Mejor concluir" (We'd better part); "Vuelve pronto" (Come back soon); and, notably, "La Lupe."
He met Lupe in Mexico while the young rebels were preparing for the 1956 voyage to Cuba in the yacht Granma. "There I said things about her," but now, he recalled, "It's dedicated not only to that Mexican woman, but to all Mexican women, and to Mexico."
Juan Almeida authored 12 books, mostly first- hand stories of revolutionary struggle and building a new society. His "Against Wind and Water," the story of Cuba's response to Hurricane Flora in 1963, won the Casa de las Americas Award in 1985. Other titles included "Presidio (Prison)," "Exilio (Exile)," "Desembarco (Landing)," and "La Sierra (The Mountains)." Some 50 of his poems were published.
In 1990, Almeida headed the Cuban delegation at ceremonies marking the independence of Namibia. There he met with Nelson Mandela, recently released from prison. Mandela for the first time formally expressed gratitude to Cuba. He told Almeida, according to former Cuban diplomat Giraldo Mazola Collazo, that "he was free and Namibia was today independent thanks to the sacrifice of Cuban internationalist combatants."
José Antonio Torres' undated interview with Almeida appearing on Cubadebate.cu is revealing. There Almeida explains that knowledge comes about through "teachings from our own history and that which emanates from the phenomena of this world." The revolution is defended through "the unity of our people around our leaders and the revolution. Unity makes us strong, division weakens."
Almeida famously told Che Guevara in the midst of battle in the Sierra Maestra, "Around here, nobody surrenders." In a preface to an Almeida book, poet Roberto Fernández Retamar spoke for many: "Happy is the revolution that has heroes with music in their soul and words to preserve their struggles, efforts and dreams."
atwhit@roadrunner.com