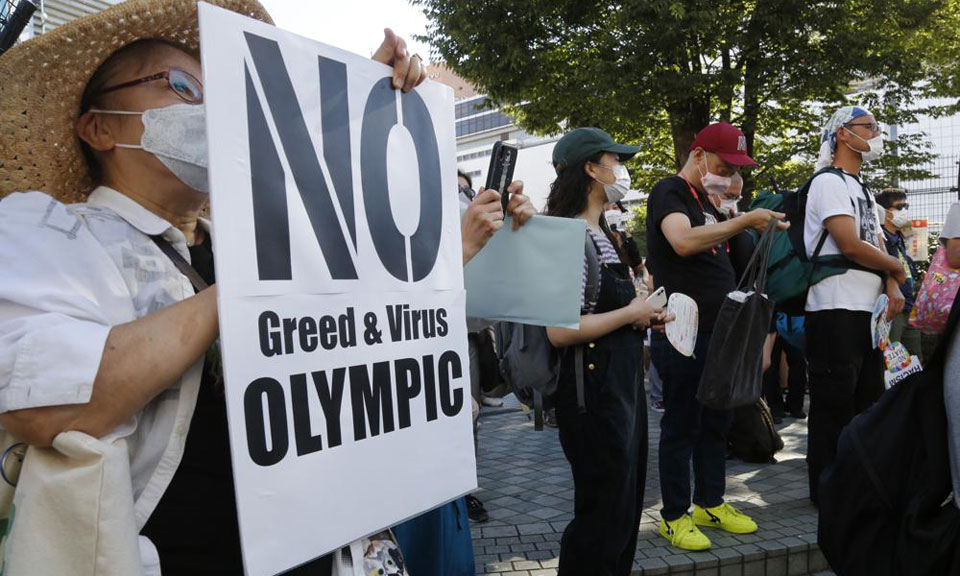 After a yearlong pandemic delay, followed by months of public speculation—"will it or won't it happen"—the 2020 Summer Olympic Games in Tokyo are now just five days away. The usual televised Olympic events will take place, fans will be watching in excitement, but it will also be something different. Something a bit surreal.
There will be no fans, no local participation across the Tokyo sports venues. For residents of Japan, traversing the surge of Covid-19 amid a limited number of vaccinated individuals, only 21.4 percent of Japan's 126.3 million population are fully vaccinated, which will be an Olympic sized feat.
Yet, despite the recent uptick in cases, extensions of emergency lockdown measures, Tokyo's Olympic Games organizing committee, government officials, and the International Olympic Committee pushed forward, ensuring the games took place at any cost. And despite the public outcry against it.
"The mindset that the Olympics can be pushed through by force and that everyone should obey the order has invited this mess," wrote Asahi newspaper in an editorial. IOC and Japanese officials "should learn that their absurdity has deepened the public distrust in the Olympics."
As of Sunday, July 18, there are a total of 1,008 new cases of Covid-19. Bringing the total number of cases in Japan to 842 thousand.
Meanwhile, inside those gigantic locked-down stadiums, filled with vaccinated athletes, reporters, IOC officials, etc., the specter of Covid hangs in the air. Today, a third athlete at the Olympic Village in Tokyo has tested positive for Covid-19, with the Czech Republic Team confirming the case of a beach volleyball player who could miss the first match. Two South African men's soccer players had their Covid-19 cases reported Saturday, and the positive test result of an American gymnast, not identified and an alternate on the women's team.
Earlier Monday, the Tokyo Olympic organizers confirmed three new Covid-19 cases, including a media worker arriving in-country, and a Games staffer in the Chiba prefecture. Since July 1, there have been 58 Games-related infections.
All of this should not come as a surprise. The world is still recovering from the coronavirus. And the Olympic Village in Tokyo is just a snapshot of the current state of health in the world.
In the United States, the Delta variant of Covid-19 has taken a firm hold, and cases continue to rise nearly 70 percent. During a White House Briefing Friday, July 16, Rochelle Walensky, director of the Centers for Disease Control and Prevention, said the seven-day average of Covid-19 infections reached 26,300 cases a day.
"There is a clear message that is coming through: This is becoming a pandemic of the unvaccinated," Walensky said. "We are seeing outbreaks of cases in parts of the country that have low vaccination coverage because unvaccinated people are at risk, and communities that are fully vaccinated are generally faring well."
All the collected data and statistics show the frightening pace of infections and the clear disproportionate burden felt by some states. Florida has taken the lead, accounting for 1 in 5 cases in the past week while four states—Texas, California, Missouri, and Louisiana—are now responsible for over 40 percent of cases in the past week.
More than 97 percent of hospitalizations are among those who are unvaccinated, and almost all Covid-19 related deaths are among that same group.
Overall, the U.S. has reported almost 34 million cases of Covid-19 since the beginning of the pandemic, and Covid-19 related deaths in the U.S. have now passed 607,000—surpassing the number of U.S. citizens killed in World War II, Korea, and Vietnam combined.
A pandemic of the unvaccinated.
It is also a pandemic of misinformation.
A battle on two fronts and the collateral damage: human life.
In a recent U.S. Census Bureau's Household Pulse Survey, nearly half of people who say they will "definitely" or "probably: not get a Covid-19 vaccine cited mistrust as their reasoning. The U.S. is coming close to another full-blown pandemic situation, and yet we are still hemming and hawing over common sense, and science-backed solutions.
"Do it [get vaccinated] for yourself, your family and for your community," Walensky said. "And please, do it for your young children who right now can't get vaccinated themselves."