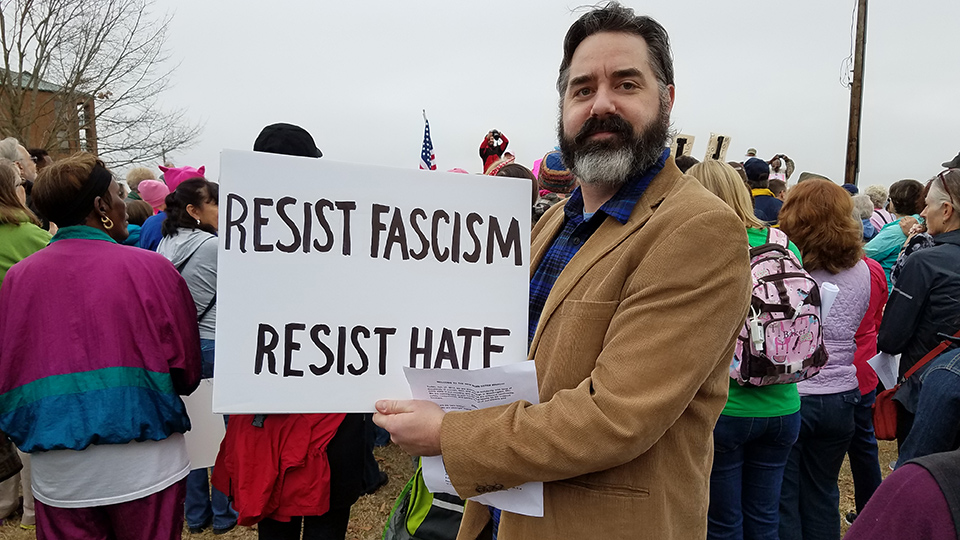 NEW BERN, N.C., Jan. 21 — On a foggy cool day in a small Southern town, hundreds of people turned out to march for equal rights and freedom from fear. With protest signs and pink "pussy hats", women and men of New Bern, NC were there to be heard.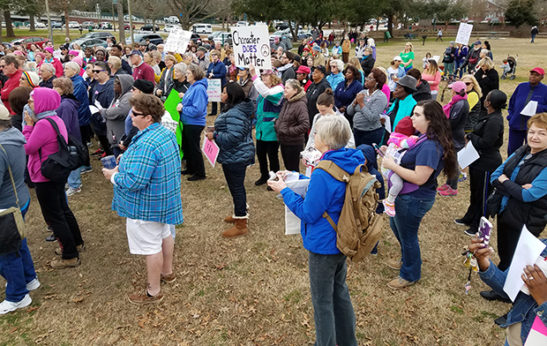 On the day after Donald Trump's inauguration as President of the US, protests were held all over the country. Estimates ran as high as 500,000 in Washington, DC. In cities all over the nation, thousands of demonstrators gathered to express resistance to the far-right administration now coming into power. In Chicago, the crowd was estimated at more than 150,000; in Raleigh, NC, around 17,000. Marches were held at over 65 locations around the United States.
And here in New Bern, a sleepy coastal town of only 25,000 inhabitants, more than 300 people came out in the mist and the chill for a rally and march. Black, white and Hispanic, mostly female but many male allies, children and seniors: it was a mixed group that arrived in Union Point Park to show their determination to fight for human dignity and human rights.
Several speakers talked about why they had come, and the Rev. Marshall Williams of the local NAACP gave a stirring speech. Signs abounded, proclaiming in many ways that women will not be afraid to stand up to the misogynistic policies of the new administration.
People's World talked to several of the attendees. One woman who was there with two small children said she wanted them to grow up in a world where women had equal rights and equal pay. An elderly man with his wife said they'd never seen anything like this in their lives. They had big smiles on their faces. A young schoolgirl said she was "kind of bored" but her mother said "she will remember this for the rest of her life."
The original plan was to march from Union Point Park to the county courthouse, but that had to be changed because there were too many people to fit in the courthouse yard. Instead, city and federal officials arranged for the group to march to the federal courthouse where they could gather in the larger parking lot. The march's organizers said they were pleasantly surprised by the turn-out, as they announced the change in plan.
As they marched, they chanted "Why are we here? We are stronger together! Why are we here? We're gonna find our voice! Why are we here? We're gonna work for justice!"