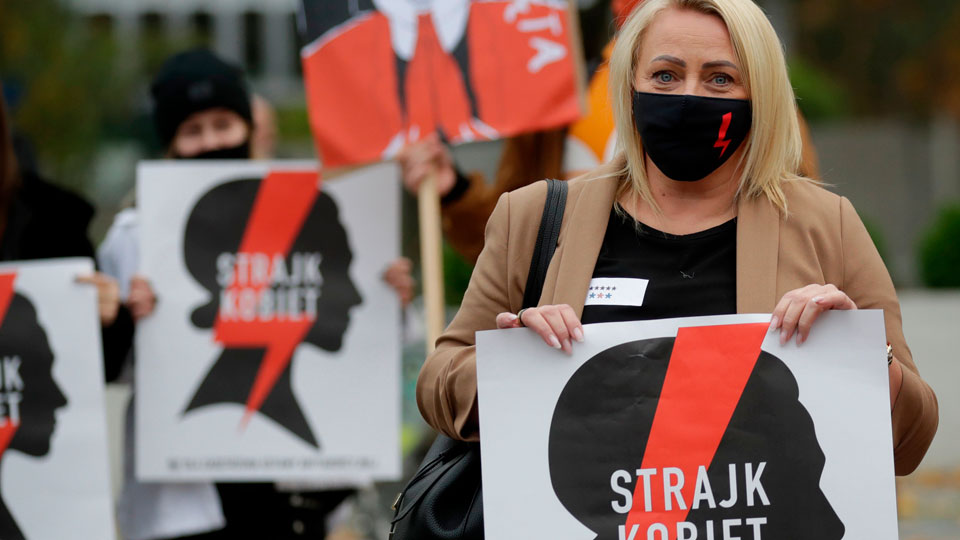 Women across Poland continue to strike in protest against the near total banning of abortions by the country's highest court. The country has been paralyzed by more than a week of demonstrations against the decision, which was backed by Poland's right-wing government.
The constitutional court's ruling last Thursday triggered daily mass demonstrations, with anger directed at the Catholic church and the ruling Law and Justice Party led by Jaroslaw Kaczynski.
The ruling denies legal abortions to women even in cases where there are severe health defects or a child is sure to die at birth. It means that abortions will only be valid in cases of rape or incest, or to protect a mother's life.
In protest, women are staying away from work and school and refusing to do domestic chores.
The Women's Strike, the key organizers of the protests over the past week, called the action under the slogan: "We are not going to work."
"I am so furious. They have no right to decide about my life, about my personal decisions, about my future," a student protester in Warsaw, Julka Wojciechowska, said.
"They don't understand young people. They don't understand the world now, but they are trying to regulate our lives. We will never allow that."
Interior Minister Mariusz Kaminski vowed "decisive action" by the police "in the face of further attempts of similar acts of aggression and desecration announced by the leaders and organizers of the protests."
Deputy Prime Minister Kaczynski accused protesters of seeking "to destroy Poland" and called on his party's supporters to defend churches "at all costs."
In an attempt to discredit the protesters, a state-TV headline on Tuesday read: "Left-wing fascism is destroying Poland."
Morning Star