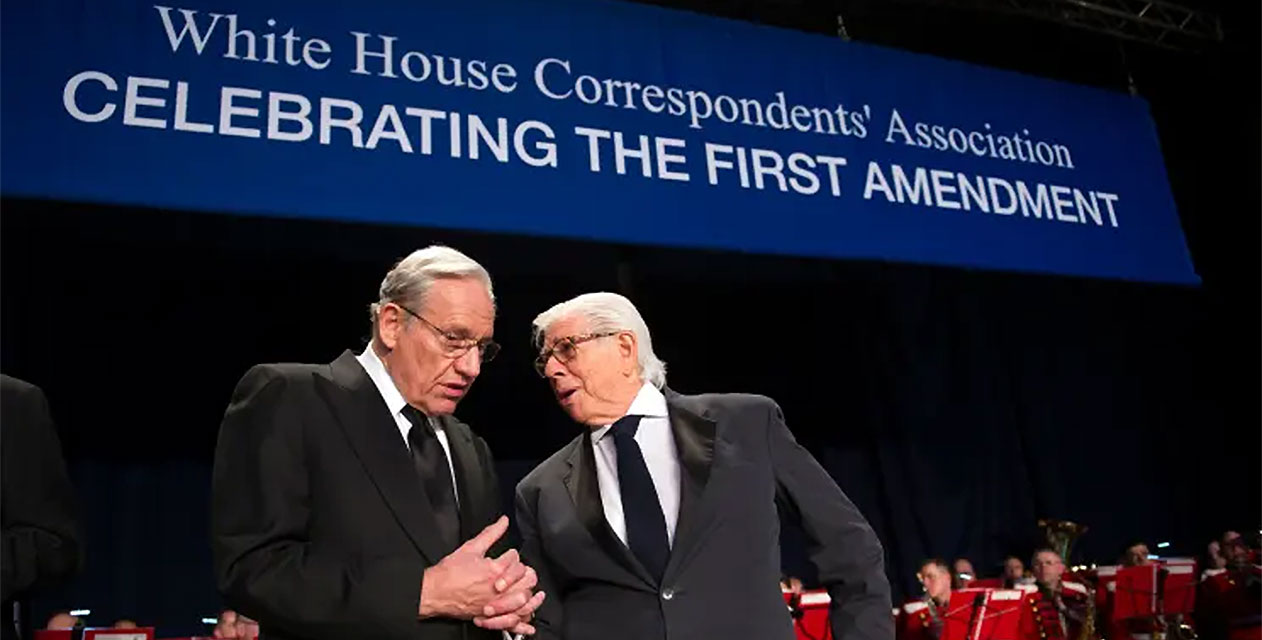 WASHINGTON—The two reporters perhaps more expert than anyone else in presidents who violate the U.S. Constitution have come to one conclusion: Donald Trump "was a seditious president."
So say Bob Woodward and Carl Bernstein, the Washington Post reporters who blew open Richard Nixon's Watergate constitutional violations 50 years ago.
Woodward and Bernstein voiced that conclusion as joint keynote speakers, in a Q&A format, on October 28 at a conference in D.C. of the Society for Professional Journalists and the National College Media Convention entitled MediaFest. A standing ovation greeted the two veteran reporters.
"Trump was a seditious president and" the U.S. House's "January 6 committee has proven that to any objective observer," Woodward stated. "He also doesn't understand the presidency."
"It was unimaginable anyone could surpass what Nixon had done," Bernstein elaborated. "Then Donald came down.
"It's not just that he was a criminal president, but that he was the first seditious president," if you follow the definition of sedition George Washington crafted in 1796: "Unprincipled men may come to occupy this high office. They put personal gain ahead of serving the nation. This is a great danger." The warning comes as Trump and his supporters attempt, with the coming midterms, to lay the groundwork for the election of Trump or another Trumpite to the presidency in 2024. This is being done by running 2020 election liars who, if they win next week, would control the election machinery in key swing states across the country, negating the votes of the people and selecting instead their own hand-picked members of the electoral college.
Woodward and Bernstein encountered that "great danger" half a century ago. The two were youthful reporters who blew open Watergate, source by source, step by step, and story by story in what was—until now—the greatest constitutional crisis the country had faced since the Civil War.
Trump, in one of his frequent phone conversations with Woodward during his time in the Oval Office, confirmed his solo role in crafting policy and plans, Woodward reported. Woodward taped the calls and recently released the tapes, too.
"Everything is mine!"
"'The ideas are mine. Everything is mine,'" Woodward quoted Trump. "Including the electoral process?" Bernstein asked. "That's my point," Woodward replied. "I've never heard a president say 'Everything is mine.'
"There's not a single word on those tapes about the national interest."
That led the two to tell the capacity crowd and people in overflow rooms at the conference that Trump's sedition is worse than what Nixon did. Nixon, like Trump, was elected as a Republican.
Fifty years ago, as junior reporters for the Washington Post, Woodward and Bernstein broke open the Watergate constitutional crisis, which eventually forced Republican Nixon to resign the presidency effective at noon on Aug. 9, 1974. Watergate began with a 1972 Nixon re-election committee-engineered break-in at Democratic headquarters, then an extensive coverup, which the two reporters unraveled.
Woodward is now a senior Post editor. Through three recent books and one-on-one conversations, he had unrivaled access to Republican Trump. With his staff, Trump organized seven different strategies to break the U.S. Constitution in order to remain in office. Bernstein is now a freelance writer and frequent analyst and commentator.
Trump's schemes proceeded from his Big Lie about "the stolen election." They ranged through his planning and urging the 1,000-plus Trumpites to invade the U.S. Capitol on Jan. 6, 2021, in a coup d'etat attempt. And they continue in his crusade to successfully cow his party into agreeing to the Big Lie. Genuflecting to Trump is the top requirement now for Republican candidates, especially for those who can win posts that let officials override or nullify popular votes in 2024.
Besides that, Trump violated his oath of office in other ways, the two said.
"Tell them about his negligence with the (coronavirus) pandemic," Bernstein prompted Woodward at one point. "This is a president guilty of homicidal negligence."
Woodward explained Trump knew early the pandemic was more dangerous than his characterization: Like the common flu. Trump even lied to his son, Barron, about it. "What's going on?" Barron asked. "The Chinese are at fault," Trump replied to Barron after shutting much of the nation's business down on March 13, 2020, to combat the modern-day plague. Six days later, Trump recounted their talk in a phone call to Woodward.
"It took two months to learn that Trump's National Security Adviser" and his deputy had warned Trump on January 28 of the full-fledged danger of the coronavirus, Woodward said. "This will be the biggest national security threat to your presidency," the two top staffers told Trump. Since then, the virus has killed more than 1.07 million people in the U.S., one-sixth of the global total.
"Trump knew, he lied to his son, he lied to me and he lied to the public," Woodward said. "It's not just concealment, it's denial. He gave a state of the union address 10 days later and said 'It's under control.'"
Trump isn't the only liar
The catch is that Trump isn't the only liar, Bernstein noted. Congressional Republicans are, too. After Bernstein told CNN "the president is a serial liar," he added Trump "is spectacular in his mendacity. There are no rules, there are no restraints. But this is not what the Republicans on Capitol Hill are saying."
It's also, though neither Woodward nor Bernstein explicitly said so, what Republicans are saying about Trump's lies about election fraud in 2020.
Woodward and Bernstein agreed that in the case of Watergate and Nixon, the nation's institutions—the press, the court system, and even Congress—worked and successfully frustrated Nixon's scheme to circumvent the Constitution.
Even then, Bernstein noted, the system had another necessary element: Publishers, editors, and media owners willing to stand behind their reporters wherever the evidence led them. For them, it was longtime Post publisher Katherine Graham along with editors Ben Bradlee and Barry Sussman. Graham even withstood jail threats from former Nixon Attorney General John Mitchell, who at one point told Woodward—in a late-night call about a key Watergate slush fund story—"Jee-sus! Katie Graham's gonna get her tit caught in a big fat wringer if you publish that!"
But in one respect, Nixon succeeded: His Watergate planners executed sabotage so well during the 1972 Democratic campaign that they virtually let Nixon "choose his own opponent," the weakest, then-Sen. George McGovern, D-S.D., one of the two said.
Woodward and Bernstein imparted some lessons, for journalists and for the public, from both constitutional crises. Among them: Always double-check your sources, get out of "silos" where your "news" provider is one you ideologically agree with, and drill down to rank-and-file people who really know what's going on.
"People want to tell the truth. Even if it's their own truth," Woodward noted.
And develop reliable sources, confidential if needed, who can confirm information or point you in the right direction. Woodward's high source within the FBI provided the confirmation and guidance on the bureau's Watergate investigation, including how Nixon was trying to hamstring it. Woodward talked with the nameless and faceless source called "Deep Throat," named after the pornographic movie star but called that because of his quiet deep voice. He met the source repeatedly in secret in an indoor parking lot. Decades later and months before he died, former FBI Deputy Director Mark Felt identified himself as "Deep Throat."
Making the connection between the fight for democracy in the coming elections and beyond and the future of journalism, both men emphasized the importance of journalists "showing up" and going the extra mile for the stories. They also pointed out that collaboration among colleagues, such as they had when they worked together to expose Watergate, should be encouraged.
Those lessons are important now.
"Trump is on the ballot in this (2022) campaign," Woodward explained. The former Oval Office occupant is both the ultimate kingmaker among Republican candidates and a stump speaker angering his legions and keeping his lies about a stolen election in 2020 alive. Few Republican hopefuls who defy him have remained politically viable.
Trump may succeed yet, though Bernstein and Woodward admitted they don't "have a crystal ball" about his future actions. Trump is widely expected to announce his candidacy for the 2024 Republican nomination but after the November 8 election.
But in the meantime, they warned, he's put in place a structure to both skew this fall's balloting and to tip the scales in his favor two years from now, by recruiting a cadre of Republican 2020 election deniers to run for office this year. All are committed Trumpites and many seek key posts that would control the 2024 outcome. They include candidates seeking U.S. House and Senate seats, governorships, and Secretary of State posts—which the two specifically mentioned—down to local election officials.