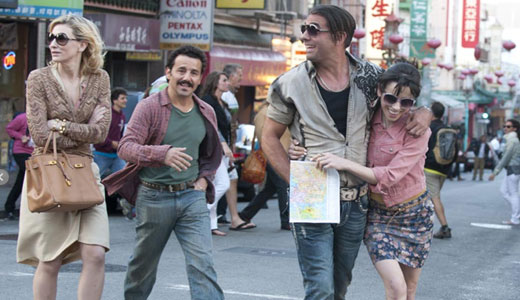 After recent excursions in Europe, Woody Allen has brought his filmmaking back home, with excellent results. Blue Jasmine, the latest entry in the prolific writer/director's career, firmly establishes itself among his more serious works. This time, San Francisco is the setting (along with many flashback scenes shot in his familiar New York City.) While the Bay Area is always a visual delight, it serves mainly as a backdrop in this intense study of two polar opposite sisters. The contemporary drama is relevant to the times at hand, and pulls no punches exposing upper-class attitudes. Nevertheless, sweeping views of the Golden Gate Bridge will occasionally remind moviegoers how Allen uses urban landscapes to perfection in his films.
Cate Blanchett stars as Jasmine, an elite Wall Street wife who finds her world crumbling after the loss of her marriage and all monetary assets. The talented actress thrives in this role, as moviegoers witness Jasmine's failed attempts to rebound, coupled with her steady mental deterioration. Viewers may feel slight pity for a soul that willingly pursued a soulless path in life. Otherwise, there isn't much sympathy for this character beyond the reality of her psychological disintegration. The elitist world of her rich friends (shown through flashbacks) is even less attractive. They speak of chic events and exotic locales, with absolutely no substance. Allen does a brilliant job of showcasing how fascinating subjects can become meaningless chat when discussed nonchalantly by wealthy socialites.
Sally Hawkins does a stellar job portraying Ginger, Jasmine's sister. It is interesting to note the sisters had the same adoptive parents, but are not blood siblings. Ginger is the complete antithesis of Jasmine, living a very modest life as a grocery store bagger in the Bay Area. Andrew Dice Clay (playing Ginger's ex-husband, Augie) and Bobby Cannavale (as Ginger's new fiancé, Chili) shine in supporting roles. They both portray blue collar workers trying their best to survive, among their own personal shortcomings. This is a cinematic study of lifestyle clash: an elite, wealthy sister losing everything, and a working class sister maintaining the only life she knows. Although the film reveals serious flaws in both lifestyles, it is clear Woody Allen's intent is exposing the emptiness of a wealth-based existence.
Appropriately, Allen starkly reflects on the human condition. While the infidelity of Jasmine's husband Hal (confidently played by Alec Baldwin) is the initial reason for her decline, Jasmine appears sexually indifferent throughout the story. Her only goal is to maintain her upper crust life at all costs, including making up lies along the way. Jasmine is capable of being monogamous (in a cold, businesslike fashion) if prosperity is part of the package. The one authentically passionate moment Jasmine reveals is not about sex, but revenge. This, tragically, ignites a series of events which not only ends her wealth, but a life.
Ultimately, it is Ginger's personality which may be more interesting. Although her character is likable, she ends up cheating on her fiancé. Like Jasmine, she also has motives beyond sex, weighing her options for the best "catch." Ginger's fiancé Chili, charmingly portrayed by Cannavale, is the only one who actually seems truly in love. In the end, viewers might ponder the fate of these two more than Jasmine's.
Blue Jasmine reveals much about society's class-based attitudes. Jasmine carelessly calls Ginger's fiancé "a loser" with no real evidence to back that statement. Yet, when Ginger's friends ask Jasmine what she actually did for a living, or what her plans are, she is at a loss. Jasmine is more appalled at a phone being ripped from a wall than at the fact her husband's financial schemes were illegal and ruined many lives. The film does a good job showcasing an emotional "train wreck" while asking very little compassion from its viewers.
Woody Allen tends to reach only a very specific audience. This has always been a point of debate among his admirers and critics. Periodically, a number of his films, including Midnight in Paris (which won the Best Writing – Original Screenplay Oscar in 2012,) have been able to break through to a broader audience on the strength of their cinematic excellence. Blue Jasmine appears firmly in that category.
In the current Hollywood era of computer-generated effects and dismal screenwriting, it is refreshing to witness authentic streets and locations, coupled with believable characters and situations. Blue Jasmine is gathering well deserved praise, and is sure to be around when Academy Awards speculation begins once again.
"Blue Jasmine"
Directed by Woody Allen
Starring Cate Blanchett, Sally Hawkins, Alec Baldwin, Bobby Cannavale, Peter Saarsgard and more
2013, PG-13, 98 min.
Photo: Blue Jasmine official site