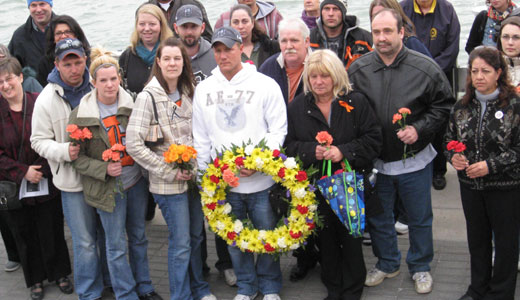 DETROIT – Although gains in protecting workers safety and health have been made, the numbers are still grim said Metro Detroit AFL-CIO President Chris Michalakis at the 2012 International Workers Memorial at the UAW-Ford National Programs Center. "Each and every day, twelve workers, on average, die on the job and another 50,000 died from occupational diseases in 2010. Every single one can be prevented," he declared.
With statistics like those one would expect a concerted effort to stop the workplace carnage.
Michalakis says the opposite is happening. While President Obama is pushing for more safety, he warned business groups are pushing back with an "all out assault" and falsely claim regulations and protections kill jobs.
"The fact is these regulations and protections keep jobs and employers from killing workers," he said.
The assault against workers rights has reached extreme levels in Michigan. State Representative Rashida Tlaib, D-Detroit, said her colleagues in the Republican dominated legislature "want oversight gone" and have introduced a bill to get rid of the Michigan Occupational and Safety Health Act.
Incredibly those same colleagues have warned the states public universities that if they collaborate with a non-profit workers center that is critical of business practices, (exposing unsafe working conditions or incidents of wage theft would be considered critical) they will lose public funding.
The plight of temporary workers was underscored by immigrant rights and health and safety activist Marisela Garcia. She said thirty percent of workers are now considered contingent workers. Not only are health and safety regulations rarely enforced, but the staffing companies frequently "steal" wages. "They steal because they can, because workers are scared," she said.
They endure more than wage theft. Garcia said workplace injuries are very common.
Before he became an International Representative for UAW Region 1A, Frank Woods Jr. spent 15 years using "all kinds of dangerous chemicals" at the Highland Park, Chrome Craft plant. He said when he started in 1983, the workers cooked their food on the pipes over the chrome plating tanks because the company was too cheap to give them a lunch room.
"We got sick, people in the neighborhood got sick. We had to negotiate to have a lunch room, to have a microwave oven and refrigerator."
Eight of his co-workers died of cancer. While he considers himself "lucky" to be cancer free he did not escape without injury. The heavy lifting he was forced to do resulted in four fused vertebrae and eight titanium pins and rods in his back.
It was his union that eventually forced changes. "Only way to get improvement is thru a union. I say that because I lived it, I saw the difference."
In the audience were the family members of Kent Morton, the 28 year old father of two from Garden City, Michigan who fell to his death on January 11th while working on the Ambassador Bridge that connects Detroit and Windsor, Ontario.
At the conclusion of the tribute, participants walked to the Detroit River and tossed carnations in tribute to Morton and all killed at work.
Photo: Family of killed worker Kent Morton, and others, prepare to toss carnations into Detroit River.